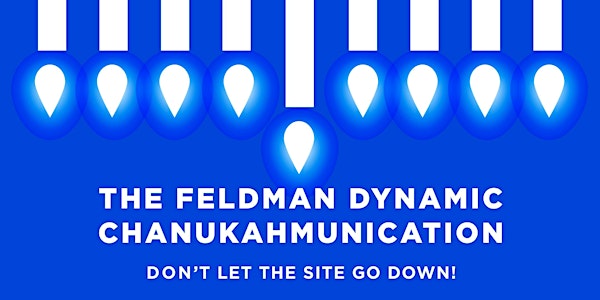 The Feldman Dynamic: Chanukahmunication
A real-life family attempts to celebrate Chanukah over Zoom.
When and where
Location
Federal Communications Commission 445 12th St SW Washington, DC 20554
About this event
Don't have any plans for Chanukah this year? Neither do we!
After spending 7 previous Chanukahs together – in apartments, condos, houses, art galleries, black box theaters, proscenium theaters, a Jai-Alai Fronton, and most infamously, Cracker Barrel® – award-winning performance art family The Feldman Dynamic now attempts to celebrate the Festival of Lights together live over Zoom, in their latest installment The Feldman Dynamic: Chanukahmunication. As with every other version over the last 17 years, there's no script, no rehearsal, and no refunds.
While there may not be any latkes, dreidels, donuts, or gelt this year, they still have each other. And, this time, very special guest Mitzi the dachshund! (Oh yeah, and a Chanukiah! Fear not, candles will be lit!)
The Feldman Dynamic (TFD) is Adrienne McIntosh, Brian Feldman, Edward Alan Feldman, and Marilyn Wattman-Feldman. Currently separated by a distance of 836 miles, Adrienne, Edward, and Marilyn are podding together in Florida. Brian is alone in D.C. This is the 16th run of TFD and the 8th Chanukah/Hanukkah version, only one of which was threatened with a lawsuit from the Radio City Rockettes™. ב״ה
The Feldman Dynamic received its world premiere at The Kraine Theater in New York on August 9, 2003.
This project was supported by the D.C. Commission on the Arts and Humanities.
------------------------------
Run Time: 45 minutes
Dates:
December 10 – 17, Nightly at 5:30 PM EST
Watching from another time zone? Check the time difference here.
------------------------------
Location:
Zoom Webinar (on your computer, phone, or tablet)
A reminder email will be sent from projects@brianfeldman.com one hour before purchased showtime with a link to the Zoom Webinar and PDF program.
This event is NOT taking place at the Federal Communications Commission (445 12th St SW, Washington, DC 20554), whose location is only being used in this instance due to problems with Facebook. (What else is new?)
------------------------------
Tickets: $8
Free if your last name is Feldman (with valid photo ID, email jpg or pdf to projects@brianfeldman.com)
Ticket valid all 8 nights! Purchase a ticket to any night, watch as many as you can endure.
------------------------------
Genre: Conceptual Art, Performance Art, Reality Theater
Facebook Event: https://j.mp/tfd2020_fb
Hashtag: #Chanukahmunication
Twitter: @BrianFeldman @FeldmanDynamic
Instagram: @brianfeldmanprojects
------------------------------
Quotes:
"A play in which the members of a real family have dinner together and talk about the problems they are facing."
– The New York Times
"Alternately discomfiting, utterly boring, pointlessly funny, comfortingly familiar, strangely moving."
– nytheatre.com
"This is reality way more real than what you see on TV."
"If observing a near-hour-long dinner with a family you've never met feels both voyeuristic and frustratingly boring, that's one possibility. The other? Just go with the weirdness."
"Unpalatable theater-verité experiment... a love-it-or-hate-it proposition."
– Orlando Weekly
"Normal theater compresses time, emphasizes conflict, and highlights resolution. "The Feldman Dynamic" does the opposite..."
– Ink 19
"Downright wacky… I had no idea what was going to happen next."
– The Arts Connection (WMFE-FM 90.7)
"If you didn't know about The Feldman Dynamic, you missed a personal, unplanned slice of life and some great food! It was theater as life."
------------------------------
Press Release: https://j.mp/tfd2020_docs