Location
Glasscock School of Continuing Studies at Rice University
6100 Main St.
Houston, TX 77005
Description
After Hurricane Harvey slammed into the Texas coast and poured historic amounts of rain over Houston and a wide swath of the state, hundreds of thousands of homes were damaged or destroyed. In the year since, displaced Texans have turned to federal agencies, insurance entities and nonprofits for help rebuilding their lives. Where does the recovery stand and what are the long-term plans for getting neighborhoods and towns back on their feet?
Join The Texas Tribune in person or on our livestream for a conversation about the federal response to Hurricane Harvey one year after the storm made landfall in Texas, moderated by the Tribune's urban affairs reporter, Brandon Formby.
Panelists include:
George P. Bush, Texas land commissioner
Traci Brasher, recovery division director for FEMA Region 6
Marvin Odum, chief recovery officer for the city of Houston
Beth Van Duyne, regional administrator for the U.S. Department of Housing and Urban Development
Moderated by Brandon Formby, urban affairs reporter for The Texas Tribune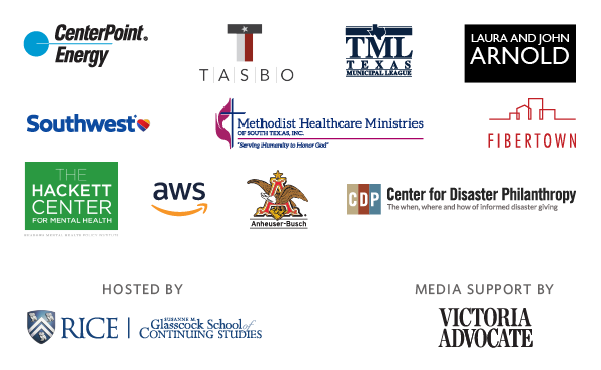 Details
This event will be held in the Hudspeth Auditorium of the Anderson-Clarke Center at Rice University's Susanne M. Glasscock School of Continuing Studies in Houston. Paid visitor parking is available in West Lots 4 & 5, located adjacent to the Anderson-Clarke Center (campus map). The event is free, open to the public and includes a light lunch.
---
This event is supported by the Center for Disaster Philanthrophy, Laura and John Arnold, the Texas Association of School Business Officials, CenterPoint Energy, Anheuser-Busch, Fibertown, Amazon Web Services, Texas Municipal League, The Hackett Center for Mental Health, Methodist Healthcare Ministries of South Texas and Southwest Airlines, the official airline of Texas Tribune Events. It is hosted by Susanne M. Glasscock School of Continuing Studies at Rice University. Media support is provided by The Victoria Advocate. Foundation support is provided by the Houston Endowment, the George & Cynthia Mitchell Foundation and the Brown Foundation. Though donors and corporate sponsors underwrite our events, they play no role in determining the content, panelists or line of questioning.