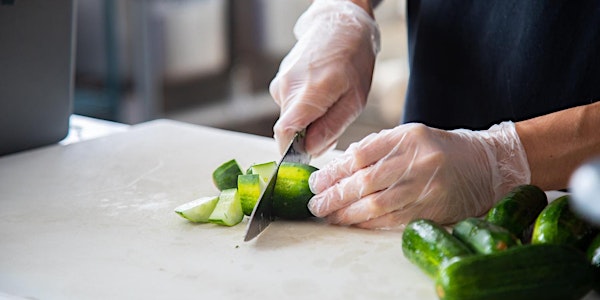 The Feast of the Seven Pickles
Fishtown Pickle Project Hosting the First Ever Feast of the Seven Pickles
When and where
Location
Fishtown Social 1525 Frankford Avenue Philadelphia, PA 19125
Refund Policy
Contact the organizer to request a refund.
Eventbrite's fee is nonrefundable.
About this event
Join us for our highly anticipated pickle party on Tuesday, April 19th at Fishtown Social Natural Wine Bar & Bottle Shop! Admission is $35 and includes a plate of seven pickle-centric small plates and a glass of wine from Mural City Cellars.
There will be 90-minute timed slots, beginning at 5pm and followed by 6:30pm, 8:00pm and 9:30pm timeslots. Bottles of wine and jars of pickles will be available on location for purchase. A portion of sales will benefit Magee Rehabilitation, whose mission is to improve the quality of life of persons with disabilities by providing high quality physical and cognitive rehabilitation services.
The Feast of the Seven Pickles will feature a half sour pickle with gouda cheese sourced by Third Wheel Cheese Co.; fruit jam and tangy cheese schmear from Perrystead Dairy on Kismet Bagels bagel chips; black garlic vinegar pickled turnip hummus with vegetables; deviled egg (sourced by Triple C Angus Farms) with pickle juice served with Chef Eli Kulp's homegrown pepper mix; soba noodle salad with pickled fennel and carrot; Czerw's kielbasa with fermented kraut and Dijon; and a flourless chocolate cake bite from Sweet T's Bakeshop in Haddonfield, NJ, served with preserved blueberry and orange rind.
Here's what to know about this rescheduled event:
1. There are 4 time slots for the Feast beginning at 5pm and each have a 90 minute time limit. We kindly ask that you adhere to the time limit, so we have the capacity to serve guests scheduled for the next time slot.
2. All purchased tickets will be honored for your specific reserved time slot. If you are unsure of the time you originally booked, please email us at fishtownpickleproject@gmail.com. NOTE: Due to the nature of this special event and in an effort to guarantee adequate service to all, we cannot guarantee service of all courses should you arrive 30+ minutes past your scheduled time.
3. We will be accepting walk-ins on a first-come, first-serve basis. Walk-ins will be able to pay their $35 entry at the door. Cash, Credit or Venmo will be accepted.
4. The Feast will feature 7 pickle-centric small plates highlighting ingredients from local makers. Plus, enjoy a full pour of your choice from Mural City Cellars Community Supported Wine Selection.
5. Fishtown Social's regular bar and snack menu items will be available for purchase. Pickle jars will also be available for purchase. A portion of proceeds will benefit Magee Rehab.
Any questions? Send us an email. We're looking forward to a fun-filled night, y'all and we can't wait to see you!
-Niki & Mike, FPP Cofounders
Fishtown Pickle Project was created by Chef Mike Sicinski and dietitian Niki Toscani in 2018 after gifting handcrafted pickles to their wedding guests. Their small-batch fare is purposefully crafted using all-natural ingredients and bold flavors, sourcing cucumbers and other produce from Muzzarelli Farms in Vineland, New Jersey. Learn more by visiting http://fishtownpickles.com.