About this Event
In this "Smart Cities" episode of The Farm Report, host Lisa Elaine Held will speak to pioneers in urban agriculture about growing the infrastructure to grow more food in cities—on rooftops and barges and in warehouses and shipping containers. They'll discuss the potential economic, environmental, health, and community benefits of urban agriculture, the biggest challenges to growing food in urban environments, and what the present and future look like—in terms of scale, technology, and potential.
Guests
Anastasia Cole Plakias, VP and founding partner, Brooklyn Grange Rooftop Farm
Viraj Puri, Co-founder and CEO, Gotham Greens
About the Host
Lisa Elaine Held is a journalist with a primary focus on covering food and agriculture. Her expertise is in introducing eaters to who produced their food, how it was grown, and how those people and processes relate to bigger social issues like environmental sustainability, economic and racial equality, and public health. She is a regular contributor to Civil Eats and also writes for Eater, Edible Manhattan, Edible Brooklyn, and Food Tank, among other publications. She has a master's degree from Columbia University's Graduate School of Journalism and a bachelor's degree in sociology from Northeastern University.
All ticket holders are invited to attend a complimentary Happy Hour hosted by CityLab at Camp David starting at 5pm.
Purchase a $15 Smart Cities Day Pass granting access to all Smart Cities events here.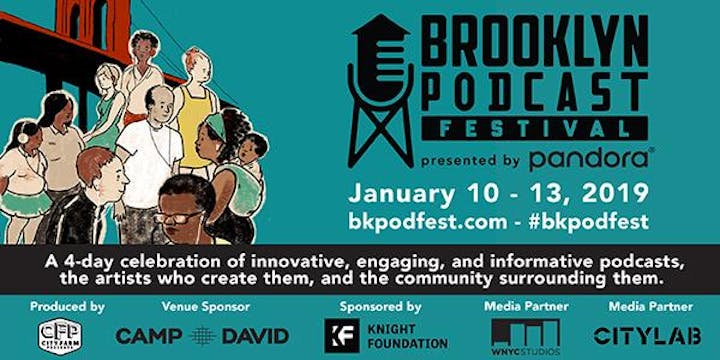 About the Brooklyn Podcast Festival
The Brooklyn Podcast Festival is presented by Pandora. WNYC Studios is a media partner of the Brooklyn Podcast Festival.
Launched in 2017, the Brooklyn Podcast Festival is a celebration of innovative, engaging, and informative podcasts of all genres, the artists who create them, and the community surrounding them. The Festival gives audiences the opportunity to see their favorite podcasts live and a chance to discover new and up and coming shows.
Smart Cities Series, part of the Brooklyn Podcast Festival presented by Pandora, is brought to you by Knight Foundation. Camp David is a venue sponsor of the Smart Cities Series. WNYC and CityLab are media partners of the Brooklyn Podcast Festival.