Event Information
Location
Tiferes Bais Yaakov School
613 Oak Street
Lakewood, NJ 08701
Refund policy
Contact the organizer to request a refund.
Eventbrite's fee is nonrefundable.
The first annual Family Table Experience feat. Cheesecakes, Flowers, Awesome Gifts, and more! May 22, Lakewood, NJ
About this event
Join us for an evening of fun and learning at the first annual Family Table Experience taking place on Sunday, May 22 in Lakewood, NJ. This pre-Shavuos event will feature your favorite Family Table contributors including Rivky Kleiman, Rorie Weisberg, & more, bringing the text and pictures you love to life.
Key Event Features:
Cheesecake Decorating Workshop by Rivky Kleiman.
Decorate your personal cheesecake together with Rivky as she teaches how to make one of her favorite cheesecake toppings.
Cheesecake is yours to take home and enjoy!
sponsored by Kosher.com
Cooking Demo with Rorie Weisberg
Follow along as Rorie demonstrates how to make a Shavous delicacy featured in her brand new cookbook!
Try a delicious sample.
sponsored by Seasons Kosher Grocery
Flower Arrangement Workshop
Learn to make professional style floral arrangement on a budget (an interactive workshop) with Shevy Lefkowitz
Take home your bouquet in our one-of-a-kind vases!
sponsored by Tali's Global Flowers
Event Details:
Sunday, May 22
7:30 - 9:30 PM
Tiferes Bais Yaakov Hall. 613 Oak St. Lakewood, NJ 08701
Walk away with the following amazing items:
A delicious and beautifully decorated cheesecake
A creative floral bouquet in a one-of-a-kind vase
Amazing swag from our sponsors and contributors
Surprise gift from Rorie Weisberg!
Tips and tricks to prepare you for Shavous
and more!
FAQ:
Q. Will I be able to sign up at the door?
A. Yes. Tickets will be available for purchase at the door on a first come, first serve basis. However, we anticipate a sold-out event as we have a cap on the amount of attendees. We would therefore suggest purchasing them in advance to ensure your ticket.
Q. My friend and I booked separately but want to sit together. Is that a possibility?
A. There aren't assigned seats, rather it is a first come, first serve basis. Therefore, we suggest arriving together to ensure you are seated as you wish.
Q. Besides for an awesome experience, what will I walk home with?
A. In one hand you will be holding a 7-inch stunning cheesecake. However, this will be no easy feat as you will be trying to carefully balance your beautifully crafted floral arrangement in the other hand. To make matters worse, your swag bag will be slung over your shoulder further complicating the balancing act. Once you accomplish this herculean feat, you make your way out the front door, only to realize that you forgot your car keys!
Q. Swag Bag? What will be in there?
A. Our sponsors and contributors will be giving each attendee unbelievable gifts to take home and continue enjoying the event well after the cheesecake is gone (for some, that will be the next morning). This includes a 4-pack sample of Rivkie's spices, a package of Rorie's yeast, a sachet from Domani Home, a coupon to Jewelry by Rivky, and more! In addition, you will be using the bag to carry the purchases you made from our sponsors and contributors, such as a brand-new signed copy of Rorie's cookbook: Food You Love: That Loves You Back.
Q. All this for just $39. What's the catch?
A. The catch is you. We want you there! That's it! Our goal is to bring you the best experience possible at an affordable price. And we have done just that.
Q. I have a cheesecake recipe that is absolutely delish! I was mixing a few ingredients around one morning and BOOM! this delicious recipe was born (this happens often BTW). I was wondering if I would be able to present at the event and share with the attendees how to take their cheesecakes to a whole new level.
A. Thank you so much for reaching out. While we are sure your recipe is delicious, we will only be one having one cheesecake presentation at the event. Rivky Kleiman is the author of 2 cookbooks and a household name. She will guide the audience step-by-step how to make a beautiful cheesecake topping. We would definitely love to hear the details of this amazing recipe and the others you likely have. Please email them to us at recipes@mishpacha.com
Q. I live in another city and won't be able to make it to this event. Will Mishpacha be presenting similar events in other communities?
A. Baltimore, Cleveland, Denver, LA, and everywhere in between (Yes Miami, you too even though you aren't in between) Mishpacha is there for you. Let us know where we should make the next event by emailing usevents@mishpacha.com.
Workshop Sponsors:
The place to go for all things kosher food. With thousands of recipes, hundreds of original videos that will teach you techniques to take your cooking to the next level
There are plenty of family owned supermarkets, but there's only one Seasons - a place that embraces every customer, employee, and vendor as part of the Family! Seasons of Lakewood is located at 711 Cedar Bridge Ave. (732) 813-7700
Bringing the biggest and freshest selection of flowers at the best prices around. Please call the shop directly for inquiries and orders. 732-366-9288
Premiere Sponsors:
Bedding, Bath & Home Shoppe. Located at12 America Ave Lakewood NJ. (732) 813-8080
A boutique china, tableware and gift shop. Selling all designer brands! Located at 12 America Ave Lakewood NJ.
Providing comprehensive preventive and primary care medical, dental and behavioral health services. 732.364.6666
Event Sponsors:
Combining design, function and cost!
Your destination for all your jewelry needs! Latest styles with best prices! Located in Lakewood. Contact rdesignspecial@gmail.com
Providing a unique variety of the finest & best quality baking ingredients to add that special taste in your homemade goodies!
For questions and sponsorship opportunities, please contact Avi at usevents@mishpacha.com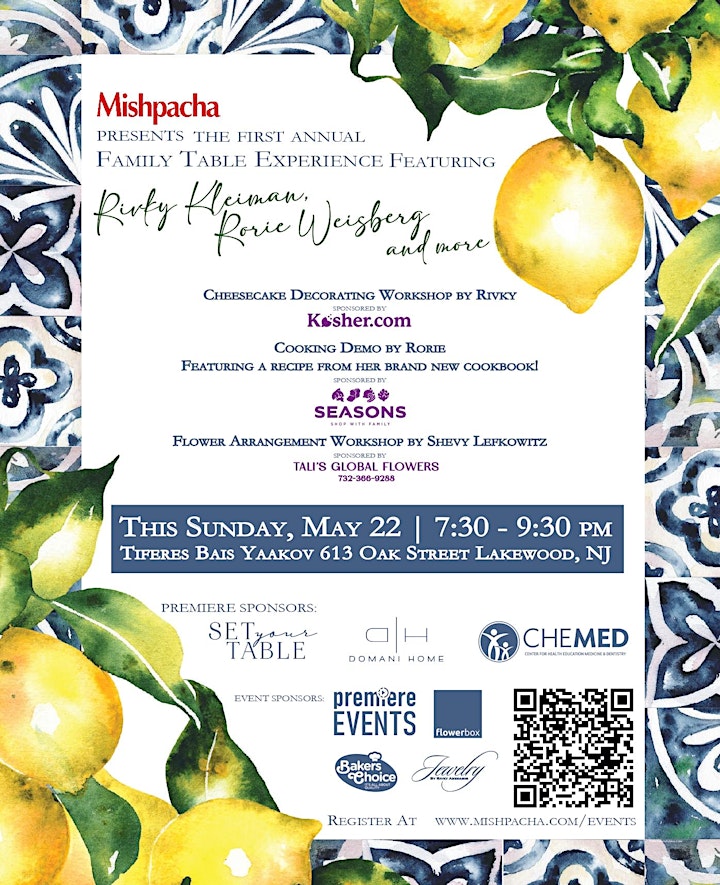 Date and time
Location
Tiferes Bais Yaakov School
613 Oak Street
Lakewood, NJ 08701
Refund policy
Contact the organizer to request a refund.
Eventbrite's fee is nonrefundable.