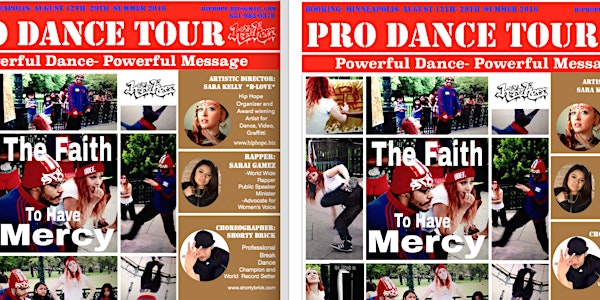 The Faith to Have Mercy: Directed by Sara Kelly Hip Hope @ the Schmidt Loft
Date and time
Sunday, August 28, 2016 · 3 - 6pm CDT
Location
Schmidt Artist Lofts 900 7th Street West Saint Paul, MN 55102
Refund Policy
Contact the organizer to request a refund.
Description
SHOW TIMES:
1) Open Rehersal: Sunday August 21th 3-6pm
2) Agust Performance: Sunday August 28th 3-6pm (Formal Event)
---
SCHEDULE:
3-3:15: Welcome
3:15-3:45pm: Performance
Intermission/Snack Bar & Silent Auction/Screening of the True Mercy's Interview (call to actions for victimes and perpitrators and familys to know how to handle to help stop the enemy's asault on sexuality)
: (feel free to look around- we are going to play the real Merci's Interview)
4:30-4:45- Meet the performers (each person gets mic for 5-10 minutes)
4:45-5:10pm reflection
5:10-6pm Open Dance Workshop! (Workshop Preview: https://www.youtube.com/watch?v=QlebDByX7VU)
---
PREVIEW: (https://www.youtube.com/watch?v=etsQZQ9g62A)
*THANK YOU!! You purcase has helped pay for the creation of the film being produced tost free those caught in a cycle of unforgivness- Thankyou for help making our world of media a better place!
---
MEDIA BLAST:
"The Faith to Have Mercy" Is a creative arts play based on a friends TRUE STORY and is about a young girl who is named Mercy, who is assaulted by her dad's and grows up to forgive them. After finding her loving Father Jesus, she reconciles with both her dad and step dad, and has a powerful testimony from it. This POWERFUL and EXCITING story is told through metaphor, theater, hip-hop, dance and visual art. We have full faith that this emotional and real-life production/music video series is going to impact people on a personal level and bring emotional healing to many from the effects of trauma and abuse.
We want to share inspiration and hope for making decisions based on confidence and strength versus fear and anger. We hope students will be able to identify the positive ways to believe in one's self after traumatic events, told through an artistic flow including some top recording artists. World champion Break Dancer Bboy Shorty Brick and BGirl BLove will teach a Break Dance workshop for ALL inspired to try some basic steps of the dance they just witnessed!
*FEATURING Joel Bronson Productions/Director of cinematography and editing, choreographer BBoy Shorty Brick WORLD RECORD BREAKER , Sarai Gamez (rapper) and a few other known artists will be featured in this production TBA ASAP!!!
-Amber Rose: Rapper/Tallent Recruitment/Communications

Hip Hope is a ministry* that reaches out to professional
artists and our community to tell a story of hope facing tough circumstances. *Public (non religious) Programing Available
---
DIRECTOR'S INVITATION to the CELEBRATION:
Hi Friends, Family and Fellow Professionals!
I would like to formally invite you to a Action Packed, Hope filled Live Drama Performance and interactive Dance Workshop Sunday at the Schmidt Artist Lofts! This will be a formal event with a snack & Beverage bar and a silent auction that will support Phase one of funding for a 3 Part YouTube Series called The Faith to Have Mercy to encourage viewers to walk in their true calling from God- free from unforgiveness and cycles of abuse. We have the play's choreographer: Bboy Shorty Brick (who broke the world record for dance in Holland when he was 16) who will be traveling in from Chicago to perform with us. He also taught Ben Hart (age 58) to do head spins and windmills- no one is to old to take this fun interactive work shop at the end! S so invite your friends o come on down to the Schmidt Artist Lofts and dress up in your Sunday's best (and still wear your sneakers) for a great cause!
Check out Hip Hope Videos and Shorty Brick Basics at www.youtube.com/c/SaraKellyHipHope- Make sure to Subscribe so you can keep dancing and see our finishied Mini serries for "The Faith to Have Mercy" when it comes out next year!
Thanks and Blessings,
Sara Kelly
651-983-0378
hiphope.biz@gmail.com
www.hiphope.biz
Schmidt Artist Loft #412
900 West 7th St
St Paul MN 55102
If you would like to a little more involvement action- contact me about:
Donate a silent auction item for Hip Hope
Volunteer Videographer/Editors/Photographers
Bring a special snack or beverage for the concession stand
Share this e-mail with people who would like to go
Sponsor a our Choreographer's Travel Expense! (send a $100 check to Hip Hope)
Shout us out for our August 28th Performance on a media outlet you have access too
Refer us to Organizations that be interested in Booking the performance (ask about Anti Bully/Sexual assault & Non Religious programing)
Subrcribe at www.youtube.com/c/sarakellyhiphope
Prayer Support