The Fair Won: A virtual fundraiser featuring music, art and culture in support of Stacey Abrams' voting rights organization Fair Fight
About this Event
The Fair Won
A "fair one" is an old slang term referring to those instances where people would agree to duel without weapons or assistance from others; a "may the best person win" battle that only ended when there was one person left standing. After Stacey Abrams and Fair Fight declared war on the (then) red state of Georgia, the powers of information, spirit and social media came together to turn the state blue, which helped to provide President-elect Joe Biden and Vice President-elect Kamala Harris with the electoral votes needed to win the 2020 presidential election.
Democrats will control both the White House and the U.S. House of Representatives in this coming term. Now, a crucial Georgia runoff election on January 5, 2021, will determine if the Democrats might also gain control of the Senate, granting the party control over two of the three branches of government in the United States.
On Saturday, December 19, from 6-9 pm, The Grand Illusion and DJ Monday Blue present The Fair Won, art and politics coming together to raise funds and awareness toward the fight for a Democratic Senate in 2021. The timing of the event is planned to generate a significant donation to support voting rights, especially during the United States Senatorial runoff elections in Georgia for Jon Osoff (D) vs. David Perdue (R) and Raphael Warnock (D) vs. Kelly Loeffler (R).
The Event
The Fair Won will take place on Zoom and will feature a cocktail and food demonstration by the Hospitality Bruhs, a fireside political chat with founder of The Hobbservation Point blog and podcast Chuck Hobbs and friends, a reading by award-winning author Kenji Jasper, musical performances by Russell Taylor, Trina Broussard, and Chris Rob; and will close with live painting by visual artist and muralist Fabian Williams (Occasional Superstar) to a soundscape crafted by DJ Reborn, Ms. Lauryn Hill's tour deejay.
Tickets
Ticket proceeds will be donated to Fair Fight to support their on-the-ground efforts in Georgia ahead of the United States Senate runoff elections. General and premium admission tickets are available. Everyone who purchases a premium admission ticket will be entered into a raffle for original artwork created by Fabian Williams during the live event.
Ticket sales end Friday, December 18th at 11:59 pm EST.
A link will be sent to all ticket purchasers the morning of Saturday, December 19th.
Sponsors
The Fair Won would not be possible without the generous support of our sponsors: Onion by Whitney Mero, Ooli™ Beauty, Purple Paisley Brunch, Surly Shirts, A.P.Ex. 34 of Delta Sigma Theta Sorority, Incorporated - Eta Kappa Chapter, and others.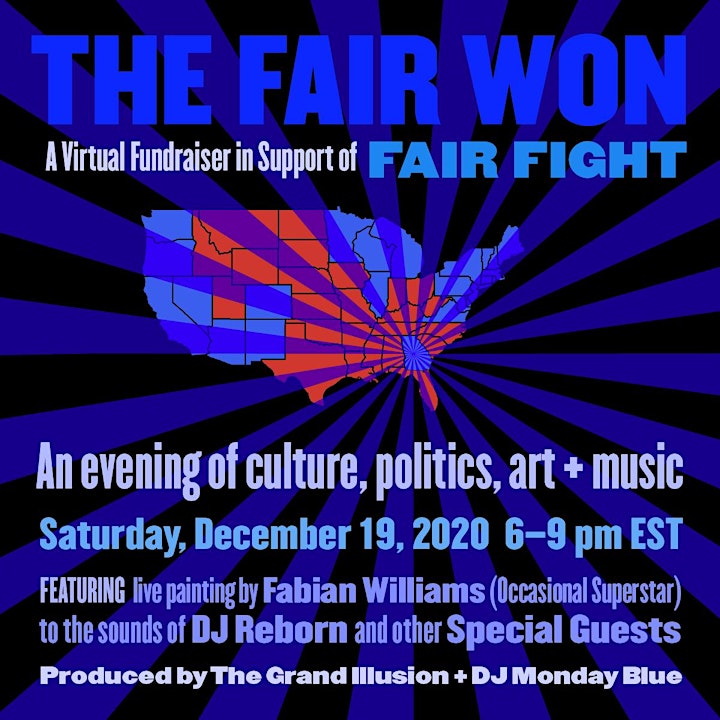 Date and Time
Location
Refund Policy