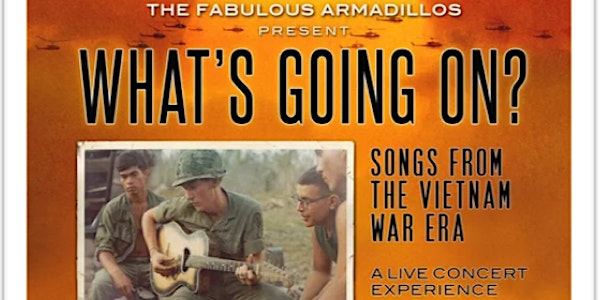 The Fabulous Armadillos Present: What's Going On? Songs of the Vietnam Era
Join your fellow Dilloheads for a fabulous night of music from the Vietnam War era, put on by the always-entertaining Fabulous Armadillos!
When and where
Location
St. Cecilia Theater on Cotter Schools Campus 1124 West Wabasha Street Theater Entrance on 7th Street Winona, MN 55987
About this event

Are you a Dillohead yet? This fabulous group will be making their third return to the St. Cecilia theater, for two nights in a row!
"What's Going On: Songs From The Vietnam War Era" is a moving concert experience that incorporates live music, live narration and video to provide the audience a multi-media deep dive into the 60's and early 70's and of course, the Vietnam War. Through song and imagery this concert examines the tumultuous time period, but concludes on a note of hope and inspiration for a better tomorrow. As one Vietnam Veteran narrates during the show, "When we think of our divisions today, they pale in comparison to how badly we were divided back then". A must-see Fabulous Armadillos production!