The F.A.B. Youth Conference and Expo is brought to you by The Fab 5 Foundation, Inc. & DreamHouse Make A Difference Foundation.
About this event
The F.A.B. Youth Conference and Expo will motivate, inspire, and empower young women and girls by providing them with the resources, education, and opportunities that maximize their potential for success.
Follow your dreams
And
Believe you can do it
Topics to be covered include, but are not limited to:
Transitioning to adulthood
Pursuing passion and purpose
Maintaining healthy relationships
Mental health and self-care
Leading in male-dominated industries
Hosted by Jazzy McBee. Speakers to be announced.
***During the conference we will also announce the winners of The Fab 5 Foundation Scholarship Giveaway.***
***Now accepting sponsor and vendor applications.***
***Ad space in the program/resource guide is also available.***
Email info@dreamhousefoundation.org for more information.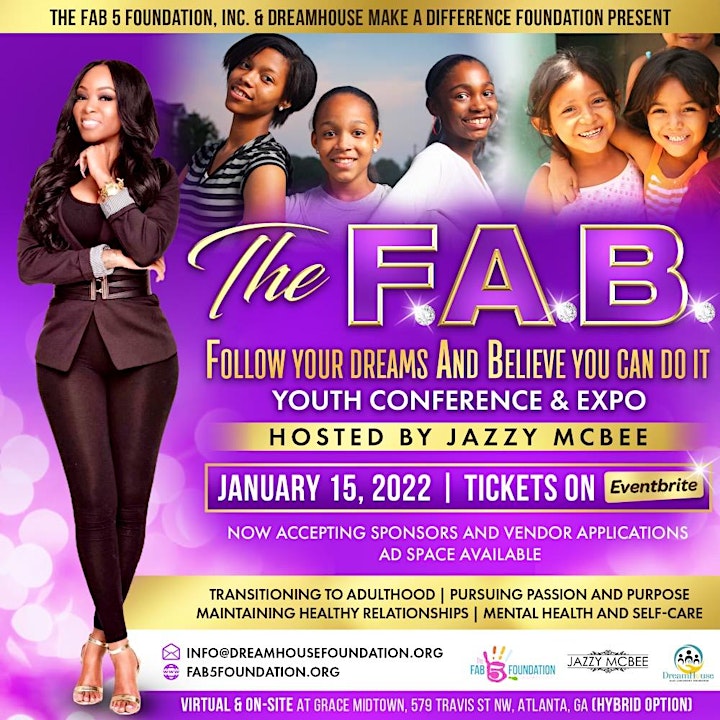 Organizer of The F.A.B. Youth Conference & Expo
The Fab 5 Foundation, Inc, is a 501(c)(3) nonprofit organization founded by TV/Radio Personality, Jazzy McBee. The organization focuses on nurturing and developing the minds of young girls by promoting confidence and higher education. We focus on topics that build confidence, self-awareness, and healthy relationships.

Our Mission: To frame young girls in a devoted, enthusiastic, and structured environment where they can retreat to find positive guidance and professional support.

Our Vision: To build character and foster phenomenal leaders for the community.