The Ezra Duo visits Little Rock on their Art of the Duo tour! Hear Prokofiev, Clarke, Brahms, and Kouyoumdjian LIVE @ the Steinway Gallery!
About this event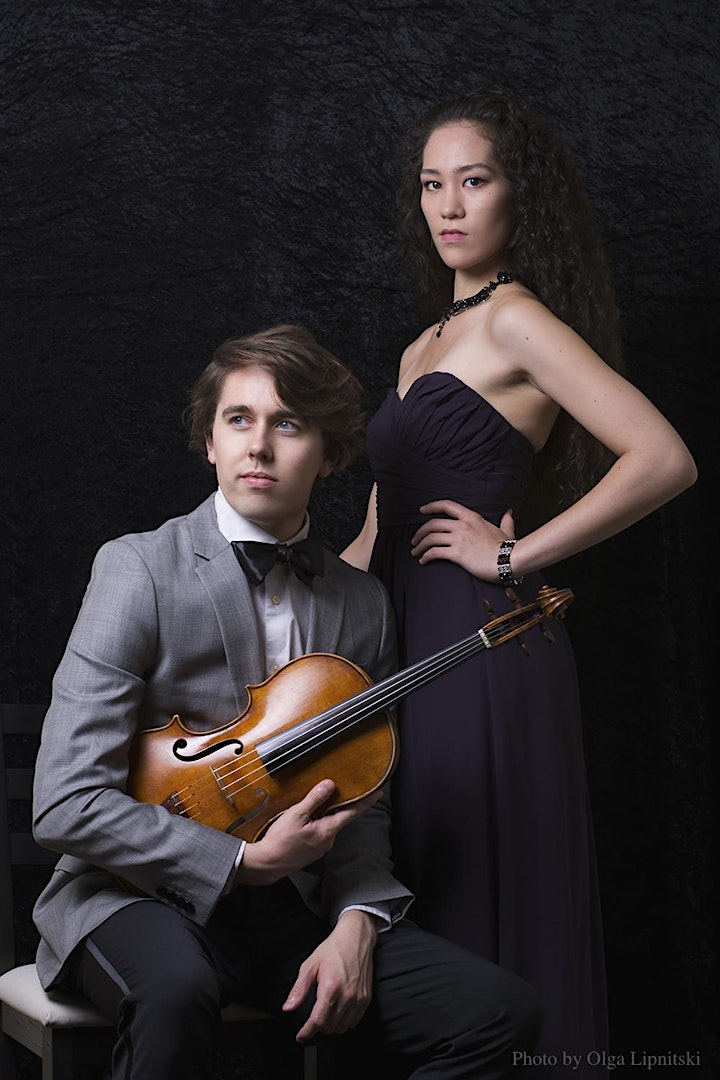 ART OF THE DUO TOUR
------------------------------
Sergei Prokofiev: Suite from Romeo and Juliet
Rebecca Clarke: Sonata for Viola and Piano
INTERMISSION
Mary Kouyoumdjian: A Boy and a Makeshift Toy
Johannes Brahms: Sonata in E minor
------------------------------
DOORS OPEN AT 6PM. ALL SEATING IS GENERAL ADMISSION, RSVP WITH TICKET.
Suggested donation: $30 (helps cover artist and venue fees)
Reception with the artists to follow the conclusion of the concert.
About The Ezra Duo
Formed at The Glenn Gould School in 2016, The Ezra Duo (Jacob Clewell, viola and Sasha Bult-Ito, piano) quickly established itself as a performing ensemble of the highest caliber. The duo found themselves racking up a string of early performances, including visits to the Arts and Letters Club of Toronto, the Prime Chamber Music Society in Mississauga, and in Mazzoleni Hall and Temerty Theatre at the Royal Conservatory of Music. Ezra gave their first performance in Toronto's Koerner Hall in the spring of 2017, performing Hindemith's Op. 11 No. 4 in a prelude concert for the Royal Conservatory Orchestra.
Ezra has gone on to perform coast to coast in Canada: in the east on the Scotia Festival of Music's Young Artist recital series, in the west in recital in Vancouver, British Colombia, and more centrally in Ontario as guest artists on the North Bay Symphony's chamber series, and on Toronto's local Nine Sparrows Chamber Series and Concerts@100. In November 2017 they appeared in Carnegie Hall's Weill Recital Hall in New York, and in April 2018 performed as guests at a G7 Summit event held at the Royal Ontario Museum in Toronto. In March 2019 Ezra toured with their "Women in Music" program to Atlanta, Rome (GA), Albuquerque, Santa Fe, and North Bay, Ontario. They have also participated in outreach events at Toronto's Baycrest Hospital and the Center for Addiction and Mental Health, as well as appeared on the Toronto Public Library's mid-day "Orchardviewers" series.
The duo are first prize winners of The Great Composers Competition: The Art of Chamber music and The Music of America, Golden Classical Music Awards, Grand Prize Virtuoso Competition, and IMKA Music Competition, earning invitations to perform in New York, Vienna, and Sarajevo. In March 2018 they competed in the Città di Pinerolo e Torino – Città Metropolitana International Chamber Music Competition in Turin, Italy. In June 2019 Ezra premiered a new sonata written for them by Canadian composer Ronald Beckett, as winners of Arcady Ensemble's Emerging Artist competition.
Highlights for the 2019-2020 season include performances in Nova Scotia and Ontario, as well as tours to the midwestern and southern United States featuring "Art of the Duo", a program highlighting the virtuosity of true duo performance.
About STEINWAY & SONS
STEINWAY & SONS was founded in 1853 by German immigrant Henry Engelhard Steinway in a Manhattan loft on Varick Street. Over the next thirty years, Henry and his sons developed the modern piano. They built their pianos one at a time, applying skills that have been handed down from master to apprentice, generation after generation, ever since. The STEINWAY piano became the choice for ninety-eight percent of concertizing artists, none of whom are compensated to endorse the instrument. The STEINWAY earned a reputation as an investment for the owner in the legacy of future generations.
To call a genuine grand or upright piano of STEINWAY & SONS one's own is an overwhelming feeling. Far more than just an exquisite instrument, it is an instrument of the highest expression and creativity. A STEINWAY piano intimately connects artist and listener, and invites its owner to join a tradition of musical perfection, making it an invaluable investment.
Organizer of The Ezra Duo @ Steinway Piano Gallery Little Rock