Description
Leap at chance to support an amazing cause, and cash in your old glasses to to save on a new pair!
Every leap year you get to watch the Summer Olympics, vote in the election, and support a great cause at The Eye Doctorss' Leap Day Trunk Show! Plus a chance to find a great new style from hundreds of exclusive frames brought in by some of our top brand ambassadors.
This February 29th from 8am - 5pm at our New Tampa location, we're having a trunk show! Trade in your old pair of glasses and receive a $50 credit towards a new pair. What's more is all of our glasses will be marked down on the day of the event!
If that wasn't enough, we've partnered with an amaing local chapter of an amazing charity. Proceeds from the event will benefit Dress For Success of Tampa Bay.

Dress for Success is an international not-for-profit organization that empowers women to achieve economic independence by providing a network of support, professional attire and the development tools to help women thrive in work and in life.
Frames, Prizes, Discounts, and an onsite Barista from Lyv Coffee with free breakfast and lunch!
From 10am - 2pm, vendors from bebe, Chopard, Columbia, Nautica, Nike, and more will be in our store to help you take a flying LEAP into a new look! Food and beverages will be served as well, so come over and make a day of it.
Want to earn a $50 credit towards your new frames? All you have to do is bring in your old prescription glasses to donate to those in need!*
Don't wait another four years — donate your old frames and find your perfect new pair of designer glasses. Come visit The Eye Doctors on February 29th to see what we have in store for you!
*some restrictions apply
Come find your perfect pair of glasses, raise money for an amazing cause, and start saving now! Pre-registration through the purchase of a "free" ticket on Eventbrite will serve as an additional $10 off any eyeglass frame!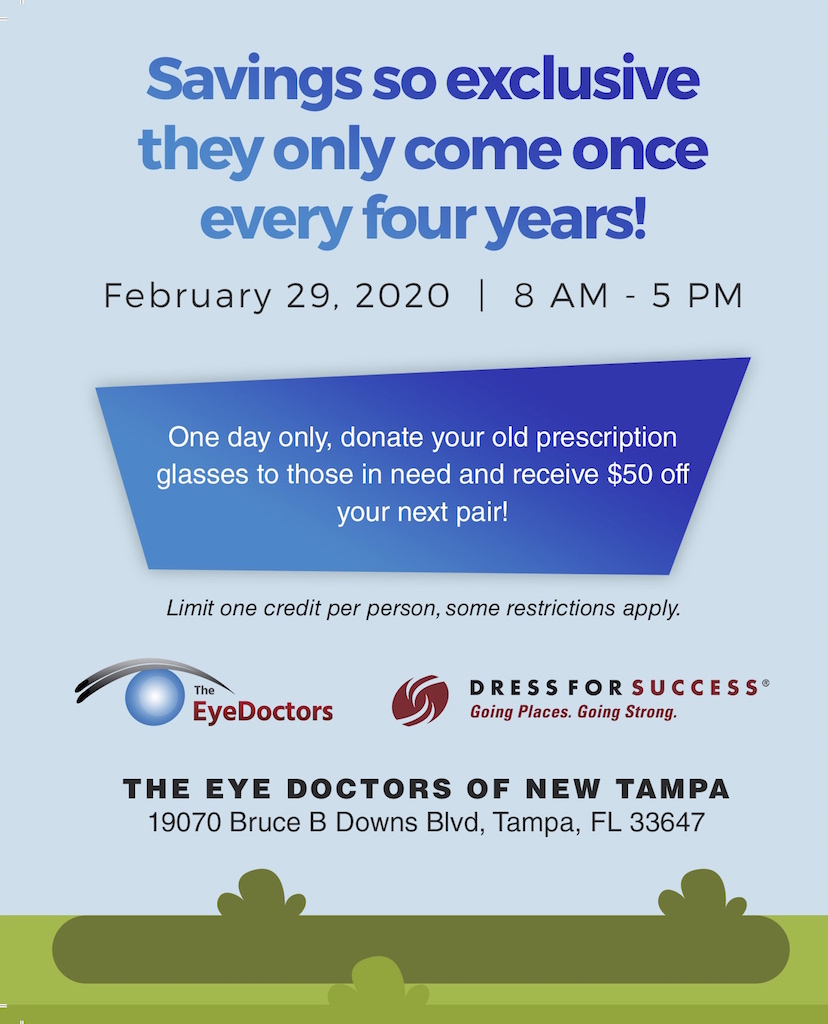 FAQs
How can I contact the organizer with any questions?
You can call out office at 813-632-2020 or email us with questions: contactus@theeyedocs.com
Do I have to bring my printed ticket to the event?
You do NOT have to print your ticket. You can simply show it to us on your phone.