Event Information
Location
New York
New York, NY 10010
Refund policy
Refunds up to 7 days before event
Description
JUMP START your summer by unleashing Extreme YOU!
The Extreme YOU SUMMER CHALLENGE is a six-week intensive program that combines fitness, personal development, and nutrition challenges to push you outside of your comfort zone in order to unleash your FULL life potential.
You will receive a customized weekly workout plan, a nutrition plan, and every week you'll also spend time on personal development, learning about and applying the 5 key "Extremer" behaviors of Drive, Openness to New Experiences, Proactivity, Self Awareness, and Grit that are proven by psychological research to unleash more of your potential in work and life.
You will participate through an app with a tight group of peers and the daily encouragement of our coaches. Your engagement will be tracked and you will be able to compare and compete with your teammates. Physical fitness activity will be tracked and monitored on a private STRAVA club.
At Extreme YOU - we believe in pushing ourselves physically to drive a higher level of personal achievement. We know how to get comfortable taking risks, overcome fears, step out of line and leverage the huge connection that exists between PHYSICAL fitness and MENTAL strength.
The Extreme YOU SUMMER CHALLENGE is a super fun program that will coach you through our proprietary curriculum and track your fitness activity, your nutrition intake, and your application of the Extreme YOU curriculum on the way to achieving the BIG ASS GOALS that YOU want to achieve!
WHO IS THIS FOR?
Anyone who has ambition and a desire to jump-start their results in fitness and in life. You might be just discovering your true ambition and wanting to know how to "break through" or further along and wanting to know how to "get out of a rut". Either way - our program will help you tap into more of your own potential.
WHAT WILL I TAKE AWAY?
You will be pushed to set big bold goals for your life and to articulate your unique "competitive" advantage that you will use to achieve them.
You will leave with an actionable work plan that will help you drive your performance more consistently through the five Extremer "behaviors".
You will also come away with new fitness and nutrition plans to take your health to the next level - and a better understanding of how to use your physical fitness to drive your mental strength.
OUTLINE OF THE PROGRAM:
Week 1:
Theme: Igniting Your Magic Drive
- Team meets on Zoom on Sunday, June 2nd from 9am to 12pm
- Coach explains the "rules of the game" - Nutrition plan, Weekly Fitness plans, and The Extreme You Curriculum
- Participants SET GOALS: Fitness and Life with a special focus on igniting internal drive.
- Participants log current benchmarks in fitness and life to set goals for progress
- Participants review their personal results from taking the Extremer Quiz, and the Fitness Personality test
- Coach delivers personal development workshop on Igniting Internal Drive, Being Open to New Experiences and how to become more Proactive
- Participants leave with their weekly fitness and nutrition plan

Week 2:


Theme: Checking Yourself Out
- Coach assigns weekly fitness plan. This will include direction on cardio, strength and recovery workouts - to be completed in the participants time and at the gym, boutique studio or outdoor space of their choice. This week will focus on trying new workouts that get participants out of their comfort zone and we will focus on tips and techniques to develop new routines.
- The week will include an optional team outdoor workout or hike with the coach
- Coach assigns weekly personal development "mission" around trying new experiences
Week 3:

Theme: Get Out Of Line
- Coach assigns weekly fitness plan. This week will focus on how we can use mental strength to build our physical strength
- The week will include an optional team outdoor workout or hike with the coach
- Coach assigns weekly personal development "mission" around stepping up, standing out and being proactive against an important life or work goal

Week 4:
MIDPOINT CHECK-IN:
- This is the teams "midpoint check-in" where we check in on results and gather learnings from one another
- The coach delivers the personal development workshop on identifying your personal Competitive Advantage, developing Self Awareness of your weaknesses, and getting comfortable with taking risks, overcoming fears and developing GRIT.
- Coach assigns weekly fitness plan. This week will focus on overcoming obstacles that hold us back from achieving our fitness goals
Week 5:
Theme: Pain Training
- Coach assigns weekly fitness plan. This week will focus on pushing participants to find new limits outside the comfort zone
- The week will include an optional team outdoor workout or hike with the coach
- Coach assigns weekly personal development "mission" around overcoming fears and developing GRIT

Week 6:
Theme: Self Awareness and Support
- Everyone reviews their progress against their goals
- Coach assigns final weekly fitness plan and ongoing maintenance plan for when the program ends. The focus will be on how to keep the new routines going at the end of the program
- Coach assigns weekly personal development "mission" around overcoming understanding weaknesses and finding Extreme Mates for support
- The week ends with a group happy hour to celebrate our achievements!


WHO WILL BE COACHING?
The workshop will be co-taught by:
Sarah Robb O'Hagan (Instagram/Twitter: @ExtremeSRO, Facebook: @ExtremeSarah)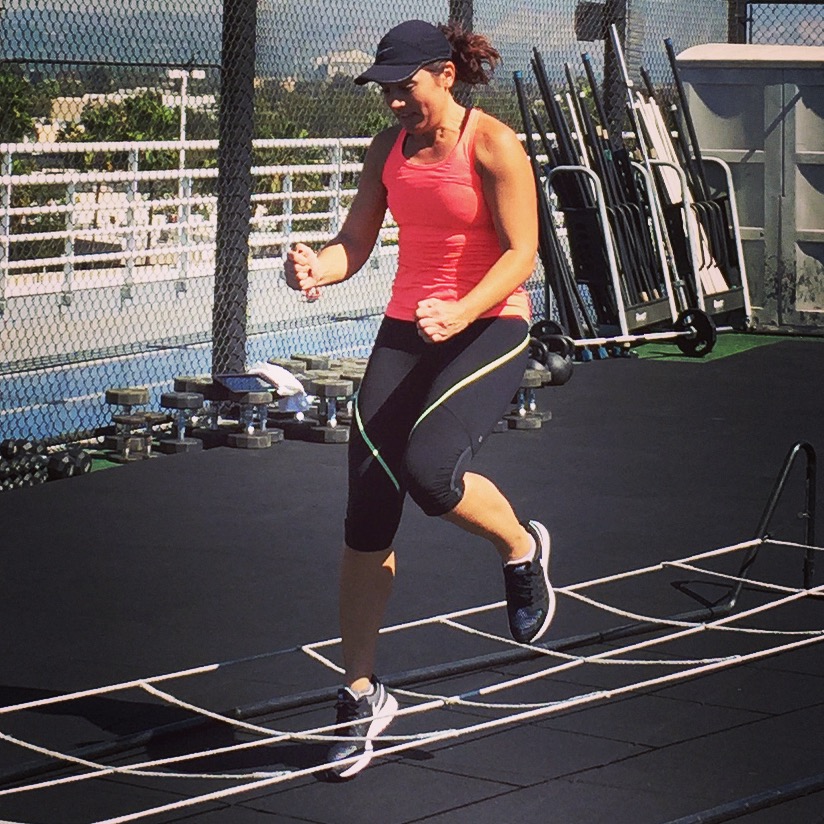 Sarah Robb O'Hagan is the author and founder of ExtremeYou. Step Up. Stand Out. Kick Ass. Repeat, a book, media platform and training company to unleash potential in ambitious people everywhere. She has been described by the media as "Superwoman undercover" and the "Pied Piper of Potential." A high-energy combination of disruptive business leader, fitness fanatic, and cheerleading mom, she's been named among Fast Company's "Most Creative People in Business." She led the reinvention of Gatorade as its global president and the digital transformation of Equinox Fitness Clubs as it's president. She is the former CEO of indoor cycling company Flywheel Sports and has also held leadership positions at Nike and Virgin. Sarah is a sought-after expert on business innovation, and inspiring human performance.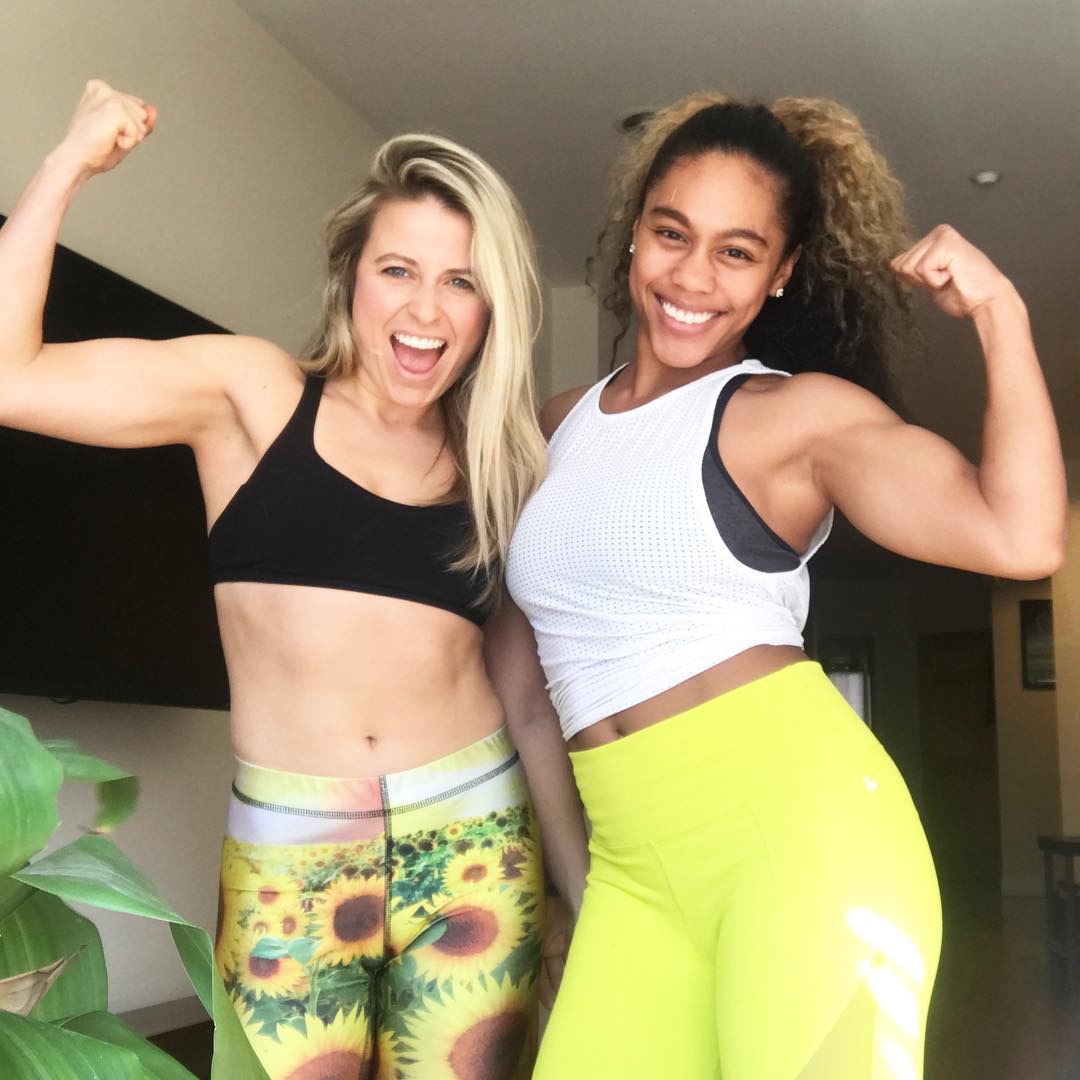 FITNESS PROGRAMMING AND COACHING PRESENTED BY "ELEVATE TOGETHER"
Emily Fayette @TheHealthyHustle
Emily's mission in life is to infuse energy and positivity so that others can find and live their max joy. The Healthy Hustle is designed to create the happiest, healthiest and BEST version of you. As a certified personal trainer, health coach, group fitness instructor and life mentor, Emily has dedicated her life to helping others. She knows this is what she was born to do and wakes up every day excited to enrich lives. "Strong, Stronger, Strongest" is a mantra Emily uses every day. She shares this with her merry band of healthy hustlers to encourage them to reach levels of strength and empowerment that they didn't know was possible.

Sherica Holmon @Sherica_Holmon
Sherica a personal trainer and fitness coach based in NYC, has been an athlete all her life having run track in both high school and college, and who strives to "bring the athlete out" in all of her clients. Sherica is no stranger to taking risks having quit a customer service job in Albuquerque New Mexico in 2012 to pack up and move to New York to start a fitness career that has led her to be a highly regarded fitness influencer and trainer. She believes in constantly pushing herself outside her comfort zone to reach her potential and her goal is to encourage others to invest in themselves.
WHAT DO I NEED TO PARTICIPATE?
You will need an Apple watch or similar heart rate monitor, and a mobile device through which you can sign up to our private Extreme YOU App to receive coaching and to interact with the group. We will also provide you with a subscription to STRAVA to track your workouts with our private group on the platform.

You will need access to a gym floor with fitness equipment for some of the prescribed workouts that you will do on your own and a great outdoor running or cycling path to get your Summer cardio on!
WHAT IS INCLUDED IN THE PROGRAM?
Your fee includes:
Six weeks of daily coaching through our app, monitoring and encouragement

Participation in a private community of like-minded Extremers with healthy competition and accountability to keep you motivated and on track

3 months Strava Premium membership


A nutrition guideline for the 6 weeks

Weekly optional outdoor in-person workouts/hikes with your coach and the group


Two days of live coaching through the Extreme YOU Workshop - to help you identify your personal competitive advantage, and learn how to develop the five Extremer behaviors to get more out of your own potential

Your own Extremer workbook and course material

A signed copy of the book Extreme You - Step Up. Stand Out. Kick Ass. Repeat.

Your personalized results from the Extremer Quiz to help you understand how well you are currently playing to your potential, as well as your "fitness personality" Quiz to help you understand how to trigger your engagement in fitness
WHERE DO I GO IF I HAVE QUESTIONS?
Please email us at info@extremeyou.com and we will be happy to help!
Date and time
Location
New York
New York, NY 10010
Refund policy
Refunds up to 7 days before event