The Extraordinary Life of Carmel Artist Jane Gallatin Powers by Erin Gafill
Description
On August 18 at 7:00 pm we present:
The Extraordinary Life of One of Carmel's First Artists: Jane Gallatin Powers.
A slide show and talk by Erin Lee Gafill, Jane's great great granddaughter.
(Prefer to RSVP for this event over the phone? Just call 831-667-2574!!)

7PM - Reception. Wine and light snacks will be served.
7:30 - Erin Gafill presents.
8:45 - Q & A

A talk and slideshow tracing Erin Lee Gafill's roots in the arts back to her great-great grandmother, Jane Gallatin Powers who was the first artist to have a studio in Carmel. Jane and her husband Frank Powers owned over 75 per cent of what is now Carmel-by-The-Sea by 1903. After the 1906 San Francisco fire, Frank worked to develop the town, and Jane hosted artists, poets and writers in their seaside cottage.
Their guest list was epic, including poet Mary Austin, writers George Sterling and Jack London, and perhaps most significantly, the renowned teacher William Merrit Chase whose summer art school put Carmel on the map. Jane had the first art studio in Carmel, still standing today, and was cofounder of the Carmel Arts and Crafts Club. Educated abroad, she was the rare American woman artist to enjoy both a European arts education and to be shown in prestigious European museums and galleries. But hers was a riches to rags story.
Reared in wealth in her family's palatial home in Sacramento (now the Governor's Mansion) she died penniless and alone in wartorn Rome shortly after the city was liberated from Nazi occupation in 1944. Her luminous Modernist paintings, lauded by critics and exhibited in Paris, Rome and the isle of Capri, were stored for decades sight unseen, her legacy all but forgotten. Her great great granddaughter, award winning artist Erin Lee Gafill, tells the story of re-discovering the paintings, the artifacts, and the history of Carmel's first woman in the arts, and its impact on her own life in the arts.
Erin is an award-winning painter, writer, and teacher, and a member of the Carmel Art Association. Author of the memoir "Drinking from a Cold Spring," Erin grew up in Big Sur. For over twenty years she has taught art and creativity workshops in the United States, Mexico, Japan, and Italy. She is the co-founder of the Monterey Bay Plein Air Painters Association and the nonprofit arts education organization, Big Sur Arts Initiative.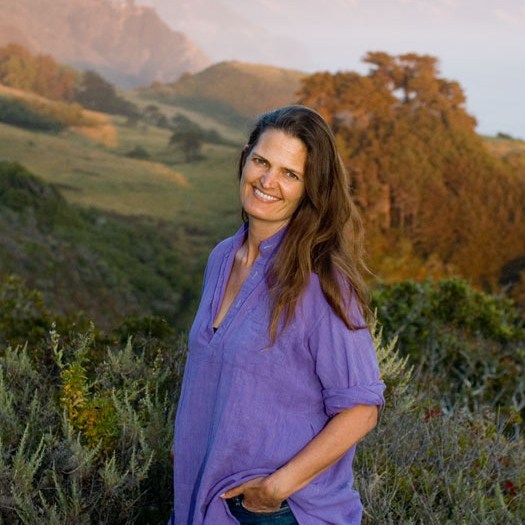 Erin Lee Gafill webiste here.