About this Event
The Sonoma County Women in Conversation events continue to create a strong voice surrounding topics of interest to women of all ages, building a community of women who support and motivate each other and engage in important conversations.
Join us and learn, laugh and leave feeling inspired!
Although the event is free, there is an onsite parking fee of $5 per vehicle. To purchase a parking pass in advance, visit https://pmb.csustan.edu/dailypermits/#/ .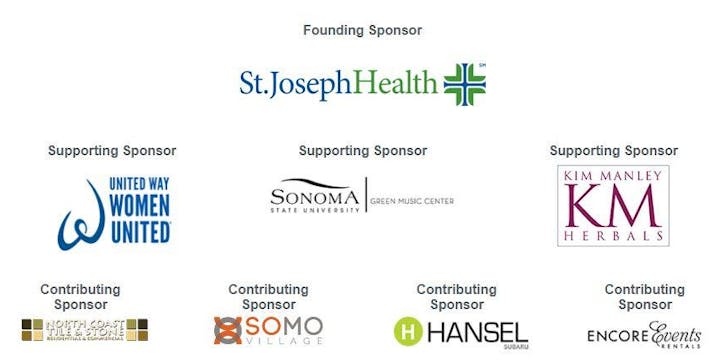 Join us to celebrate, inspire and empower local women from all backgrounds. We host a showcase for dozens of women-related businesses and services, locally-owned businesses, from financial planning to health and wellness, from home design to personal style. You'll nosh, drink and mingle with some of the area's top entrepreneurs.
Homebound
Oliver's Market
Breathless Wines
Orange Theory
The Garden Society
Noonday Collection
Girls on the Run
Damsel in Defense
VOICES
Cookie…take a bite!
Sonoma County Regional Parks
Revive Kombucha
Solful
Verity
Well + Sonoma
Sonoma County Library
Chernoff Cosmetic Surgeons
Quest Forward Academy
Sonoma County Economic Development Board
CHEVOO, Inc
Santa Rosa Symphony
Crunch Fitness
Costeaux French Bakery
Shutterbug
Guillen & Merrill Consulting
Center for Well-Being
Sole Desire Shoes
Copperfield's Books