The Experience of the Latino Church in the United States
Description
The Experience of the Latino Church in the United States
Book Presentation by Bishop Ricardo Ramirez and Edgar Beltran Acosta
Thursday, September 14, 2017 | 8 PM | Altamira Libros | 219 Miracle Mile, Coral Gables
Power from the Margins: The Emergence of the Latino in the Church and in Society
Ricardo Ramirez, C.B.S., is Bishop Emeritus of the Diocese of Las Cruces, New Mexico. In his book, Bishop Ramirez draws from his rich pastoral experience as a clergy leader and as a Mexican American, to offer a powerful and intimate testimony about "the foundation and legacy of Latino faith, the challenges we face, and to celebrate the next generation."
A History of Latin Hispanics in the United States
Edgar Beltran is a renowned pastor and theologian who in 1971 pioneered the National Hispanic Encuentros in the United States. His book offers a comprehensive narrative about the religious experience of the Latin community in the U.S. and how it has been continually nurtured and informed by the sending countries of Latin America.
–This event will be presented in Spanish | Simultaneous translation to English available–
This event is free and open to FIU students and to the public. For more information please call (305) 348-2186.
Co-sponsored by:
USCCB Subcommittee on the Church in Latin America, Department of History, Department of Religious Studies, Kimberly Green Latin American and Caribbean Center, Steven J. and Dorthea Green Library Digital Collections, Department of History Graduate Student Association (DOHGSA), TAK for Religious Studies Student Association, Digital Library of the Caribbean (dLOC) and the Ruth K. and Shepard Broad Distinguished Lecture Series. Funded in part by the Council for Student Organizations - CSO.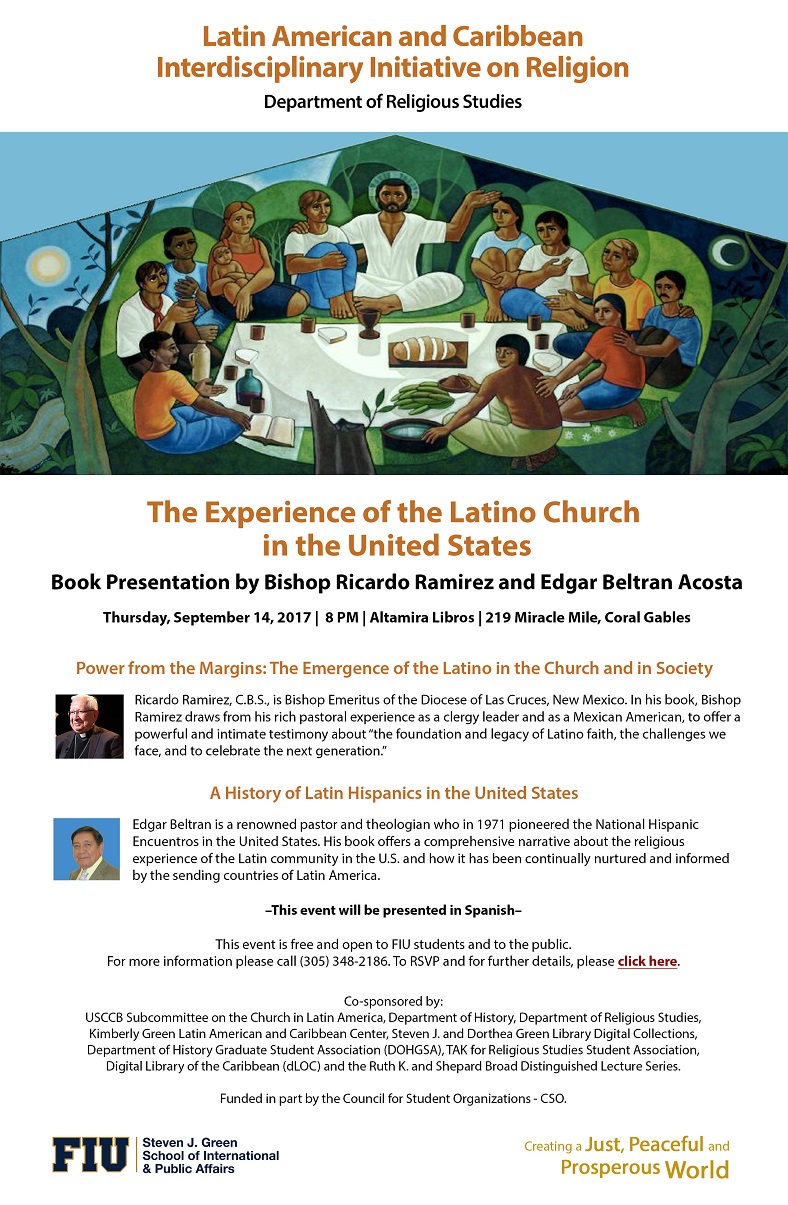 Please click here to view the flyer.