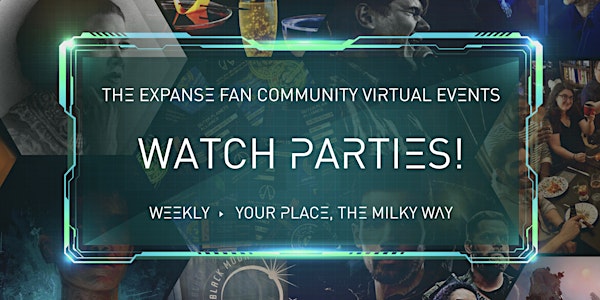 The Expanse Fan Community Weekly Watch Parties
Meet up on Zoom to watch and discuss each episode with our friendly fan group.
About this event
We had such a wonderful time watching, discussing, and just hanging out with likeminded nerds at our big virtual fan community party. Many people asked it we could do it again for the rest of the season's episodes, so we definitely are!
We've made this an EventBrite event so that our Zoom links aren't publicly posted. This event is set to "recurring" so you can easily get reminders for it and show each one on your own calendar. Register for each event, or just the first one you'll attend.
Once you've registered, you'll get access to our weekly Zoom link, plus all our previous event's digital resources for making things extra Expanse-y at home.
Each Week's Schedule
01:00 - Zoom hangout begins! We all say hello and get our chosen devices (and snacks) ready to watch.
01:30 UTC - The episode starts! We mute our mics and chat in Zoom's interface if we'd like to.
02:15ish UTC - The episode ends. We discuss it and enjoy each other's company.
About the timing: Because a few people have said they were rushing from work/dinner to arrive, we've moved our schedule back by a half hour as of January 12th/13th's episode.
So that we can watch the episodes soon after they come out while all watching at the same time, we will start each episode at 01:30UTC (8:30PM EST, 5:30PM PST).
How to watch: You can easily watch on a computer with our Watch Party link, which will synchronize your episode with ours. If you'd rather watch on a TV or other device, you can sync up by starting exactly on the hour and never skipping the intro credits.
Looking forward to seeing your faces again!