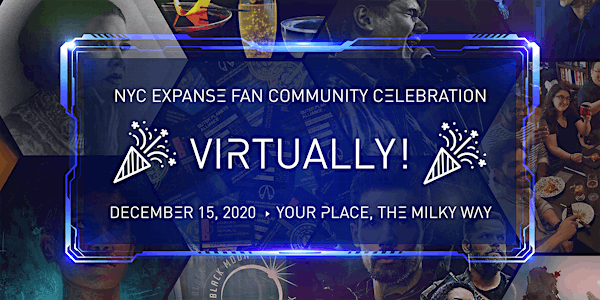 The Expanse Fan Community Celebration 2020
With Earther conviviality, Martian unity, and Belter ingenuity, we'll party for Season 5 like we're all together — no matter where we are.
About this event
Let's Party!
Join the NYC Expanse Meetup and fans of The Expanse from around the world for our annual celebration of the new season — this time, virtually! On December 15th, Zoom will be our Ring Network, letting us travel the galaxy faster than light and visit locations in the Solar System and beyond to meet up and get excited for Season 5.
Guests will meet one another in themed rooms hosted by in-character volunteers to admire art and cosplay, learn from fan experts and special guests, learn some Belter, make drinks alongside the Black Moon's bartenders (we'll send plenty of recipes!), and hang out 'face to face' with friends they might only know from their online handles. If the first episodes drop while we're partying, we'll break to watch Episode 1 on our own Amazon accounts, then get back together to discuss!
If you're new to Zoom or virtual events, no worries: We'll send thorough instructions in advance and have volunteers at the Medina Station Help Desk to help out.
Bringing A Virtual Universe to Life
We plan to help you to make your experience as immersive as you want it to be, whether this is your first fan event or your fiftieth. We've got themed rooms, volunteers in character, and plenty of ideas for making the party feel real wherever you are. Dressing up as an Earther, Martian, or Belter is encouraged!
We couldn't resist continuing our tradition of party favors, so we'll mail them to you wherever you are in a space-y holographic envelope! Since our virtual event is free, you can buy them here. This year's kit includes...
A personalized ID badge from Earth, Mars, or the Belt, with a black chain to wear it on. Use your own name, or the name of your favorite character to cosplay or role play!
A very fancy embroidered iron-on patch celebrating the ideal of peace among our Solar System's three factions
A coaster from our virtual Belter bar, the Black Moon, to put your evening's drinks on
Edible blue glitter to enhance your evening with a little Proto-sparkle
A card from the organizers
Of course, you don't need to order party favors to attend, and you're welcome to order a kit just for fun even if you won't make it to the party! We're using Etsy so you can choose your own shipping method no matter where you are in the world. We'll ship them out 2 weeks in advance to give them plenty of time to arrive. You can order party favors any time until we run out, but custom badge orders must be in by November 13th. Order here.
Digital Party Kit
We'll send every guest a set of digital party supplies, like themed recipes for food and drink, a template to print to create a viewing terminal with Zoom's green screen function, and virtual backgrounds so can look like you're in each location with us or calling from aboard your own ship. We'll also include ideas for easy cosplay and economical Expanse-style decorating.
Burn back here for links and details!
Once you've registered, you'll be able to return to this event page a week before the party to download our digital party kit, find important links and information, and enter the virtual event when it begins. You'll also find our finalized "map" of breakout rooms and our schedule of events as they're finalized. Click the "Access the event" button in the top-right corner of this section to sign back in.

Questions and Answers
Who's organizing this event? As always, this is an entirely fan-run celebration, organized by ItReachesOut and the NYC Expanse Meetup crew (join us, if you're in the area). It has no affiliation with Amazon, Alcon, or any other official Expanse entity.
What do I need to participate? A laptop (a webcam is fun but isn't required) and the latest version of Zoom.
So, this is entirely virtual? Yes! We wouldn't want any Protomolecule infections spreading among the fans. Instead of physical rooms to move among, we'll use Zoom's Breakout Rooms feature to let you circulate around the party and talk with others. If this sounds confusing, don't worry — we'll send along instructions in advance and have volunteers around to help. The only physical elements of this party will be our physical party favor kit and anything you create in your own home.
What does it cost to attend? Nothing! This event is ferí asilik biya ("free as in beer"). Zoom is free for guests, and this event is all-volunteer run. The only things you might want to pay for are party favors.
What are the deadlines around ordering party favors? You can order party favors any time, but there are a few deadlines if you want personalized badges and want your kit to arrive in time for the event. If you would like a personalized badge, you must order by November 13th so we can send the list to the printer. If you order after that, we'll send you a badge with blank fields to fill in with a permanent marker or a label. We will ship out the kits that have been ordered 2 weeks before the event to be as safe as possible, but can't make any guarantees about how long the mail will take. If you order very soon before the event, your kit might arrive late.
How can I join the volunteer crew? If dressing up and hanging out in character for an hour or two sounds fun to you, email me at reachesout@gmail.com.
What if I'd like to show off my cosplay photos or fanart in the virtual galleries? For now, email me at reachesout@gmail.com. Official forms are coming soon!
Will we be watching The Expanse at the party? No, but if we get new episodes before the party ends (we hope so, Amazon often releases things at midnight London time), we'll split up to watch them on our own Amazon accounts and then meet back up to chat.
Wait, Season 5 release day is the 16th! Why is this party on the 15th? Not a mistake! We want everyone to be able to attend this party and not worry that others have seen the new episodes already. This way, we can all be excited together, and then watch on our own schedules when the episode come out.
What if I have another question? Hit the "contact organizer" button or email reachesout@gmail.com.