The Expanding Role of the CFO by the NJ CFO Leadership Council
Description
The Expanding Role of the CFO
Presented by
The New Jersey CFO Leadership Council
Tuesday, December 6, 2016 @ 8:00am – 10:30am
Our agenda is networking and breakfast from 8:00 a.m. to 8:30 a.m.
Program will start at 8:30 a.m. and end at 10:00 a.m. with more time for networking
Program Description
For many years the industry has been talking about the evolving role of the CFO from back-office scorekeeper to strategic advisor and business partner to the enterprise. So how are we doing in this endeavor? Are CFOs increasing their influence on strategy and decision-making across the organization?
Join our panel of experts on Tuesday, December 6th as we discuss "The Expanding Role of the CFO." The panelists will discuss their experiences in expanding the role and influence of the CFO, and Finance, with the CEO. They will also share best practices and techniques for increasing the value-add of Finance across the enterprise.
Learning Objectives
Through this session, attendees will learn:
What new responsibility CFOs and Finance organizations are taking on
How to build a more strategic relationship with the CEO
Processes and techniques to being a better business partner to other LOB executives
How to increase the influence of Finance across the business
The skill sets needed to support the expanding role of Finance
Speakers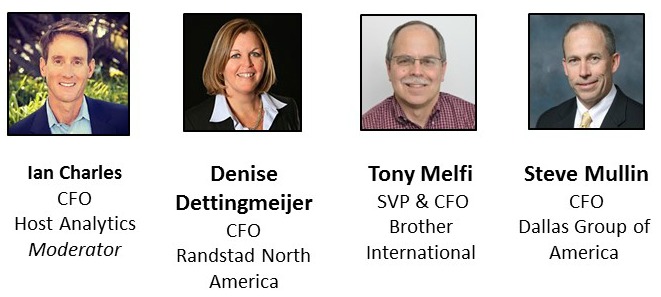 Registration
To register for this program, simply click on the green tickets button above. All CFO Leadership Council members can attend this event for free. Non-member senior financial executives who are CFOs, Vice Presidents of Finance, Directors of Finance and Controllers (or the like) are welcome to attend this program for $60.
Please note that service providers or any executives who are not senior financial executives (CFOs, Vice Presidents of Finance, Controllers, Directors of Finance, etc.) will not be admitted attendance to this event. The CFO Leadership Council reserves the right to decline any registration.
More Information & Refunds:
For more information about this program or The CFO Leadership Council, please contact Debbie Lindner, Marketing Director, NJ Chapter at debbie@cfolc.com.
If you would like to cancel your ticket or request a refund, please contact Debbie Lindner, Marketing Director, NJ Chapter at debbie@cfolc.com. Refunds are available up to 24 hours prior to the program
CPE Information
Program level: Advanced

Field of Study: Personal Development
Recommended CPE: 1.5 CPE
Program Prerequisites: None
Advanced Preparation: None
Delivery Method: Live/Group
The CFO Leadership Council is registered with the National Association of State Boards-of-Accountancy (NASBA) as a sponsor of continuing professional education on the National Registry of CPE Sponsors. State boards of accountancy have final authority on the acceptance of individual courses for CPE credit. Complaints regarding registered sponsors may be addressed to the National Registry of CPE Sponsors, 150 Fourth Avenue North, Suite 700, Nashville, TN, 37219-2417. Website: www.nasba.org
About Our Speakers
Ian Charles, Chief Financial Officer, Host Analytics
Ian Charles is a strategic CFO with broad financial experience and a passion for building businesses.
Having amassed 15 years of experience in senior finance roles, Ian was the CEO of IMC Capital Partners, where he led many successful software investments and advised technology startups in strategic development and financial analysis. Ian was CFO at RMG Networks, a digital media firm backed by Kleiner Perkins that grew rapidly and executed multiple acquisitions to establish a leadership position in digital out-of-home media.
Ian was a founder and CFO at Rex & Co, SVP of corporate development for UNX, and vice president and equity research analyst for SG Cowen. He started his career as director of corporate development for AOL Time Warner, leading new acquisitions and strategic partnerships.
Ian comes to Host Analytics via The Brenner Group, and advises leading startups, including Skava and Joyent.
Ian holds a bachelors' degree in political science from the University of Colorado Boulder and an M.B.A. in finance from The University of San Francisco. He competes in triathlons and enjoys cooking and sailing.
Denise Dettingmeijer, Chief Financial Officer, Randstad North America
As chief financial officer of Randstad North America, Denise Dettingmeijer is responsible for the business control (FP&A), business services, accounting, treasury, risk, internal audit, benefits, tax and legal functions within the company. Denise provides business advisory, strategic planning, operations and financial management services to Randstad's integrated staffing solutions. In her role as CFO, Denise aligns and enhances business performance by delivering insight to further company growth in the market. She also looks to redefine the financial planning and analysis process to become even more strategic and commercially focused.
Tony Melfi, Sr. Vice President, Chief Financial Officer, Brother International
Tony Melfi is the Chief Financial Officer of Brother International Corporation. He is responsible for all aspects of the financial and regulatory issues related to Brother International and its subsidiaries.
Since joining Brother in 1994, Tony has held several positions including Vice President of Tax and Vice President of Finance. In addition, he is a member of the Board of Directors.
Tony is a graduate of Seton Hall School of Law (JD in 1985) and Rutgers University (BS Economics in 1979).
He currently resides in Hillsborough, NJ with his wife and two sons.
Steve Mullin, Chief Financial Officer, Dallas Group of America
Steve Mullin has over 25 years of experience and expertise in financial and operational management, strategy development and functional integration. Mr. Mullin spent many years working with the Panasonic Group, beginning his career as an Accounting Manager with the Panasonic Industrial Company. Working his way up the corporate ladder, Mr. Mullin earned the title of Controller, then Director of Finance, Accounting and Operations, and finally Chief Financial Officer/Vice President of Finance, Operations and Business Systems of Panasonic Industrial Company. Mr. Mullin then moved over to the Panasonic Communications Company, where he served as President for a number of years. After leaving Panasonic, he served as Chief Financial Officer/Senior Vice President at Royal Sovereign International, an international manufacturer/distributer of consumer products for a short time before joining Wurth USA as Chief Financial Officer in 2010.
In 2014 Mr. Mullin was appointed as Chief Financial Officer of The Dallas Group of America headquartered in Whitehouse, New Jersey. In addition to heading up finance and accounting Mullin also has responsibility for H.R. and I.T. The Dallas Group is a specialty chemical manufacturer/distributor of magnesium silicate based products serving the edible oil purification markets.
Throughout Mr. Mullin's career, he has served as much as a Chief Operating Officer as a Chief Financial Officer, holding broad operational responsibilities including Information Technology, Human Resources, supply chain/logistics, procurement and product management as well as sales and marketing. Critical areas of focus outside the financial realm have been driving customer satisfaction through end to end supply chain efficiency; optimization and simplification of all customer "touch points" within the business process; talent management and organization development; compensation and succession planning; and integration of Information Technology as a business enabler.