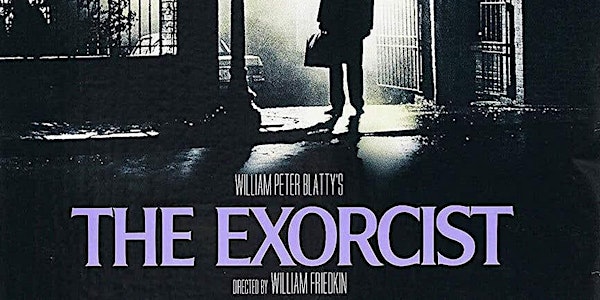 THE EXORCIST (R)(1973) Drive-In 7:30 pm (Sep. 30 to Oct. 3)
THE EXORCIST (R)(1973) Running time of 2 hour and 2 mins. Rated R for strong language and disturbing images.
When and where
Location
Gardena Cinema 14948 Crenshaw Boulevard Gardena, CA 90249
Refund Policy
Refunds up to 1 day before event
Eventbrite's fee is nonrefundable.
About this event
The Exorcist is a 1973 American supernatural horror film directed by William Friedkin and produced and written for the screen by William Peter Blatty, based on the 1971 novel of the same name by Blatty. The film stars Ellen Burstyn, Max von Sydow, Lee J. Cobb, Kitty Winn, Jack MacGowran (in his final film role), Jason Miller and Linda Blair. It is the first installment in The Exorcist film series, and follows the demonic possession of twelve year-old Regan and her mother's attempt to rescue her through an exorcism conducted by two Catholic priests.
Despite the book's bestseller status, Blatty, who produced, and Friedkin, his choice for director, had difficulty casting the film. After turning down, or being turned down by, major stars of the era, they cast Burstyn, a relative unknown, as well as unknowns Blair and Miller (author of a hit play with no film acting experience); the casting choices were vigorously opposed by studio executives at Warner Bros. Pictures. Principal photography was also difficult. A fire destroyed the majority of the set, and Blair and Burstyn suffered long-term injuries in on-set accidents. Ultimately production took twice as long as scheduled and cost more than twice the initial budget.
The Exorcist was released in 24 theaters in the United States and Canada in late December 1973. Despite initial mixed critical reviews, audiences flocked to it, waiting in long lines during winter weather and many doing so more than once. Some viewers suffered adverse physical reactions, fainting or vomiting to scenes in which the protagonist undergoes a realistic cerebral angiography and later violently masturbates with a crucifix. Heart attacks and miscarriages were reported; a psychiatric journal published a paper on "cinematic neurosis" triggered by the film. Many children were allowed to see the film, leading to charges that the MPAA ratings board had accommodated Warner Brothers by giving the film an R-rating instead of the X-rating they thought it deserved, in order to ensure its commercial success. Several cities attempted to ban it outright or prevent children from attending.
The cultural conversation around the film, which also encompassed its treatment of Catholicism, helped it become the first horror film to be nominated for the Academy Award for Best Picture, one of ten Academy Awards it was nominated for, winning for Best Adapted Screenplay and Best Sound. It was the highest-grossing R-rated horror film (unadjusted for inflation) until the 2017 release of It. The Exorcist has had a significant influence on popular culture and has received critical acclaim, with several publications regarding it as one of the greatest horror films ever made. English film critic Mark Kermode named it his "favorite film of all time". In 2010, the Library of Congress selected the film to be preserved in its National Film Registry, citing it as "culturally, historically, or aesthetically significant".
PLEASE PURCHASE ONE (1) TICKET PER VEHICLE.
ONE (1) vehicle admission ticket COVERS EVERYONE IN YOUR VEHICLE!
FAQ's
WHAT TIME DOES THE MOVIE START?
Movie starts at 7:30 PM.
WHAT TIME CAN I ARRIVE?
Gates will open at 7:00 PM.
HOW DO THE NEW LA COUNTY COVID RESTRICTIONS AFFECT OUTDOOR CINEMA?
Gardena Cinema hopes to provide a safe and fun environment for all of our patrons. Sit back, relax, and enjoy a safe night out, with us. Please wear a mask when not inside your vehicle and try to stay 6 feet apart from others.
WHERE DO I PARK?
Cars will be placed on a first-come, first-served basis, one car at a time, and in sections based on size of car and desired style of viewing. We have mapped out the back-lot to allow for sedans in front rows and tall cars/SUV's/Trucks in the middle to back rows. An attendant will be available to direct you on where to park. We have accommodated so that every guest has a great viewing experience.
WHERE IS GARDENA CINEMA?
Gardena Cinema is located at 14948 Crenshaw Blvd, Gardena, CA 90249.
HOW DO I REDEEM MY TICKET?
Upon purchase, ticket will be emailed to you as a PDF attachment from Eventbrite. When you arrive to the event, please show the entrance attendant the bar code on your ticket through your car window, either by holding up your printed version, or by displaying it on your phone or smart device. Attendant will scan it to check you in, and you'll be good to go!
DO I NEED FM RADIO IN MY CAR?
YES! This is a outdoor Drive-In event, with no outdoor speakers. In fact, our drive-in cinema city permit expressly disallows outdoor speakers, so if you bring your own speakers, please have them at a low level so as not to disturb our neighbors. There are homes next to our parking lot and we would like to keep our drive-in cinema permit going by being good neighbors. The film's soundtrack will be accessible exclusively through your car's FM Radio, for maximum social-distance safety. We will provide you with the FM station upon arrival. Make sure your car has an FM radio so you can hear the film! If you do not have a radio, we lend portable radios for the duration of the movie for $5 and your ID Card. PRO-TIP: Some personal speakers also have FM radio built in, and are allowable as long as volume remains reasonable. Such a cool experience!
CAN I BRING FOOD / SNACKS?
YES! Your car is your screening room -- so bring all your favorite screening room snacks and munchies! Gardena Cinema's lobby will also be open, with FRESHLY popped popcorn, drinks, nachos, hot dogs, candies, and more! Please be sure to pay the lobby a visit and remember to wear your protective face mask.
We don't imagine any of you would, but we have to ask that you don't discard your trash out the window. (It's happened...) We want to keep these fun events going, so please help us keep the grounds tidy! There will be trash and recycle stations if needed.
WILL YOU HAVE RESTROOMS?
YES! Gardena Cinema's lobby and restrooms will be open. As our approval of this event is based on our assurance of safety, we ask that folks wear protective masks when leaving your cars for any reason, including to use the restroom. Attendants will be on hand to keep those restrooms sanitized. Social Distancing is a must, at all times.
MAY I BRING MY PET WITH ME?
Bringing your best friend only enhances the experience for you and we aim to keep you as comfy as possible. We ask that you keep your pet inside your vehicle during the movie. As long as you ensure your pet is properly trained and does not disturb neighboring guests while in the Drive-In. Please remember to keep the pets away from other guests. PETS ARE NOT ALLOWED INSIDE THE ACTUAL CINEMA BUILDING, (where restrooms and snack bar are located).
CAN WE BRING LAWN CHAIRS AND SIT OUTSIDE IN FRONT OF MY VEHICLE?
Yes, but please remain in front of your vehicle close to the boundary of your vehicle. Please wear a protective mask when outside of your vehicle.
CAN I SIT IN MY TRUCK BED?- OR -CAN I THROW THE HATCH OF MY HATCHBACK UP AND SIT IN THE BACK TO WATCH THE SHOW?
- Guests are allowed to sit in their truck beds, so long as they keep their protective masks on.
- Raised hatches proved quite obstructive to rows of cars behind them in viewing the screen. You will be asked to park either to the sides of our car staging area, or along the back rows. And -- like truck-beds and convertibles -- if your hatch is open, we ask that you keep your masks on.
WILL YOU BE HOSTING MORE OF THESE?
YES! We intend to continue curating and programming some of the BEST cinema in Los Angeles County! We provide an intimate Drive-In style setting. Please support by following us on Instagram and Facebook -- we'll keep you posted on our screenings and events! @GardenaCinema
Follow us on Facebook and Instagram @GARDENACINEMA.