The Exonerated: November 13 and November 16

Thursday, November 16, 2017 from 6:30 PM to 8:30 PM (EST)
Event Details
Since 1973, 160 people facing execution have been exonerated, most recently Ricky Dale Newman on October 11, 2017.* An untold number of innocent people have been executed and the majority of those wrongfully sentenced to death are likely to languish in prison and never be freed. Even those who are eventually released continue to confront the effects of having their freedom and human identities stripped away and then, ostensibly, restored after years, sometimes decades of incarceration.
The Exonerated, an award-winning play, tells the interwoven true stories of six wrongfully convicted survivors of death row, in words from interviews, letters and the public record. Columbia Law School community members will portray them and others in their stories, working under the professional direction of Zhailon Levinson and stage management of Emily Mwakitawa. Cast members are: Professors Eric Talley and Kendall Thomas, Dean Emerita of SJI Ellen Chapnick, Lecturer-in-Law Richard Gray, Jr., students Wolete Moko, Mitchel Schwartz and Abigail Unger, Christopher Mark, the Assistant Director of the Center for Law and Economic Studies, and Averi Israel, Graduate Legal Studies Officer. Khamla Pradaxay is Assistant Stage Manager. Charles Sucher is media coordinator. 
An exoneree, a leading capital defense lawyer and others will join members of the production for discussion with audience members after the play on both nights.
*From the Death Penalty Information Center, https://deathpenaltyinfo.org/innocence-and-death-penalty
___________________________________________________________
More about Windows on Death Row
Death sentences and executions have declined sharply in the U.S. over the past 15 years. Yet more than 2,800 people remain on death row in states and federal prisons across the country. They are incarcerated in harsh conditions for long periods that in some cases span decades. The exhibit expresses the complex and intense emotions arising from their time on death row.
The show's creators, Widmann and Chappatte, visited maximum-security prisons and asked death row inmates to draw and paint their daily lives and personal experiences. The works of art, curated by Anne Hromadka, were produced by inmates in Texas, California, Georgia, North Carolina, Arkansas, Kansas, Pennsylvania, and Tennessee.
Widmann and Chappatte also invited a dozen top political cartoonists to share their take on capital punishment. The exhibit features drawings by a number of cartoonists, including Pat Oliphant, Jeff Danziger (syndicated worldwide), David Horsey (Los Angeles Times), KAL (The Economist, Baltimore Sun), Ann Telnaes (Washington Post), and Mike Luckovich (Atlanta Constitution).
"Windows on Death Row" offers a rare glimpse into a world most people struggle to imagine.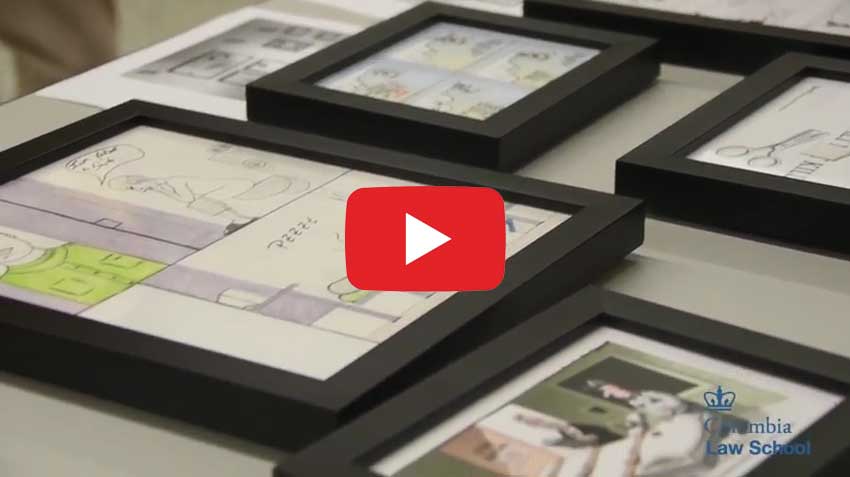 Note: "Windows on Death Row" contains images that are at times beautiful and dark, witty and sharp, hopeful and despairing. Some content may be inappropriate for children.
__________________________________________________________
Art Credit: "The last mile" by Kenneth Reams who has been on death row since 1993 at the Varner Supermax in Grady, Arkansas. He writes "The 'last mile' is a term coined in Sing Sing prison. It refers to the perceived distance that a condemned prisoner must walk from his cell to the death chamber on the day of his execution. The journey from cell to door is short in steps, but the distance is psychologically vast. At the end of this hallway is an imposing and ominous door. On the other side of that door lies oblivion and eternity. Prisoners call it the last mile."  
___________________________________________________________
We thank Paul Weiss Rifkin Wharton and Garrison LLP for underwriting The Exonerated.
The Exonerated is presented by special arrangement with Dramatists Play Service, Inc., New York
We are grateful for the support of Switzerland's Federal Department of Foreign Affairs of this project.

Artwork was gathered with the help of Compassion, R.E.A.C.H., Minutes Before Six, Who Decides Inc., Witness to Innocence, and Art for Justice. Also sponsored by Murder Victims' Families for Human Rights.

___________________________________________________________
For more information contact:
Ellen Chapnick, Columbia Law School Dean Emerita for Social Justice Initiatives
chapnick@law.columbia.edu
When & Where

Columbia Law School
Jerome Greene Hall, Annex
435 West 116th Street
New York, NY 10027


Thursday, November 16, 2017 from 6:30 PM to 8:30 PM (EST)
Add to my calendar