Event Information
Location
The Writers Junction
1001 Colorado Ave
Santa Monica, CA 90401
Description
No BullScript Presents:
The Executive Series for Screenwriters:
Making Hollywood Work For You!

Meet and Learn From the Elusive Gatekeepers in this
comprehensive 4-week, 8-class series!
Learn how to pitch from the Executives you want to pitch to!
Learn how to get Representation from an actual Rep!
Learn what to expect from the Development Process!
Learn to write Horror, Comedy, and how to turn your Screenplay into Graphic Novel Gold!
And learn it ALL from Top Hollywood Insiders!

Only $50 per course!! Pick and choose which ones are right for you, or choose them ALL for a great DISCOUNT and it's like getting 2 for FREE, including a Panel Discussion with ALL of the Exec Instructors!

Plus, everyone who signs up gets $10 off Script-a-thon and you can win great PRIZES like Final Draft 8 and a Free Script Consultation at No BullScript!
Every Tuesday and Wednesday in May, a new 90-minute workshop will tackle a different aspect of screenwriting and the ins and outs of working in Hollywood. It's like your own private screenwriting conference!

STARTS MAY 3RD! SEATING IS LIMITED! SIGN UP TODAY!
For More Info and a Full Course Description of each of the classes, Please Click on the Classes in the Ticket Option Section Above!
For bios for all of the instructors, please go to www.nobullscript.net on the Classes Page.
Class 1 - May 3rd - What the Hell are Executives Thinking? (Instructor - Danny Manus)
Class 2 - May 4th - Structure from the Executive Perspective (Instructor - Naomi Beaty)
Class 3 - May 10th - Getting and Keeping Respresentation (Instructor - Rachel Miller)
Class 4 - May 11th - Pitch Like A Pro (Instructor - Jessica Geen)
Class 5 - May 17th - Writing Genre Films Doesn't Have to be Scary (Instructor - Rudy Scalese)
Class 6 - May 18th - What's So Funny: Deconstructing the Studio Comedy (Instructor - Luke Ryan)
Class 7 - May 24th - The Graphic Novel is the New Screenplay (Instructor - Joe LeFavi)
Class 8 - May 25th - A Panel Discussion with ALL the Execs/Instructors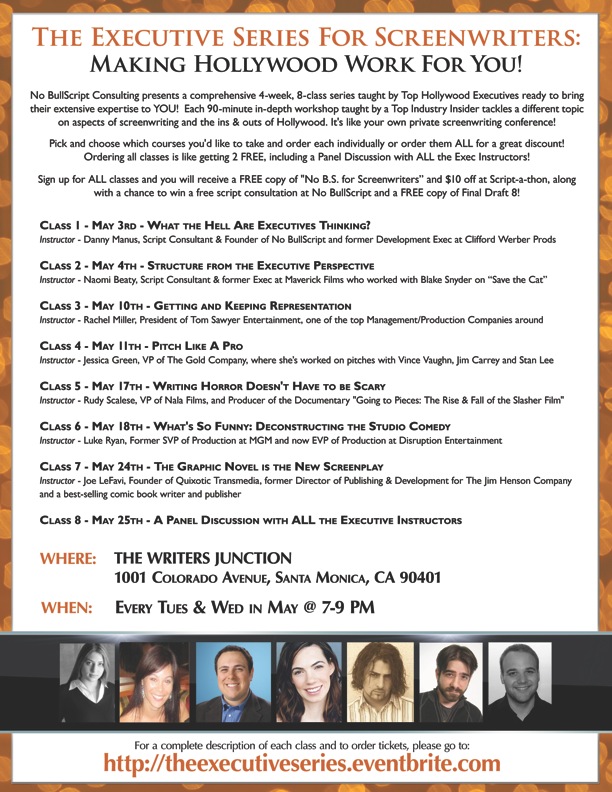 Date and Time
Location
The Writers Junction
1001 Colorado Ave
Santa Monica, CA 90401