Description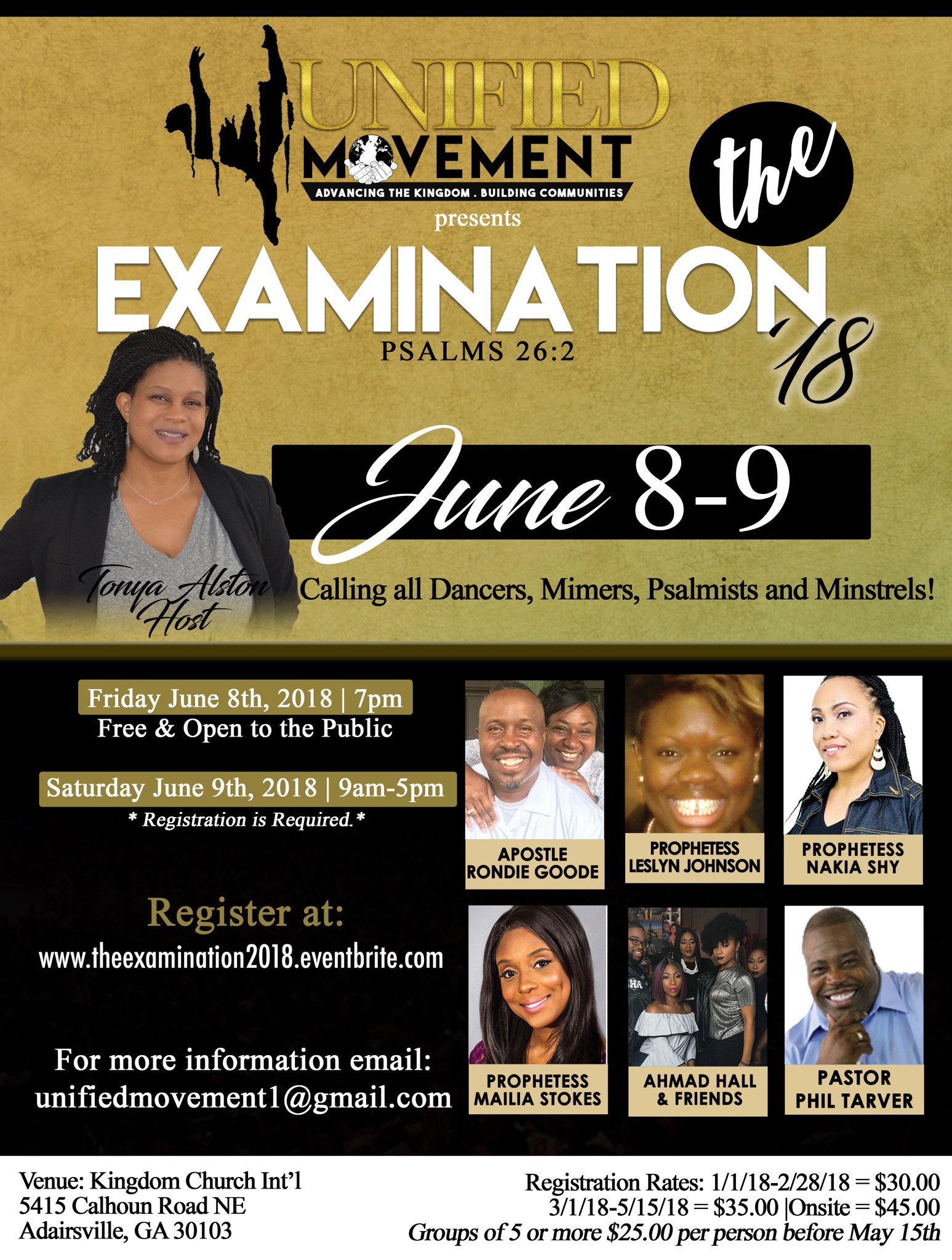 "Examine me, O Lord, and prove me; Try my mind and my heart." - Psalm 26:2 (NKJV). The time is here and the hour has come for us to be EXAMINED! Have you found yourself wondering why you just don't seem to fit in anymore? Do you find yourself wrestling with who you are? Does God seem a bit distant from you? Is your worship pleasing to God? What or who drives your life? Is cultivating an atmopshere of praise and worship important to you? Can God be found in the midst of your songs and your sound? Get answers to these and many other questions during THE EXAMINATION!
Join us June 8-9th, 2018 as we come together for a face to face encounter with the Father. Join the desperate, the hungry, those who want more of the Father! Unite with us as we pull on the hem of God and call for heaven to touch earth! We are in pursuit of God like never before! Join us for a time of purpose and promise!! Are you all that God is calling YOU to be? Find out at THE EXAMINATION!!!
"Search me, O God, and know my heart: try me, and know my thoughts:
And see if there be any wicked way in me, and lead me in the way everlasting." - Psalm 139:23-24 (KJV)
Please call The Hampton Inn & Suites - Adairsville at 770-773-3100 to book your room by May 7th, 2018. Rooms are $109.00 plus tax a night and includes FREE breakfast and WIFI. Use the code UNM when booking your room.
http://hamptoninn3.hilton.com/en/hotels/georgia/hampton-inn-and-suites-adairsville-calhoun-area-RMGAVHX/index.html?WT.mc_id=zDA01MB2OLG34YX
Things to Know:
NO REFUNDS
Our Friday evening service will be filled with praise, worship, and movement. It's free and open to the public!
Our Saturday workshops will require registration and consist of sessions geared towards movement ministers, psalmist, and minstrels. Lunch will be provided for all registered attendees.
For all movement sessions, you will need the following:
Comfortable, loose fitting clothing
For all other sessions, you will need the following: