The Evolving Legacy of Black Business and Entrepreneurship in Chicagoland
Description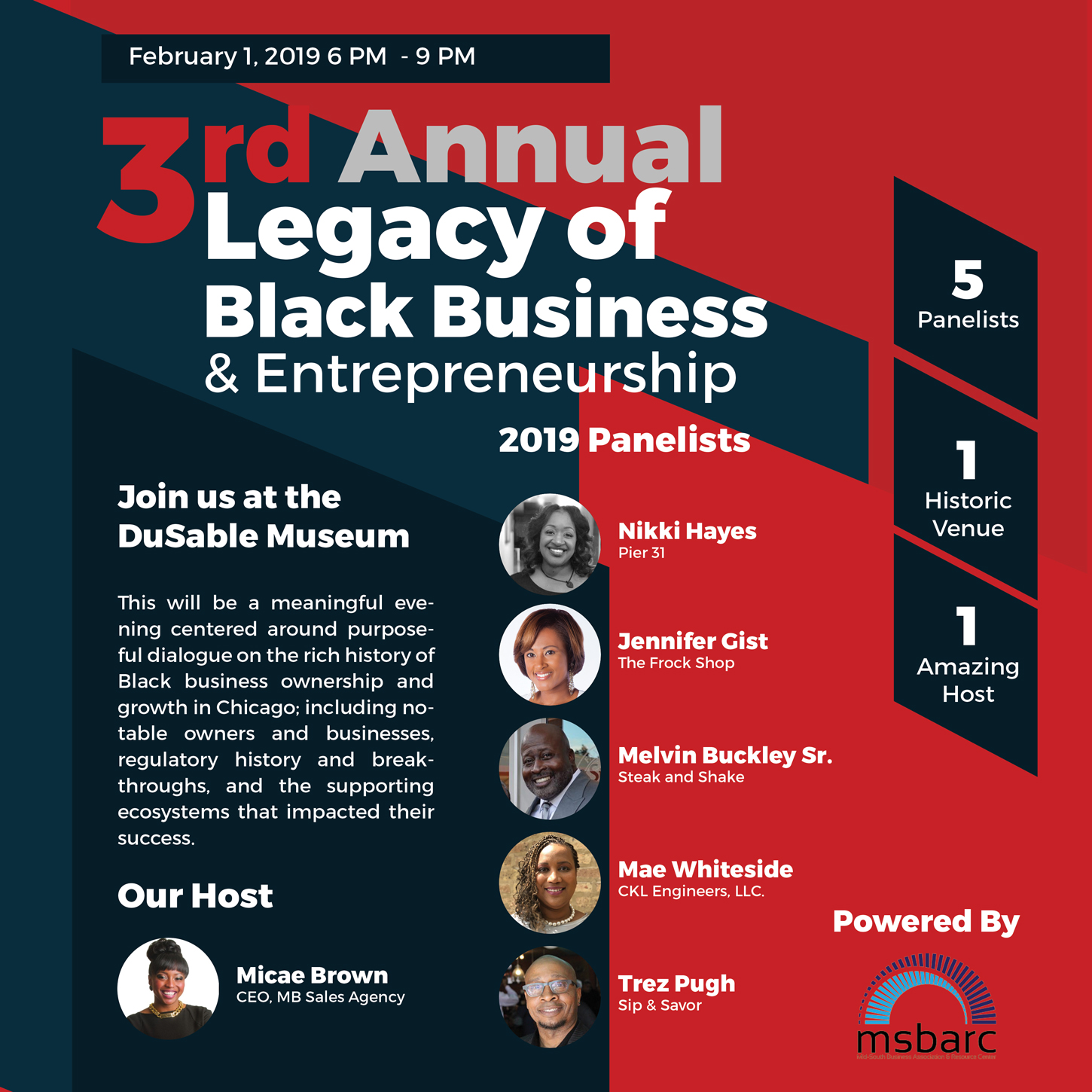 The Mid South Business Association and Resource Center (MSBARC), along with The Dusable Museum, and The 100 Black Men of Chicago are pleased to invite you to The Evolving Legacy of Black Business and Entrepreneurship in Chicagoland.

Join us for a meaningful evening centered around purposeful dialogue on the rich history of Black business ownership and growth in Chicago; including notable owners and businesses, regulatory history and breakthroughs, and the supporting ecosystems that impacted their success.
Panelists include:
Melvin Buckley, Owner/Operator, Steak n Shake

Jennifer Gist, Founder and CEO, The Frock Shop

Nikki Hayes, Owner, Pier 31

Trez Pugh, Owner, Sip & Savor

Mae Whiteside, President/CEO, CKL Engineers, LLC
These notable entrepreneurs will engage with you in a discussion to boost the education, conversation, and connection to the evolving legacy of economic empowerment in Black communities in Chicago and the surrounding areas.

Attendees will also participate in inter-generational storytelling so that the learnings of past entrepreneurs can be effectively passed along to new and aspiring ones ...
Appetizers and cocktails will be served during the reception and networking.
Share this event on Facebook and Twitter

We look forward to seeing you there!

Cheers,
Mid South Business Association and Resource Center (MSBARC)