Description
Are you a sophisticated, educated professional who likes to end a hard week by getting all the way #turnt up to a soundtrack of trap music? If this is the way you like to spend your weekends, then... join the Alumni Group as we take you on a journey through the Evolution of Trap! If you're about that boozy brunch life, then the Evolution of Trap brunch and day party will be your happy place. At the Evolution of Trap, you can let loose without fear of being judged by sidditty, pretentious people. You can take your Mask Off and feel free to twerk when Juvenile tells you to back that thing up. It's a sanctuary where you can freely admit that you are in love with the coco. Turn up with us as we partake in a drunk brunch at Mist Harlem where you'll enjoy a delicious brunch buffet to soak up the dranks -- all while NYC's hottest DJs spin the best of R&B, hip hop, and trap music for your listening pleasure. There's only one rule: check your bougie attitude at the door (don't worry -- you have our permission to act dignified again when you leave).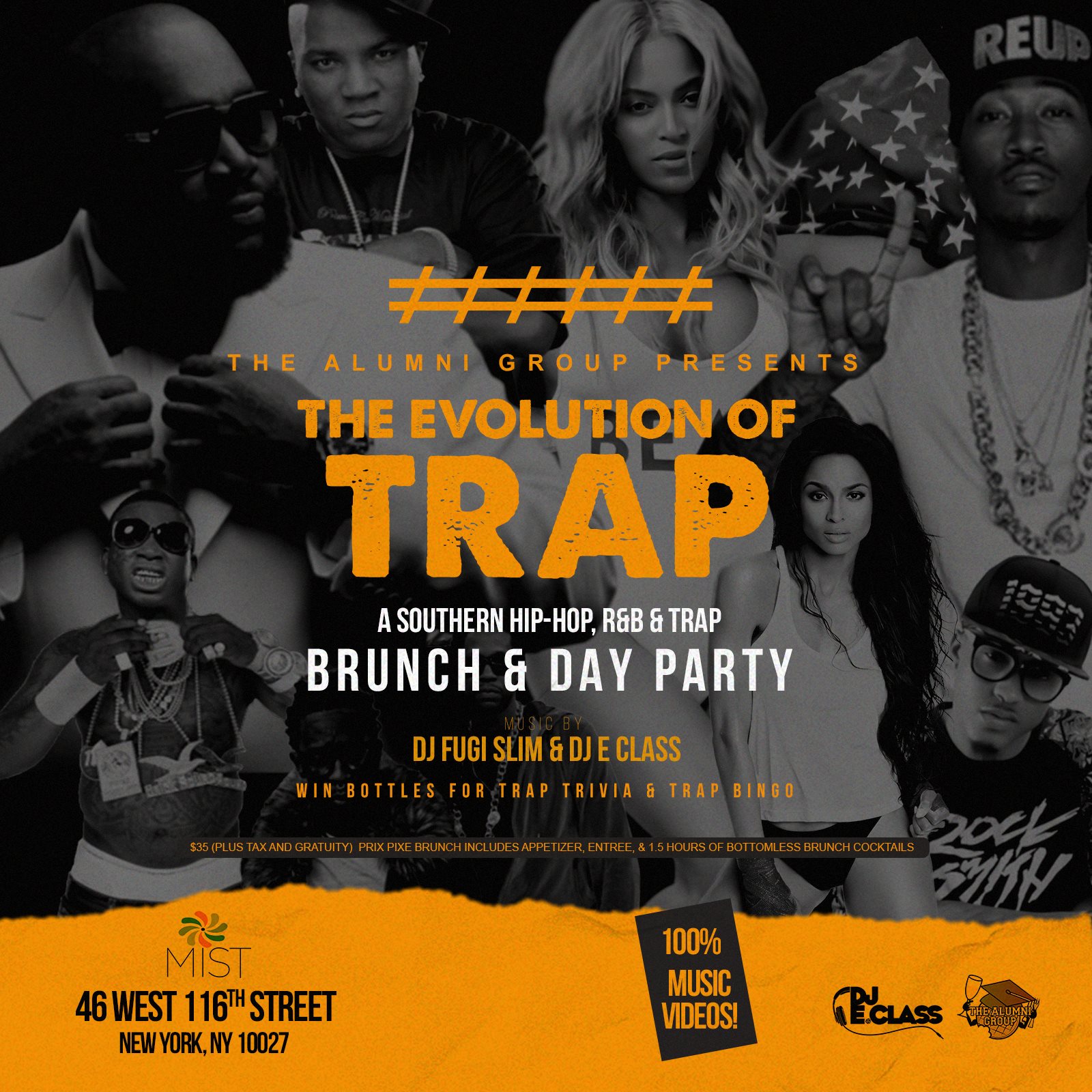 Celebratory Packages
-Everyone in party must be present at time of reservation in order to redeem.
-Table decorations and balloons are allowed.
-Outside Cakes/Cupcakes allowed at no additional charge.
-Custom Cakes/Cupcakes can now be ordered from Mist. Please call Mist to order (212) 828-6478. Custom Cakes may take up to 2/3 days depending on requirements.
-2 hour seating limit maybe imposed.
It's your (Birthday/Bachelor/Bachelorette party/Graduation/Etc.) Package
Party of 10+ receives 1 complimentary brunch for guest of honor
Every Day We Lit Package
Party of 20+ receives 1 complimentary brunch for guest of honor and 1 complimentary bottle(Prosecco/Rosé/Moscato)
I'm the s#!+ package
Party of 30 receives complimentary brunch for guest of honor and 2 complimentary bottles (Prosecco/Rosé/Moscato)
Everybody loves me I'm so fly package
40+ receives 2 complimentary brunches and 2 complimentary bottles (Prosecco/Rosé/Moscato)
In order to redeem please call Mist Harlem (212) 828-6478
For personalized/custom flyer requests please email AlumniGroupENT@gmail.com (Minimum 2 Weeks Advanced Notice Required)
***For Reservations or Pre-Paid Brunch Arrangements Please call Mist at (212) 828-6478 or Email RSVPBrunch@MistHarlem.com***
Please Note: Brunch is NOT FREE. FREE RSVP Does NOT mean Free Brunch. Brunch is to be paid for upon entry to the event. Below are your pricing options.
$45 (Tax & Gratuity Included) for brunch buffet and 1.5 Hours of Bottomless Brunch Cocktails.
$55 (Tax & Gratuity Included) for brunch buffet and Bottomless Drinks for the duration of the event.
$25 (One Flavor) $35 (Multiple Flavors) $10 Refills (Hookah can only be consumed outdoors)
**Seating during brunch is on a first come first served. RSVP does not guarantee seating**
***Once you are done dining please be considerate of others waiting and relinquish your seats***
****Please use #TAGBRUNCH when sharing socially.****
Please follow us on instagram @The_Alumni_Group
MEDIA DISCLAIMER, photos and videos are occasionally taken at our events. The Alumni Group reserves the right to use any photograph/video without the expressed written permission of those included within the photograph/video. The Alumni Group may use the photograph/video in publications or other media material produced, used or contracted by The Alumni Group including but not limited to: brochures, invitations, books, newspapers, magazines, television, websites, etc