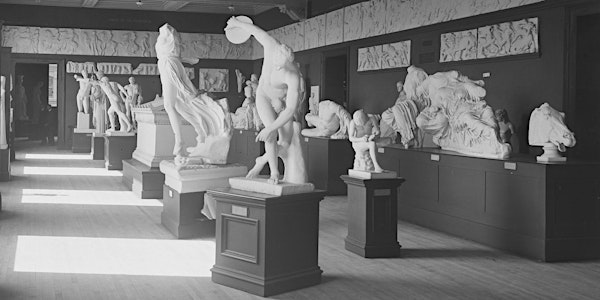 The Evolution of Ancient Mediterranean Sculpture at the Art Institute
From Plaster to Marble: The Evolution of Ancient Mediterranean Sculpture at the Art Institute of Chicago
When and where
Location
Oriental Institute - Breasted Hall 1155 East 58th Street Chicago, IL 60637
About this event
The OI welcomes Dr. Katharine Raff, Elizabeth McIlvaine Associate Curator, Arts of the Ancient Mediterranean and Byzantium, Art Institute of Chicago for a talk associated with the current OI Museum special exhibition, Making Sense of Marbles: Roman Sculpture at the OI.
For more than a century, the city of Chicago has been home to several major ancient Mediterranean collections, specifically those of the Art Institute of Chicago, the Field Museum of Natural History, and the OI Museum. Among the three institutions, the Art Institute has long served as the city's primary venue for ancient Greek and Roman art, with a collection including sculptures in stone, terracotta, and bronze, as well as coins, glass, vases, jewelry, and mosaics. However, in 1957, OI Director Carl H. Kraeling (1897–1966), stated his aspiration to "give Chicago more of what it needs", namely by building "a representative collection of classical sculptures" for the OI Museum. Given the OI's longstanding emphasis on the ancient Middle East and North Africa, Kraeling's quote seems curious to us today––why attempt to form such a collection of "classical" sculpture if one already existed at the Art Institute?
In this talk, Raff contextualizes Kraeling's ambitious and admirable goal in relation to the history of the Art Institute's collection of ancient Mediterranean art. Focusing on the development of the museum's holdings in Greek and particularly Roman sculpture, Raff explores the factors that impacted the formation of this area of the museum's collection over time, from its origins in the late nineteenth century to the present.
Image caption: Gallery of plaster casts of Greek sculpture, c. 1900–10. Archives, the Art Institute of Chicago.
*Registration is for in-person attendance only; the lecture will be followed by a wine reception and opportunity to visit the special exhibition. This lecture will also stream live on the OI YouTube channel. A live link will be available on OI social media on the day of the event.