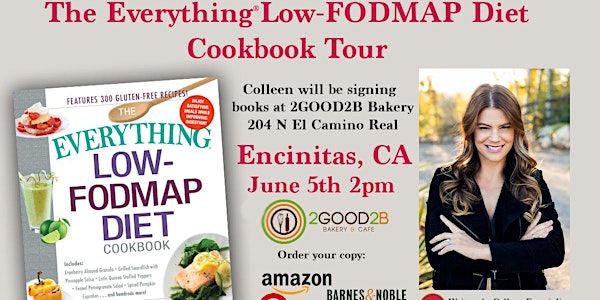 The Everything Low-FODMAP Diet Cookbook Signing
When and where
Location
2Good2B Bakery 204 North El Camino Real Encinitas, CA 92024
Description
If you are suffering from symptoms of IBS or SIBO, you know that digestive troubles and pain can disrupt your day-to-day life. Fortunately, scientists have discovered that FODMAPs, a collection of short-chain carbohydrates that are difficult to digest, are often the source of these digestive issues. FODMAPs are found in many common foods, like wheat, milk, beans, and some vegetables, fruits, and sweeteners.

The Everything® Low-FODMAP Diet Cookbook is available now from these booksellers:
Publisher: F+W Media. Publish Date: May 6, 2016
The Everything Low-FODMAP Diet Cookbook includes 300 delicious low-FODMAP and gluten-free recipes, as well as menu plans, diet and wellness tips, food lists and more. Learn more about the diet at this book signing, enjoy refreshments and come early for light appetizers.