Description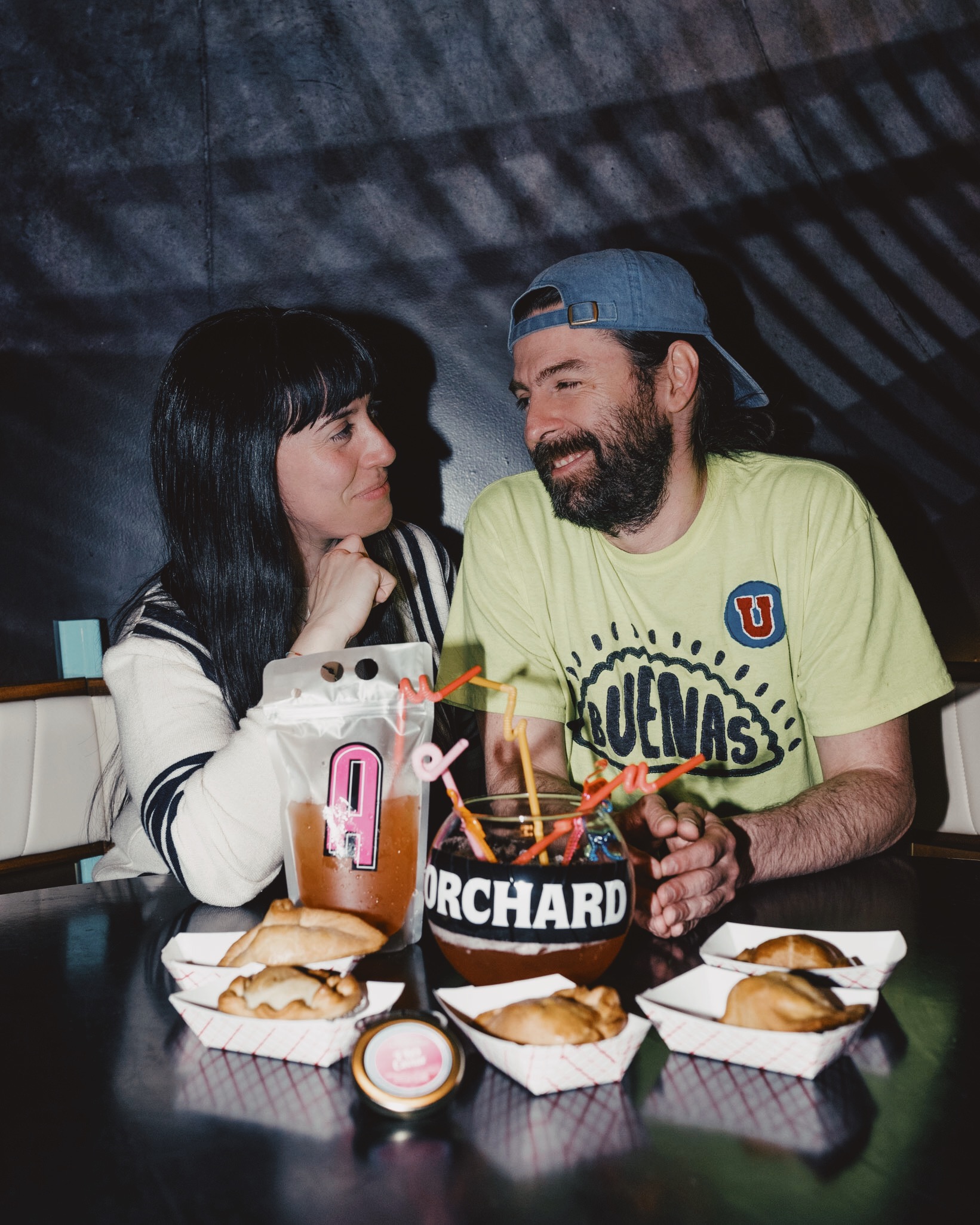 THE EVENT by
Buenas
The Buenas Maxi Kiosko at Bow Market is turning 1!!!!! Wow, how did we get here? With good old fashioned hard work and a lot of help from our friends, and it's time to CELEBRATE. Join us on June 21, 5 - 10 p.m. for a really big party to celebrate a really big deal—because Bass & Nini never have time to eat, sleep, hang out with friends, or vacation, we're shoving lots of milestones into one day: it's a party for our store, it's our engagement party, and it's our wedding. Yes, for real.

Our friends are so awesome, they're helping us make this moment extra special:
Come check out the fab engagement ring made by Ashley at Filomena Demarco Jewelry.

Enjoy the literally-expert-level dance party skills of none other than George Andrinopoulos (7L) of Vinyl Index.

Drink fab natural wine picked out by Lauren Friel (Rebel Rebel) herself.

Enjoy food all-you-can-eat style by Louis Dibiccari (CREATE and Humaari), Rachel Miller (Nightshade Pop Up/Nightshade Noodle Bar), Buenas, and Saus (hello, poutine bar with a cameo by East Boston Oysters)!

Try a scoop of the BRAND NEW Buenas x Parlor Ice Cream Co. Neapolitan with swirled guava, cream cheese and cafecito ice creams. (!!!)

Watch a wedding happen! Officiated by Rick Jenkins (The Comedy Studio) himself. Again, yes really.
Ticketholders get exclusive access to the Canopy Room and Miami-themed cocktails (each ticket includes two drinks) mixed up by Jay Cool of Chickadee.
OR, use your two drink tickets at any of Bow Market's primo drinking establishments: Variety Bar will have a special

Buenas

cocktail on the menu, or you can choose a beer or wine over at Remnant Brewing or Rebel Rebel.
Not to out-do ourselves or anything but our friends Millionyoung are coming to town especially for this party to do an epic set right here in the Bow Market courtyard.
Also: the best flan you've ever had.
The rest of Bow will be open for a choose-your-own-adventure extravaganza. If you haven't been to Bow Market yet, this would be the perfect day!!
Your ticket includes everything you need for an epic Friday night:
All-you-can-eat buffet by

Buenas

/Louis Dibiccari/Rachel Miller/Saus featuring East Boston Oysters

VIP access to the Canopy Room at Bow Market + (2) specially-crafted cocktails by Jay Cool (pay-as-you-go after that)
Tunes by Vinyl Index
The best flan ever by Vanessa Yip

A scoop of the BRAND NEW Buenas Neapolitan ice cream by The Parlor Ice Cream Co.

Commemorative 1-year

Buenas

tote for the first 150 folks who purchase tickets
NOT TO MENTION: YOU at the most exclusive, most fabulous, public wedding ever!
---
Bow Market is located in Union Square, Somerville, MA. https://www.bowmarketsomerville.com/
The entrance to the courtyard is on Somerville Avenue, right on the corner of P.A.'s Lounge/Union Tavern.
There is street parking available.
For public transportation, both the 86 and 87 MBTA buses have stops nearby, and there is a Rideshare dropoff point right in front of the courtyard driveway for both Uber/Lyft.

See you soon!