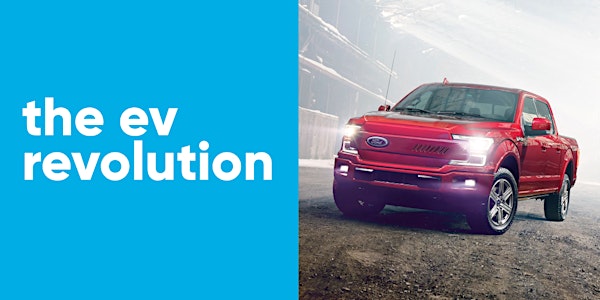 The EV Revolution: How EVs are completely reshaping the auto industry
A behind the scenes look at the disruption in the auto industry resulting from EV technology and a live demo of the new Ford Lightning.
Refund Policy
Contact the organizer to request a refund.
Eventbrite's fee is nonrefundable.
About this event
Many of us lived through the seismic changes in the communications industry that resulted from the invention of smart phones. Similar upheavals are taking place in the automotive world now as the entire industry quickly transitions to electric vehicles.
Celebrate Drive Electric week with Electrify Now, Forth, CleanTechnica and EEBA as we take a behind the scenes look at the massive disruption in the auto industry resulting from the transition to EV technology and how the major auto players and new players are dealing with the transition. This webinar will also provide some practical information that can help people to make good decisions about investing in an EV.
Plus, we'll get a live, on-camera tour of a new Ford Lightning electric pick-up truck!
This webinar will seek to address the following questions
What are the challenges that the new and existing automakers face?
Are any of the major legacy auto makers best prepared for this transition?
Are there any of the new players that look best poised to thrive and grow?
How will the Inflation Reduction Act influence EV prices?
Will this EV revolution change the way we buy cars?
How will the neighborhood dealership model change?
What advice do our expert panelists have for someone considering an EV?
Panelists
Zachary Shahan - CEO CleanTechnica - Zachary is tryin' to help society help itself one word at a time. He spends most of his time on CleanTechnica as its director, chief editor, and CEO. Zach is recognized globally as an electric vehicle, solar energy, and energy storage expert. He has presented about cleantech at conferences in India, the UAE, Ukraine, Poland, Germany, the Netherlands, the USA, Canada, and Curaçao. 
JR Anderson - Program Manager - Forth  - JR Anderson serves as Forth's Program Manager for the Access to Cars team, with a focus on engaging with consumers around electric vehicles. He was hired as one of the first salespeople for Tesla in 2009. JR is very passionate about sustainability, nature, and our planet. He holds a B.S. in History from Central Connecticut State University.
Aaron Smith - President of EEBA - Aaron has over 25 years of experience in home construction, building products, sustainability and non-profit board leadership. He has worked for companies including Kohler, Uponor and ASSA ABLOY as well as startups in Silicon Valley and his own building and remodeling company. Aaron previously served on non-profit Boards for Wolf Ridge Environmental Learning Center, Health Product Declaration Collaborative (HPDC), CT Sustainable Business Council, and co-founded the CT Collaborative - Living Building Challenge
Donations:
Please consider making a donation for this webinar to the Electrify Everyone Fund. All proceeds from your donations go towards installing free heat pump water heaters in low income homes through the nonprofit Community Energy Project. Your donation will help reduce carbon emissions and lower utility bills for these families. Thank you!
This webinar brought to you by the Electrify Coalition: