Sales Have Ended
Registrations are closed
Looking to register for the replay? Visit AdventureClub.com > Virtual Events > Active Replays to browse our active replays, which expire one week after the program's original air date.
Sales Have Ended
Registrations are closed
Looking to register for the replay? Visit AdventureClub.com > Virtual Events > Active Replays to browse our active replays, which expire one week after the program's original air date.
Can't make it live? Register and get access to the full replay for one week! New York Adventure Club | www.AdventureClub.com
About this event
Between epidemics, primitive medical knowledge, and the ravages of the Civil War, death in mid-19th century America was so commonplace that grieving was a way of life. While nothing could bring back their loved ones, Victorians instead responded to the prevalence of death by establishing a codified system of mourning customs that honored the dead and helped manage their grief. But what were these rituals, and which ones remain in place over a century later? It's time to uncover the mourning process throughout American history, and the customs — ranging from the intriguing to the familiar — that shaped the commemoration of the deceased for generations to come.
Join New York Adventure Club as we step back in time to explore 19th century mourning etiquette through the lens of New York's Tredwell family and their Irish servants.
Led by Ann Haddad, historian at the Merchant's House Museum — the former home of the Tredwell family on Fourth Street in Manhattan — our virtual exploration of these 19th century ceremonies and social rituals will include:
A brief overview of mourning customs throughout the ages from across the globe
How mourning etiquette in America evolved since its founding
A look at the symbolism behind the stages of mourning, and common mourning practices such as covering mirrors in crepe and donning "widow's weeds"
A discussion surrounding mourning photography and the rise of Spiritualism
An account of the rituals and mourning customs of the Tredwell family upon the death of family patriarch Seabury Tredwell on March 7th, 1865
Afterward, we'll have a Q&A with Ann — any and all questions about 19th century mourning customs in America are welcomed and encouraged!
Can't make it live? Don't worry, you'll have access to the full replay for one week!
See you there, virtually!
*Immediately upon registering, you will receive a separate, automated email containing the link to join this webinar
**For the best possible viewing experience, please ensure you're using the latest version of your internet browser — Google Chrome is the most compatible. Exact technical requirements and a webinar user guide will be shared in the automated confirmation email upon registration.
***A full replay of the experience will be available to all registered guests for up to a week
About Ann
As Merchant's House Museum Historian, Ann gives frequent virtual talks as part of her "The Tredwell Times" series, which focus on various aspects of life in 19th century New York City. Her extensive research on the house and the Tredwell family has uncovered new information that greatly enhances our understanding of the period. Some of that research is reflected in her blog for the Museum, which may be found here http://merchantshouse.org/blog/.  
On the Museum's social media pages, she brought Mrs. Tredwell and Bridget Murphy, one of the Irish servants, to life through their 'personal' tours of the house; also on social media, she offers "Tredwell Times in Art," which presents works of art that depict 19th century life as the Tredwell family knew it. She created the recently-completed reading series, "Women Who Dared: 19th Century American Women Writers," which is available on the Museum's YouTube channel. She delights in giving tours of the Merchant's House to all those who enjoy time travel to Old New York!
Disclaimer
By attending a New York Adventure Club experience, you accept our terms of service.
Photo Credit: Main Photo - Hal Hirshorn
Categories: Virtual, Culture
Organizer of 'The Etiquette of Death: Mourning Customs in 1800s America' Webinar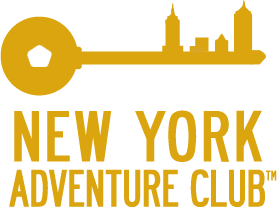 NEW YORK ADVENTURE CLUB
Unlock Your City
We give you insider access to the city's best-kept secrets. But we're so much more than a tour company.
WHO WE ARE

We are a community-driven club that curates the most unique experiences in town, with a focus on history and storytelling. We show you a city you never knew existed, and offer a community you can't live without.
You won't find our special-access tours and exclusive events anywhere else. Think after-hours tours of New York City's most celebrated spaces, themed parties in unexpected locations, and weekend excursions to incredible destinations. All of our events end with social hangouts so you can meet people who love exploring as much as you do.
THE 'CLUB' IN NEW YORK ADVENTURE CLUB

Our current community is more than 23,000 members strong and includes everyone from recent NYC transplants to lifelong residents. Whatever borough you're from (or city or country, for that matter), we'll make it easy for you to take full advantage of the unique places and great people this city has to offer.  
WHERE WE GO
To ensure a one-of-a-kind experience each and every time, we handpick events and outings specifically for the New York Adventure Club community. Recent events include:
* An after-hours tour of New York City Hall
* Special access into some of New York's most coveted private social clubs, including the Explorers Club and National Arts Club
* Petting baby kangaroos, holding sloths, and feeding leopards at Staten Island Zoo

* An NYPD Precinct tour, including a meet-and-greet with detectives and Emergency Service Unit crew members
* A tour of the Polish Consulate led by the Consul General and Vice Consul General of Poland

* A special-access tour of Brookhaven National Laboratory and its Relativistic Heavy Ion Collider (RHIC)
* A Halloween party in a historic gothic crypt, complete with a five-piece brass band
Subscribe with our newsletter to get the inside scoop on the city's most interesting events: http://eepurl.com/1cnVH
Unlock Your City with New York Adventure Club