Description
Real Estate Investment Trusts (REITs) are one of the most reliable way to invest as they generate steady and consistent tax free cash flow. REITs also open up access for investors to participate in a diverse range of real estate assets with low capital outlay.
Our speaker Tam Ging Wien will be sharing his knowledge and experience including:
Foundational understanding of REITs

Characteristics of various real estate sectors

How to perform financial evaluation on a REIT

How to quickly shortlist high quality REITs

How to value and buy undervalued REITs

Common REIT investment traps and how to avoid them
During the sharing session, various case studies and Singapore-listed REIT examples will be used.
There will also be a Q&A and mingling session so that members of the investing community may engage in open dialog and discussions in order to deepen their understanding of REITs.
Registration will start at 6.30pm.
Do mingle and network with other fellow participants after the seminar, afterall, this is where people of the same interest gather. Do bring along your writing materials for note taking.

Limited seats only. Book yours now.
To learn more about REITs, we recommend the article: What are REITs?.
---
Special Announcement Regarding Additional Measures due to COVID-19:
We certainly look forward to meeting all of you at the upcoming event. Amidst the COVID-19 situation, we have put in additional measures to safeguard the health and wellbeing of everyone:
1. Temperature-taking prior to entering the event venue
2. Social distancing of approximately 1m between seats
3. Health and Contact declaration
Have you travelled overseas in the last 14 days?

Have you come into close contact with anyone who travelled overseas in the last 14 days?

Have you come into close contact with anyone who has been issued a Home Quarentine Order or is a COVID19 patient in the last 14 days?

Are you experiencing any of the following symptoms: fever (>= 37.6°C), recurring cough, runny nose, sneezing, sore throat, shortness of breath, myalgia (muscle pain) or fatigue?
If your temperature is >= 37.6°C or if you answered "YES" to any of the questions above, you will be politely asked not to join the event and any monies paid for the ticket will be refunded in full. We would strongly advise that you seek immediate medical attention.
---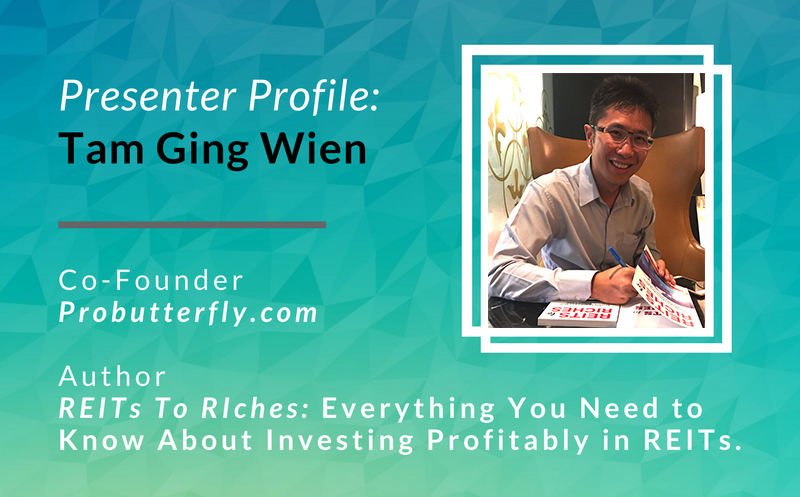 Tam Ging Wien has been an avid equities and real estate investor for over 10 years. He is the co-founder of REITScreener.com and ProButterfly.com, an independent investment site that helps investors level-up their investments in REITs, real estate and equities.
His passion for financial education and training stems from a desire to help others help themselves achieve financial freedom. In 2017 he published his first book entitled REITs to Riches: Everything You Need to Know About Investing Profitably in REITs which became a national best-seller. He has been interviewed on national radio with regards to his views on REITs.
He was among the distinguished panel of judges for the REITs Asia Pacific 2018 & 2019 Awards.