The Essential Connection - Linking People & Business
When you understand the people strategy you need, design it with intention, and equip your leaders to carry it through.
About this event
 About our Program:
Business problems are people problems! Business strategy needs people strategy!
When you understand the people strategy you need, design it with intention, and equip your leaders to carry it through, you begin to solve the "business problems." What people strategy do you need to deliver on the business strategy you have created? If you can't confidently answer that question, you're not alone. With major disruptions occurring in the business landscape, it is essential to have a clearly defined people strategy with an intentional connection to the strategy of the business. In this Strategic HR Workshop, leaders will leave with a built-out framework to support the essential connection between the strategy of their business and the people strategy needed to carry it through.
Learning Outcomes:
• Understand how to connect Human Capital Strategy to Business Strategy • Navigate the Talent Optimization Framework that fills the gap between Business Strategy and Business Results • Spend time workshopping the 6 critical talent strategy questions.
o What's the strategy?
o How are we measuring results?
o What business problems exist that are symptoms of people and culture problems?
o Which roles are key for results achievement?
o What soft skills need to be coached and developed in team to carry the business strategy forward?
o How are you assessing employee experience to define and align culture with strategy? • Understand how data-driven business decisions can originate from the desk of HR leaders • Practice thinking strategically about Human Capital Challenges with a systems thinking backdrop.
About our presenter:
Brad Smith leverages a passion to improve the world one leader at a time to help his clients improve culture, decrease turnover, and grow profits. By combining an inquisitive listening ear, a bias for action, and an incredible support team, he strives to validate and understand where clients are while also journeying with them to unlock future potential. Whether during 10 years of nonprofit leadership or more recently in building start-up organizations and leading merger and acquisition transitions, leadership and organizational development is the common thread of Smith's professional career. He graduated from Purdue twice, and is sometimes affectionately called a "Double Boiler." He earned a bachelor's degree in secondary math education and later an MBA from the Krannert School of Management. Outside of work, Smith calls West Lafayette, Indiana, home and enjoys spending time with his wife and three children.
About our day:
8:30am - 9:00: Opening Announcements & Networking
9:00- 11:00: Presentation
11:00 - 12:00: Q and A & Networking
CE Credit information:
The use of these seals confirms that this activity has met the Society for Human Resource Management® (SHRM®) & HR Certification Institute's® (HRCI®) criteria for recertification credit pre-approval.
This event is PENDING for both HRCI and SHRM credits.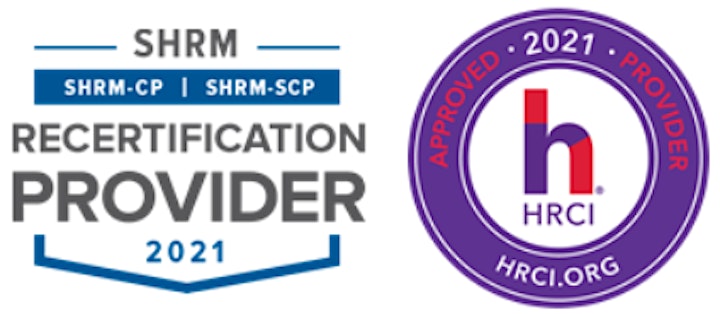 Organizer of The Essential Connection - Linking People & Business