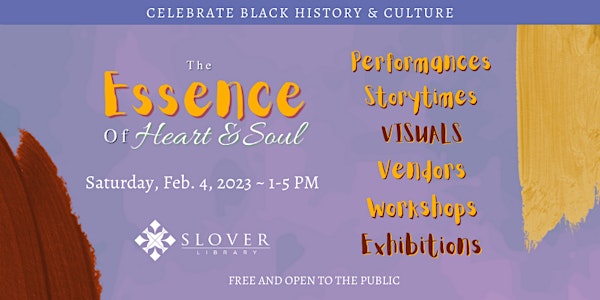 The Essence of Heart & Soul Festival
The Essence of Heart & Soul Festival Celebrates Black history and culture through many presentations. Join us Saturday, Feb. 4 from 1-5 PM.
When and where
Location
Slover Library 235 East Plume Street Norfolk, VA 23510
About this event
The Essence of Heart & Soul Festival celebrates the Black history and culture of the Hampton Roads Area through many forms of art and presentations. Join us on Saturday, February 4 from 1-5 PM at Slover Library for performances, Story times, VISUALS (photography + videography exhibition), workshops, Exhibitions, and a Black vendor fair. All ages are welcome to attend.
Partnered by Midnight Media, Tidewater Waves, and Jade Leo Media.
We are currently not accepting any more vendors or performers. If you have any questions or concerns, feel free to contact us, at Anthone.Oates@norfolk.gov.
FESTIVAL SCHEDULE:
Performances - Forum
Hosted by Jade Leo Media
1:30 PM - Captivating Cats Dance Team
1:50 PM - Nick, I Am Rap Artist
2:10 PM - Alpha Phi Alpha Step Show
2:30 PM - AmoreRose Singer
2:50 PM - Prestige & Poise Modeling
3:10 PM- Great Awakening Choir
Black Vendor Village - 1st & 2nd Floor
Dawnda Lourdes, Granby Salon Suites, Gloria Williams, Great Awakening United Church of God, Jeter, Made In Norfolk, Pretty Boy Collection, PROH Wellness, Steven L. Washington Esq., and T.L. Wynne
Storytime - Children's Library
1 PM - Crown: An Ode to the Fresh Cut with Billy Mercury
2 PM - Today I Met a Rainbow: The Story of Patricia Turner with Anika Williams
3 PM-Don't Forget to Be with Gloria Williams
3:30 PM -Daddy and Me with T.L. Wynne
Workshops - Children's Library
Ongoing - Heritage and Cross Stitching (Stitches of Heritage)
1:15 PM - Community and Mutual Aid with Jay Boone (K.U.S.P.)
2:15 PM - The Evolution of Black Music in the 757 with Drew Boyd (Tidewater Waves)
3:10 PM - Relax & Decompress with Get Well Soon ( Reading Room/3rd floor)
VISUALS - Lower Level
Hosted by Midnight Media.
VISUALS, an expo highlighting the Black experience in the 757 will take place from 3-5 PM.
4 PM - Special Mini Concert featuring Billy Mercury and the Groovemnt.
Expo features: Chronicle Visuals, JMB Studios, Jada Sierra Photography, Kiana Reconsal-Brown, Koffee Black Media, Nathan Croslin, Shot by Zai, and Tribe Cvlture.
Food Vendors
SMOKE N GREASE (1st floor - Slover Library)
Coco Jam (at Selden Market)
Parking & Transportation
Parking is available at MacArthur Center, city parking garages, or on-street metered parking. You can also take the light rail to the MacArthur Station stop and the library is located across the street.