Come and watch the battle of espresso "flow-profiles" in this knock out style barista competition and see who takes home the $2000 prize!
About this event
Dalla Corte is hosting an Espresso "flow-profile" competition (which is maybe the first of its kind in the world?) in Brisbane on the 17th of June, which we expect will be a fast paced and enjoyable event to watch.
With a $2000 prize for the champion you can expect some of Queensland's best Baristas to turn up to try their luck at impressing the judges.
Using Dalla Corte's patented Digital Flow Regulator technology on the latest model "Zero", Baristas will have the ability to control the water flow-rate throughout their extractions enabling a wider range of sensory characteristics to be available for the espressos they serve (compared to machines that don't have this technology).
The coffee we'll be using is "Indigo Uraga", a Natural Carbonic Maceration processed single origin from Ethiopia, which was co-sponsored, by the wonderful people from Project Origin and Tim Adams Specialty Coffee (who has also been charged with skilfully roasting it).
The water for the competition will go through reverse osmosis and be remineralised to SCA standards, which is made easy by using a filtration system sponsored by the water experts at BWT.
The competitors will be using the same Mahlkonig Ek43's that were exclusively used for the 2020 Australian Barista Championship, which has been sponsored by the friendly team at Mahlkonig Australia who are always ready to support Australia's specialty coffee community.
All in all, this means there will truly be some amazing espressos served in this competition.
Which will be presented to the judges in some of the best ceramic available, thanks to the wonderful crew at ACME & CO who supplied the espresso cups.
The espressos will be critiqued by 3 judges, Tilly Sproule (5 times Qld Barista Champion), Robbie (Owner & Roaster, Almanac Coffee), and Karl Lee (QLD Cup Tasters Champion), who are all highly recognised for the craft.
The event will kick off at 3:00pm with the winner being crowned by 8pm, and celebrated with complimentary drinks and nibbles (yes, that means free food and beer for everyone!)
The venue is Bib'n'Brace Collective, 95 Commercial Road, Teneriffe, Brisbane, QLD
Due to covid we have to restrict the number of people at the venue, as such only a limited number of tickets are available to be a spectator.
Join us for a fun afternoon full of suspence as we discover "who knows how to flow".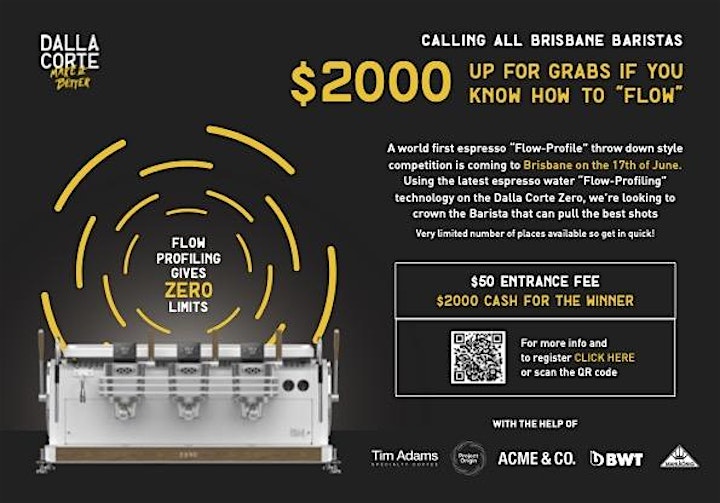 Organizer of The Espresso "Flow-Profile" Competition - Brisbane (spectator)