"THE EROTIC GAME" New Year's Eve

Wednesday, December 31, 2014 at 10:00 PM

-

Thursday, January 1, 2015 at 4:00 AM (PST)
Event Details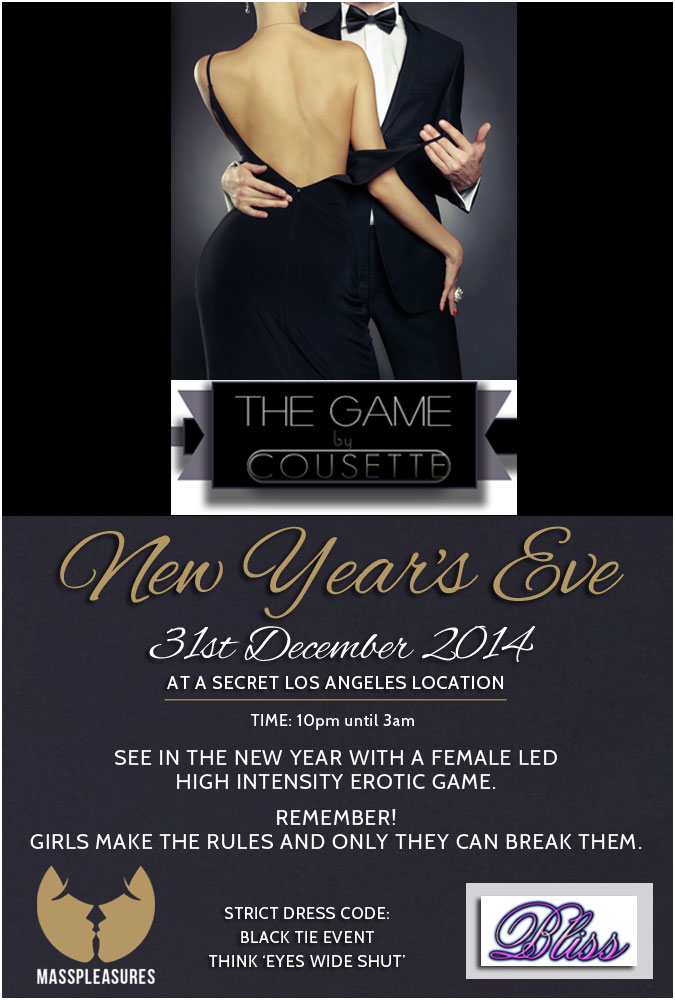 The people at 'Mass Pleasures' in conjunction with their delectable partners at 'Cousette' and SDC invites you 'The Libertine Connoisseur' to the night of all nights. This is the 'New Year Super Bowl' of Upmarket lifestylers where teams of only the Hottest Couples and Most Attractive Single Women descend on Los Angeles for the start of some action, nibbles and drinky-poos at 10pm and round off the action at 3am.
On the stroke we sing 'Auld Lang Sine' in a circle, take of our masks then down to the ground for some funky, humping sounds with a top international DJ pumping out some disco beats.
Drinky-poos and little nibbles available before the big nibbles of the night. Only the best sexy nibblers need apply.
Welcome to the high-intensity, erotic game where women are in complete control. She decides with whom and how she plays.

Rules

Know your own boundaries, respect those of others, and get permission before touching. Only yes means yes.
Be responsible for yourself and your partner. Condoms are provided.
Please, stay sharp and sober. A little relaxed is OK; drunk is not.
Keep bedroom doors open so everyone can enjoy the view!


How to Play

Each gentleman has a set of cards, and each woman has an empty ring. The couple earns their white cards by completing the activity on their own white cards. They move the completed cards to her ring to track the points earned.

To earn a color card, the woman may engage any man (other than her partner) to obtain a color card from him. She then places his card on her ring. It is not required that a woman engage every man; but the more men she engages, the more points she'll earn.

The game is divided into three rounds. During the first round, the men can give out the Tulip, Rose, and Daisy cards. During the second round, the Fig, Coconut, Cherry, Kiwi, and Banana cards can also be given out. During the third round, all the cards can be awarded including the Star card. The couple can earn their white cards during any round.

1st Round
Tulip (Hug or Kiss) - 1 point.
Rose (Make-out) - 2 points.
Daisy (Lick nipples) - 2 points.
2nd Round
Fig (Naked make-out) - 3 points.
Coconut (Hand job) - 4 points.
Cherry (Fingering) - 4 points.
Kiwi (Cunnilingus) - 5 points.
Banana (Blow-job) - 5 points.
3rd Round
Star (Sex) - 7 points.

White cards can be earned during all rounds (1-15 points each).


A woman may play with a guy multiple times to earn different types of cards, but she can only earn one of each type of card from each gentleman. To earn additional identical cards, she must play with a different guy.

Single women play by having both a deck of cards and an empty ring. A unicorn earns her own white cards by playing with others or by modifying the white cards' instructions as needed. She receives color cards from other men just as all female players do.


Winning

At the end of the game, each woman totals the value of her earned points. Prizes are awarded for 1st, 2nd, and 3rd place.

Demand for Mass PLeasures events continues to spike, so dont wait till late to purchase tickets!

Come find out why Mass Pleasures is the most talked about on premise event in SoCal and around the world, from Manhattan , London, Paris to Hong Kong, & Shanghai-- Get naughty with us at our NYE bash!
Get yourselves onto our super sexy guest list now !
If you have yet to come out to a party, or havent been in a while --Our parties have become ridiculously the hottest parties in town of late!! No other party compares, the difference is clear.
Here are the eagerly awaited details for the MASS PLEASURES NYE BALL"
During this mysterious night, You will be carried away by intriguing music, strange and intriguing Masks in a sensual and refined atmosphere.
DATE - WED 31st DEC
TIME - 10pm - 4am (Doors Shut at 11.30pm)
VENUE - FULL ADDRESS DISCLOSED 24 HRS BEFORE THE EVENT.
THEME IS EYES WIDE SHUT: Dress to impress, what would you wear if you were going to a masked ball?
Ladies go for Sexy, Sassy cocktail dresses, stockings, corsets, venetian masks "NO JEANS PLEASE" It's a glamorous dresses night!
Gents either Black Tie with a mask OR a smart suit and mask.
We reserve the right to refuse entrance to anyone who is not appropriately dressed.
OUR RITUAL IS MASKS COME OFF AT MIDNIGHT IF YOU WANT TO OR YOU CAN KEEP IT ON ALL NIGHT...
WHAT YOU CAN LOOK FORWARD TO!...
*ALL MIXERS PROVIDED - Including Soft drinks, bring your own alcohol. BYOB
*Jacuzzi & Infinity pool (please bring towels as required)
*Multi-Play Areas (always packed with hot couples in action)
*Fantastic DJ & Live performances
*Friendly Hostesses & Security
*Condoms Provided (welcome to bring your preferred brands)
*Seperate Smoking Area
NO CAMERAS OR MOBILE PHONES ALLOWED IN THE PLAY AREAS.
THIS PARTY IS FOR SPECIALLY SELECTED PEOPLE WHO FOLLOW THE FRIENDLY LIFESTYLE CODES... STRICT "NO MEANS NO" POLICY. RESPECTFULNESS AND POLITENESS IS A MUST. FAILURE TO ADHERE WILL RESULT IN IMMEDIATE EJECTION FROM THE PREMISES. DISCRETION MUST BE FOLLOWED.
*Tickets Will be Sold on a First Come First Served Basis.
ADVANCED BOOKING REQUIRED
For Information EMAIL: info@masspleasures.com or visit masspleasures.com

Guest list can be viewed on MASSPLEASURES'S PROFILE ON ALL THE LEADING LIFESTYLE WEBSITES.
We hope you will enjoy a fantastic and elegant (not to mention naughty NYE) night with us!
When & Where

Los Angeles

Los Angeles, CA 90210


Wednesday, December 31, 2014 at 10:00 PM

-

Thursday, January 1, 2015 at 4:00 AM (PST)
Add to my calendar
Organizer
Mass Pleasures|Hidden Soirees
Have you ever dreamed of attending an exclusive, discreet and confidential private erotic soiree in luxurious venues around the world from penthouse apartments to country houses, stately homes to castles, where you can mingle with young gorgeous like minded professionals?? Mass pleasures  The "World's Premier Luxury Pleasure Club" is about providing a secure environment for couples, ladies, exceptional gents worldwide to live and indulge their hedonistic fantasies and desires.
"THE EROTIC GAME" New Year's Eve