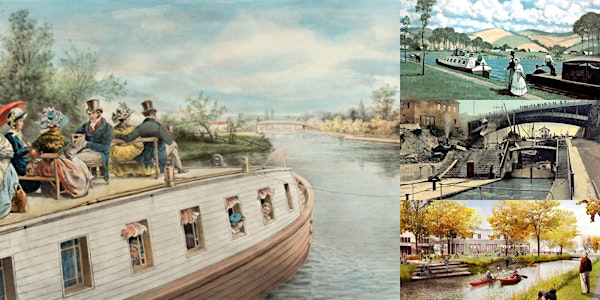 'The Erie Canal: A Story of Building the Impossible' Webinar
Can't make it live? Register and get access to the full replay for one week! New York Adventure Club | www.AdventureClub.com
About this event
"[The Erie Canal] is a splendid project and may be executed a century hence, but it is little short of madness to think of it at this day" President Thomas Jefferson, 1809
Once completed in 1825, the Erie Canal between Buffalo and Albany not only opened up the first viable shipping route between the Midwest and Northeast, but also launched America — especially New York City and New York State — to unimaginable economic and social heights. But how was one of the country's greatest engineering feats of the 19th century created at a time when the nation lacked a single certified civil engineer? This is the incredible story of how one visionary New York politician, two lawyers with novice surveyor skills, and thousands of unskilled laborers constructed one of the greatest modern marvels in this nation's history.
Join New York Adventure Club as we explore the saga and lasting legacy of the Erie Canal — officially opened in 1825, this 363 mile-long canal traversing a mountain range allowed the Northeast and Midwest United States to affordably exchange goods for the first time, which catapulted the economies of both regions for generations to come.
Led by storyteller and author Sandy Schuman, our virtual deep dive into the shallow waters of the Erie Canal will include:
Where the idea for the canal came from, why it was needed, and the reasons New York was uniquely suited for its location
How ominous construction challenges were overcome by a group of untrained engineers and workers, from clearing trees along the entire route to building the 60-foot high "Flight of Five" locks in Lockport, NY
New York politician DeWitt Clinton's key role in the canal's construction and completion
The canal's socioeconomic impact on New York City, upstate cities and towns, and the Midwest
A look at the canal's enlargement, replacement, demise, and resurrection over the past two centuries
Afterward, we'll have a Q&A with Sandy — any and all questions about the Erie Canal are welcomed and encouraged!
Can't make it live? Don't worry, you'll have access to the full replay for one week!
See you there, virtually!
*Immediately upon registering, you will receive a separate, automated email containing the link to join this webinar
**For the best possible viewing experience, please ensure you're using the latest version of your internet browser — Google Chrome is the most compatible. Exact technical requirements and a webinar user guide will be shared in the automated confirmation email upon registration.
***A full replay of the experience will be available to all registered guests for up to a week
About Sandy
Sandy Schuman tells "New York Tales, Tall & True," stories about New York's history, folklore, and songwriters. Fascinated by familiar things and their unfamiliar stories, he brings amazing historical tales to life ("some of our folklore is truly unbelievable, some of our history is even more so") and reveals the little-known stories behind some of our best- known songs. He plays his theme song on a Jew's harp. When you hear him play the guitar, you'll know why he calls himself a storyteller.
Testimonials
"Well organized, used graphs and many great visuals. TOP NOTCH!!!!" -Jane
"Sandy has a wealth of knowledge and presented it in an interesting way. I particularly enjoying singing the Erie Canal song with him. I sang it myself in music class when I was a child, growing up in New Jersey, and it was one of my favorites. I am glad to learn so much more behind that song." -Nancy
"Very organized presentation with extremely well informed speaker Great photos and videos Enjoyed song at the end." -Renata
"Very informative, good visuals, covered many aspect of the canal." -Jane
"I loved the information about the song, the history of the canal, and the information about what is still available to see." -Cindy
"The presenter was wonderful, clear, interesting, his presentation was informative." -Kathryn
"Presenters depth of knowledge of the subject and enthusiasm." -Bill
"The examination and explanation of the Canal was excellent and thorough." -Kenneth
"The knowledge of the presenter and all the reasons for the canal and history plus politics around it." -Mary
"Presenter was interesting speaker and very knowledgeable." -Betsy
"Very interesting information presented in an entertaining and very professional manner." -Philip
"I liked the narrative, the photos, the videos……everything!" -Linda
"Speaker knew an amazing amount of information on his topic, he was an especially good presenter of that information, and he had great illustrations which he explained really well." -Janet
"Very interesting facts abut he it was conceived and built" -Joel
"Very thorough and I was amazed at the impact the canal had on America. My teachers were clearly not as interested in this fact or didn't know. I want to thank everyone for presenting some of the Native American aspects to the canal. As a Native from Indiana, we often feel like we never existed and are simply pushed aside in so many historical narratives." -Ann
"Balanced coverage of historical, technological and cultural aspects of the development of the canal from the original concept to today." -Karen
"Fascinating, very well organized, professionally presented" -Tom
"Lots of in-depth material" -Manuel
"Good graphics, knowledge of presenter, enthusiastic" -Barrett
Disclaimer
By attending a New York Adventure Club experience, you accept our terms of service.
Categories: Virtual, Landmarks