Description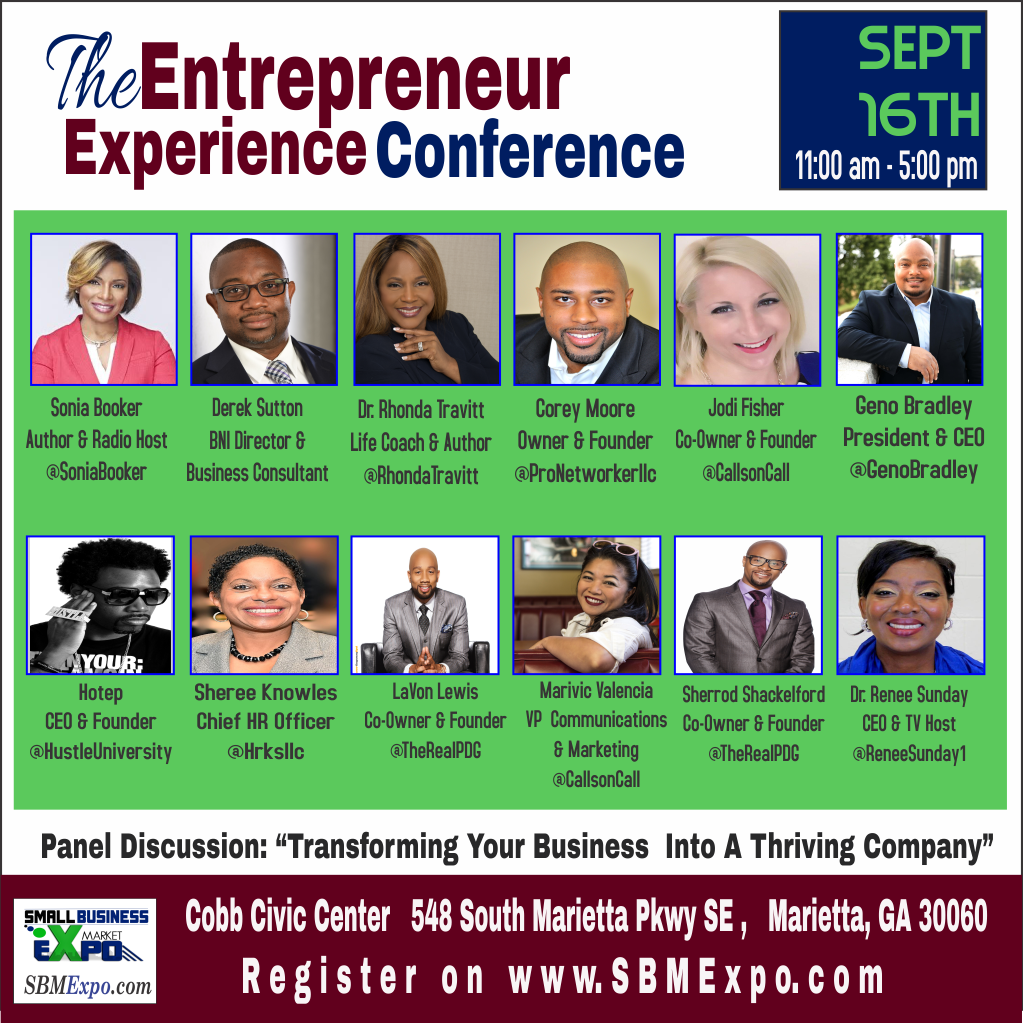 The Entrepreneur Experience Conference (TEEC)
Transform Your Business Into A Thriving Company
The Entrepreneur Experience Conference is a full day of business training and coaching from small business industry experts. The conference include access to all scheduled sessions, workshops, and tracks. Lunch is provided with your registration. Come learn and grow your business.
Scheduled Seminars (subject to change without notice)
7 Things You Can Do to Increase Your Publicity by Jodi Fisher, Founder & Co-Owner

Taking Your Vision To The Next Level by Dr. Rhonda Travitt, Life Coach & Author

Cold Market Referrals by Corey Moore, Founder & Ceo

Building a Strategic Business & Marketing Plan by Dr. Geno Bradley, President & Ceo

Be Seen Be Heard Get Paid by Dr. Renee Sunday, Ceo & Tv Host

Women Entrepreneurship - A Driving Force by Sonia Booker, Author & Radio Host

Introduction to Networking by Derek Sutton, BNI Director & Business Consultant

Employee to Entrepreneur by Sheree Knowles, Chief HR Officer & Ceo

Make Them Buy: Build a Multi -Million Dollar Business, Brand & Attitude by Co Owners LaVon Lewis & Sherrod Shackelford
We are accepting applications for vendors and caterers: Vendor Registration Here
Follow us on:
Twitter: www.twitter.com/smbizmarket
Facebook: www.facebook.com/smbizmarket
Instagram: www.instagram.com/smbizmarket
The Entrepreneur Experience Conference will stream parts of the conference on Periscope @smbizmarket
About Inside Out Center, Inc.: The Inside Out Center, Inc. is a 501(c)3 nonprofit organization dedicated to lending a helping hand to our veterans, homeless, unemployed and the working poor. Our mission includes providing business attire, small business seminars, and interviewing skills for our clients through our economic development initiatives. For additional information visit www.helpingthejobless.org.