Description
The EntrepChamp PAULO TIBIG will share the Strategies on how to become Champion Entrepreneur just like him!
UAE based Entrep JOVY TUANO will give his insights on How PinoyEntreps can co-exist and support each other.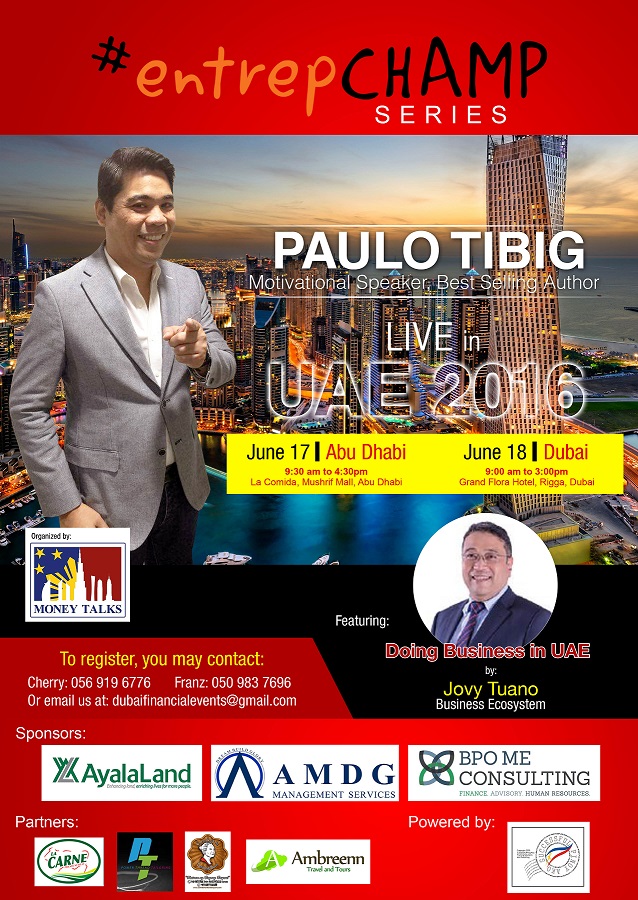 DUBAI EVENT 1: STRATEGIES OF A CHAMPION ENTREPRENEUR
Registration Link: https://www.eventbrite.com/e/the-entrepchamp-series-in-dubai-strategies-of-a-champion-entrepreneur-tickets-23002722763

DATE: June 18, 2016 (Saturday)
TIME: 9 AM - 3 PM
VENUE: FLORA GRAND HOTEL, Rigga - Dubai
LEARNING FEE:
REGULAR = 200 AED (inclusive of lunch)
---
DUBAI EVENT 2: FRANCHISING BA HANAP MO?
DATE: June 18, 2016 (Saturday)
TIME: 3 PM - 6 PM
VENUE: FLORA GRAND HOTEL, Rigga - Dubai
LEARNING FEE:
REGULAR = 100 AED (inclusive of coffee break)
---
EXTENDED! UNTIL MAY 31
EARLY BIRD COMBO (EVENT 1&2) = 280 AED with FREE book (Strategies of a Champion Entrepreneur worth 60 AED + COMBO discount of 20 AED) for the first 50 paid participants.
To avail of the Early Bird with FREE book, payment should be transmitted within a week from online registration. Otherwise, we will delete unpaid tickets to give chance to others on the waitlist.
---
ORGANIZED BY: MONEY TALKS UAE For inquiries: Cherry - 052 7673776, Franz - 050 9837696
---
The EntrepChamp, PAULO TIBIG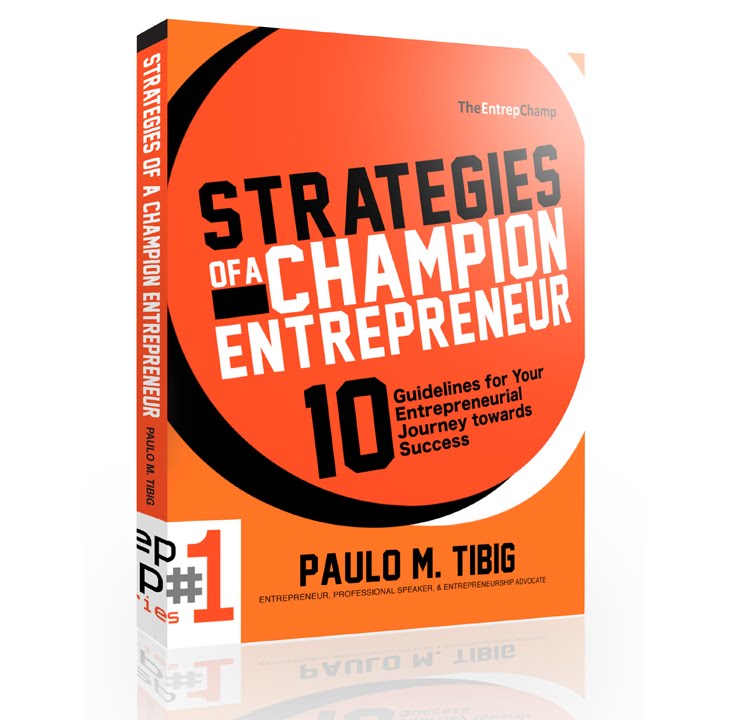 One of the sought after professional speakers today, he earned the moniker of "THE ENTREP CHAMP" in the entrepreneurship community because of his business savvy and wisdom.
Paulo worked his way up the ladder of entrepreneurship and success. He is a graduate of B.S. Airline Business Administration, was a working student taking on not-so-popular jobs like utility personnel, messenger and delivery man from his freshman year until to his senior year in college.
He started several enterprises like t-shirt trading, nata de coco production, handmade paper production, laundry business, and restaurant before he was able to strike the ìpot of goldî in the logistics business offering courier, freight, logistics marketing, food logistics, 3rd party logistics and other supply chain services to complete as total logistics solution provider.
At present, he is the president and CEO of Vcargo group with different business units in transport, energy and logistics.
· One of the TOP TEN ENTREPRENEURS in 2005 by Entrepreneur Philippines
· 2007 TEENPRENEUR CHALLENGE WINNING MENTOR of Entrepreneur School of Asia
· 2008 FINALIST - NOKIA MOBILE ENTREPRENEURS AWARDS
· 2011 DANGAL BALANGUENO by the City of Balanga, a recognition for outstanding achievers who made a mark in entrepreneurship
Mr. Tibig is a Go Negosyo Angelpreneur, past president of the Association of Filipino Franchisers Inc.(AFFI), Director of Freeport Area of Bataan (FAB), honorary member of the Young Entrepreneurs Society-Worldwide, and former president of Bataan Chamber of Commerce and Industry (BACCII).
He is a regular resource person for several television and radio programs and various national dailies and publications. He was featured in several entrepreneurship books & newspapers, and one of the endorser of Globe Business "Negostar".
---
Featured Speaker, JOVY TUANO
His profile speaks for his years of experience both in the Philippines and UAE (few of the lot)
*Owner of Asia Gulf Restaurant (La Comida Express Gourmet & Catering, La Carne Premium Meat)
*Co-Founder of the Philippine Business Council in Dubai & Abu Dhabi (currently Director of Trade, Investment & Entrepreneurship of PBC Abu Dhabi)
*100 Most Influential Filipinos in the Gulf (Illustrado Magazine, 2015)
*Featured in CNN on Philippine Public Opinion/ Political Analysis (2016)