The Enhancement Foundation(TEF's) Christmas A Season for Celebration Lupus Fundraising Event! For An Evening of Awareness,Honor, Determination,Gift-Giving, Joy & Celebration!"

Saturday, December 7, 2019 from 4:00 PM to 9:30 PM (EST)
Event Details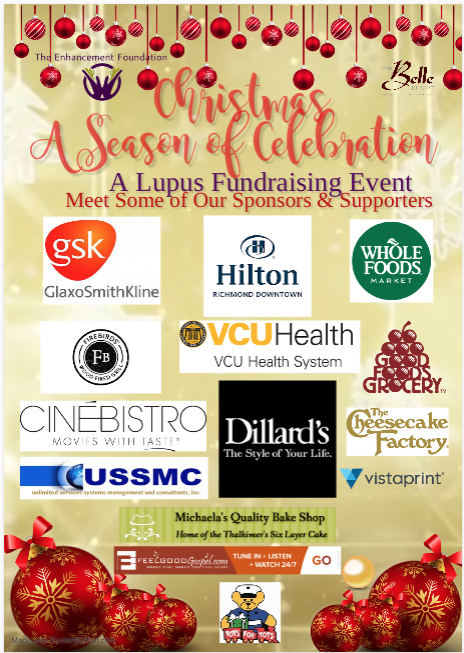 Richmond, VA ----- (SEPTEMBER 27, 2019),With a vision and focus to pro-actively serve as a catalyst for effective change for all women and their children, it is the Enhancement Foundation (TEF)'s goal is to promote productive healthy lives while building future legacies for the next generation of women.  During this event gathering, (TEF)'s focus and proactive measurewill be directed toward providing a platform for where wisdom and awareness, empowerment, honor, support and resources to assist women can occur. This special event will assist all women in the following:  (1)ascertaining more information about the Lupus disease, while exploring better nutritional and healthy options;   (2) supporting needed research efforts to ensure the power of science to drive new treatments to prevent continued disease progression, while yet finding a cure and;   (3) creatingan atmosphere oftestimonial experience, love, giving and receiving and a celebration of Christmas for all women, their children and others.  This overwhelming disease Systemic Lupus Erythematous (SLE or Lupus)is an autoimmune disease where one's immune system attacks healthy cells.  Lupus can potentially damage many parts of the body and its affects are more common among women of African American, Hispanic, Asian, and Native American and Pacific Islanders descent, followed by Caucasian women as well as a small number of men.
An Exciting Evening Program of Events: 
Registration Pre-Function Time: 4:00 P.M.  A mix and mingle networking support | shopping & exploring the exhibits and vendors 

Music & Entertainment | Noted Guest Speakers & Presenters |Testimonials from the Real Lupus Champions | 

Dinner | A Mini Special Fashion Show by Dillards |

Comedy |

A Silent Auction| Gift Giving & Special Activities | Toys For Tots | An Inspirational Powerhouse Speaker | Photo Shoot – Step & Repeat – A Proclamation from both the Governor and Mayor is expected.   
Deadline: Sponsors are welcome !  No longer accepting Vendors and Advertisements

$60.00 tickets before December 4, 2019.  Hotel must have dinner choices ASAP
Please Email: Programs@enhancementfoundation.org for Discount Group rate availability for (10 or more tickets)
Among Our Partners, Supporters,  & Sponsors This Year:  GlaxoSmithKline (GSK): (8thlargest a science-led global healthcare company pharmaceutical company (Gold Sponsor) |(VCU) Rheumatology Department-Health Systems | The Allison Breast Center| Global Executive Staffing, LLC | Whole Foods| Law Offices of Vicky L. Orem | Good Foods Grocery | Hilton | Stony Point CineBistro | Dillards | Cheesecake Factory | Firebird's Restaurant | Vistaprint  | Olive Garden | Michaela's Bakery | FeelGood Gospel | Toys-for Tots | Paparazzi | USSMC | Traci Lynn Fashion Jewelry | Lupus Foundation | Lupus Research Alliance & Others.
BRENDA CAMPBELL, CHIQUITA CROSS, DR. STAMATINA DANIELIDES, CINDY FINKE, TONYA LEWIS, CHRYSTAL RUCKER, GSK, DR. APOSTLE SYLVIA CUNNINGHAM, CHRISTMAS: A SEASON OF CELEBRATION, GOSPEL, GOSPEL MUSIC, GOSPEL MUSIC NEWS, HEALTH NEWS, LUPUS FUNDRAISERLUPUS CHAMPIONS, CHRISTMAS SEASON CELEBRATION, SHEILAH BELLE
Thank you for supporting this worthwhile cause.
 FAQs
How can I contact the organizer with any questions?
Programs@enhancementfoundation.org
Please provide your name, contact information and request and a representative will contact you.
 FAQs
What's the refund policy?
No refunds
 FAQs
Do I have to bring my printed ticket to the event?
Yes by 4:00pm
 FAQs
What are my transportation/parking options for getting to and from the event?
You may use valet parking, park across the street in the parking lot or park on the streets on weekends.
 FAQs
 Is my registration fee or ticket transferrable?
No
 Food Options can be selected on the Enhancement Foundation by clicking this link.
https://www.enhancementfoundation.org/contact
Special Group rates are available for tables of ten.
For more information or concerns for registering please send email to programs@enhancementfoundation.org
Have questions about The Enhancement Foundation(TEF's) Christmas A Season for Celebration Lupus Fundraising Event! For An Evening of Awareness,Honor, Determination,Gift-Giving, Joy & Celebration!"?
Contact The Enhancement Foundation, Inc.
When & Where

Hilton Richmond Downtown's Gerhart Ballroom
The Historical Miller and Rhodes Building
501 East Broad Street, Richmond, Virginia 23219
Richmond, VA 23219


Saturday, December 7, 2019 from 4:00 PM to 9:30 PM (EST)
Add to my calendar
Organizer

The Enhancement Foundation, Inc., (TEF) IRS Classified as Private Foundation Status:
Nonprofit corporation operated exclusively for charitable, inspirational, educational, and scientific purposes as approved by the IRS as an exempt organization from federal income tax under Internal Revenue Code (IRC) Section 50l(c) (3).  
IRS Tax EIN can be provided upon request. 
Donors can deduct contributions they make to (TEF)under IRC Section 170.   
Qualified to receive tax-deductible bequests, devises, transfers or gifts under Section 2055, 2106, or 2522.  
An exemption letter regarding our exempt status is available upon request. 
Registered with the U.S. Federal Government System for Award Management and the Defense Logistics Agency. 
TEF-Purpose: In 2012, Founding Executive Director - Ms. Brenda Campbell established the (TEF)women's empowerment organization to support the quality of lives, value and contributions of women in every aspect of their daily living.  However, planning and full operations began in third quarter of 2017.  TEF is a vehicle for women in disadvantaged circumstances with systemic obstacles; who need to obtain a greater level of self-sufficiency and wholeness through acknowledging and utilizing their creative God-given strengths, core competencies, with proper supports and resources.  We believe the whole woman needs to be empowered and educated to leave positive legacies for the future generations of women.  
 TEF-Vision:TEF's vision is to pro-actively serve as a catalyst of change for all women inclusive of the disadvantaged, victimized, underprivileged, and underserved generations of women for the future.  
TEF-Mission: Our mission is to enhance and empower the abilities of all women to effectively plan and contribute to their personal health, social, professional growth and development by training and leading them toward a quality lifestyle.  In an effort to propel this mission, our ambassadors will work to solicit the participation of all women and raise social consciousness about our program supports, resources, specialized trainings, workshops, conferences and special events. 
 TEF Goals: Our goal is to assist women to mitigate and avoid any crisis or risks they may encounter which may take them off their personal focus, plans and goals.  
 Why Choose Us As A Partner?  TEF is dedicated to make women's wellbeing our top priority by:
Instilling inspiration and principles of self determination and confidence in women

Building their skills in underutilized business areas

Challenging women to live and not just survive

Adding value and building legacies for future impact of the next generation

Assisting women in striving toward positive results

Transitioning women by acquiring necessary resources

Utilizing funding via grants, contributions and donations for women's programs to impact their growth and development

Influencing statistical research data that impact women

Assisting women in learning to love the greater spirit within themselves, and others  
 TEF Commitment To Women:
Empower and support women with their aspirations

Identify the necessary funding sources via grants, donations or other public support (to include: local, state, federal civilian, military government organizations, private philanthropic groups/ individuals, and commercial sponsors to include: health, wellness, medical and pharmaceutical industries 

Plan fund-raisers that can provide support to women in the community 

Provide mentorship, employment and volunteer opportunities for women 
 Radio Personality Dr. Sheilah Belle - (The Belle of The Belle Report) will be joining us as a supportive partner in this event.