The Energy Bus for Schools Leadership Tour 2017 - Cincinnati
Description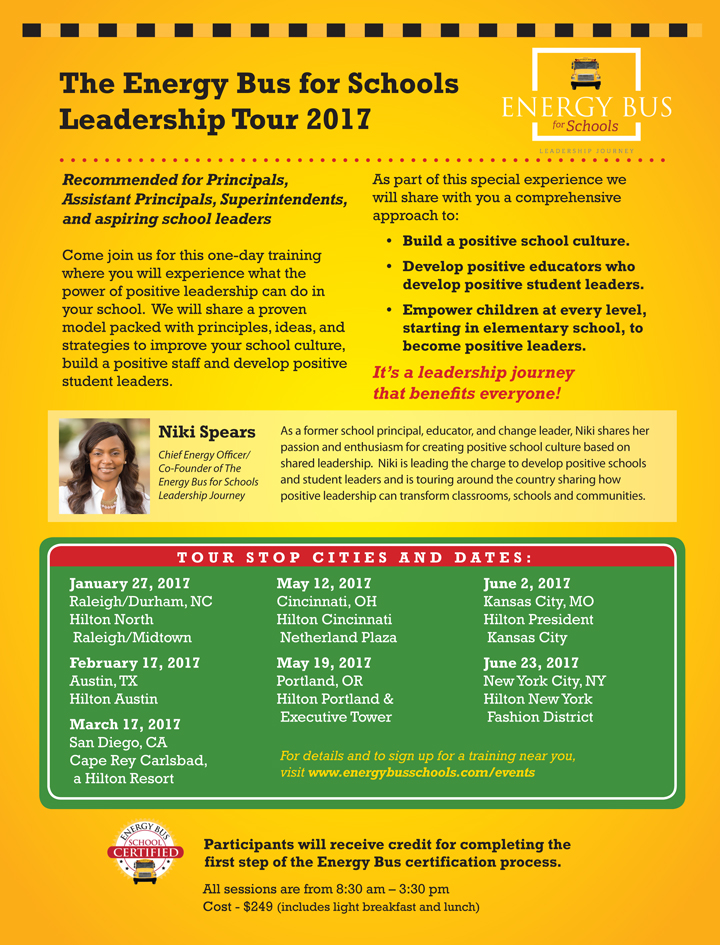 Additional information:
Group Code: TEB
Web Link: https://aws.passkey.com/go/TEBMay2017
As a reminder, all reservations need to be confirmed by the group cutoff date of April 20th. After this date, any unused guest rooms will be released back to the hotel's general inventory.
Hotel check in is 4:00pm and check out is 11:00am. Reservations can be cancelled without first night's room and tax penalty if done so before midnight the day before arrival.
GUEST ARRIVAL/DEPARTURE:
First and last interactions with your attendees are very important to us, so please assist us in a GREAT! arrival and departure for all your attendees. It would be most helpful for staffing and welcoming to know if your attendees will be parking with the hotel or outside of the hotel OR if they will be needing parking at all. Please share the following information with all your attendees.
Valet Parking:
Hotel valet parking is currently $28 overnight and until 3pm on check out day. Complimentary in and out privileges are included with the exception of departure day where there is a $10 re-park charge each time the car is brought around. The clearance into hotel valet is 6'6". This is important information for oversized vans and SUVs.
Motorcycle parking is also available in hotel valet on a self serve and first option basis. Overnight parking is $23 per night with departure by 3pm on check out day.
In cold temperatures, please let your attendees know the entrance garage door will open automatically when their car pulls close enough to the entrance door. Once open, drive through and the garage door will close automatically behind them.
Self Parking adjacent to the hotel:
Mabley Place Garage is located within the Carew Tower complex and attached to the hotel. Main entrance is on Race Street, third driveway on the left after passing the Hotel Main Entrance at the corner of Race and 5th Streets. Additional entrance and exit also on Fourth Street. This is a self parking garage with a 24/7 automated pay station offering rates of $1 per 20 minutes or after 8 hours, a flat rate of $18. After 4pm, rate is $5 for up to 8 hours. No in/out privileges.
Guests of Hilton Netherland Plaza have the option of charging overnight self-parking at Mabley Place Garage with in/out privilege to their guestroom at a cost of $23 per night and departure by 3pm on check out day. Bring your ticket with you to the front desk when you check in.
This garage can be extremely busy on some days and your guests may arrive to check in when the "FULL" light is on at the entrance gate. In this case, instruct your attendees to press the "HELP" button on the gate and inform the helpline they are checking into the hotel. The helpline will lift the gate for entrance. The attendee will get no ticket, but should proceed to the front desk of the Hilton to check in. Let the guest agent know they parked at Mabley Place Garage.
During the hotel stay and when re-entering Mabley Place Garage, if the "FULL" sign is lit, the validated parking ticket given to you when checking into the hotel will lift the gate to enter, even when the "FULL" sign is lit.
The clearance is 6'8" and again important to share with those in oversized vehicles.