The Endometriosis Summit: Fertility Fare- a place to nosh and be nourished
Event Information
Refund policy
Contact the organizer to request a refund.
Eventbrite's fee is nonrefundable.
It's day of support, education and deep connection for those enduring fertility challenges. All virtual. All for You
About this event
The Endometriosis Summit cordially invites you to a virtual day of support, education and deep connections to others in the fertility community -curated by Casey Berna, MSW.
Day 1 of our Fertility Weekend begins with nosh prepared by you from a custom designed, fertility enhancing, anti-inflammatory menu by Aimee Raupp, MS, LAc, an acupuncturist, wellness expert and author of Yes You Can Get Pregnant. Meet and greet with others in the fertility community in one of our three breakout rooms. Then get ready to expand your toolkit with Four Fabulous Endo Summit Style Webinars all on Fertility. ONE BREAKOUT ROOM PER TICKET
10am Welcome
1010 Meet and greet Must pick your room during registration, cannot switch rooms. To register for a Break Out room, please do this under Add-ons in the ticketing page. One breakout room per registrant NO EXCEPTIONS.
Room 1- Reproductive Immunology and You, facilitated by Dr Andrea Vidali, Casey Berna MSW, Candace Van Wade creator The Infertilitea and @operationbabybump
Room 2- LGBTQAI and Fertility, facilitated by Les Henderson, Founder of EndoQueer @endoqueer; Nicole Ridout DPT @dr.nicolepelvicdpt; Dr Melvin Thornton, fertility specialist, @preventmiscarriage BRI NY, NY
Room 3- Fertility 101 from AMH and Sperm Analysis to Egg Freezing, IVF and Adoption Kate Weldon Leblanc, Executive Director Resolve New England @resolvenewengland; Jessica Katz; Claudia Campbell, Endo Fierce @endofierce
Break and Zoom link switch
1050-1150
Fertility, Dietary Supplements and the Science behind it Dr Nadera Mansouri-Attia PhD, Research Director Braverman Reproductive Immunology, @preventmiscarriage, Aimee Raupp, MS, LAc, @aimeeraupp
1200-100
Connecting to you: The trauma, pain and grief of Pregnancy Loss and Infertility Parijat Deshpande, high-risk pregnancy expert and author of Pregnancy Brain, @healthy.highriskpregnancy; Laura McCabe Sperber, Erica Mcafee, speaker, doula, grief specialist, owner Sisters in Loss, @ericammcafee and @sistersinloss; Casey Berna, MSW, endo advocate, @endosocialworker
130-230 It Takes Two: Male Infertility
Emanuela Lazzaroni-Tealdi, MS, embryologist
Brandon Johnson, Fertility Coach and Therapist, @brandon.therapist; Dr Yaniv Larish, urologist, @realurology, NY NY; Dr Mark Zoland, Core Surgical, NY, NY. Dr. Andrea Vidali, BRI @endometriosis_surgeon
Movement Break Physical Therapist Shantae Williams DPT, PT Chicago, @dr_tae_pt
300-400 Fibroids and Myomectomy
Dr Gaby Moawad, Washington DC, @ceaps; Dr. Antonio Gargiulo, Harvard University, @antoniogargiulomd; Dr. Andrea Vidali @endometriosis_surgeon
This is a virtual conference. Our breakout rooms will NOT be recorded.
Email used at registration must be compatible with Zoom.
MUST REGISTER FOR THE FERTILITY FARE AND THE REPRODUCTIVE IMMUNOLOGY CONFERENCE SEPARATELY. To register for a Break Out room, please do this under Add-ons in the ticketing page. If you do not pre-register than we cannot admit you to the breakout rooms in the conference.
BREAKOUT ROOMS ARE SELECTED AT REGISTRATION AND CANNOT BE CHANGED.
TICKET SALES END OCTOBER 22, 2020 at 5pm.
Got Questions: Email salliesarrel@yahoo.com
NO REFUNDS, Tickets are not transferable
Scholarships Available please contact event organizer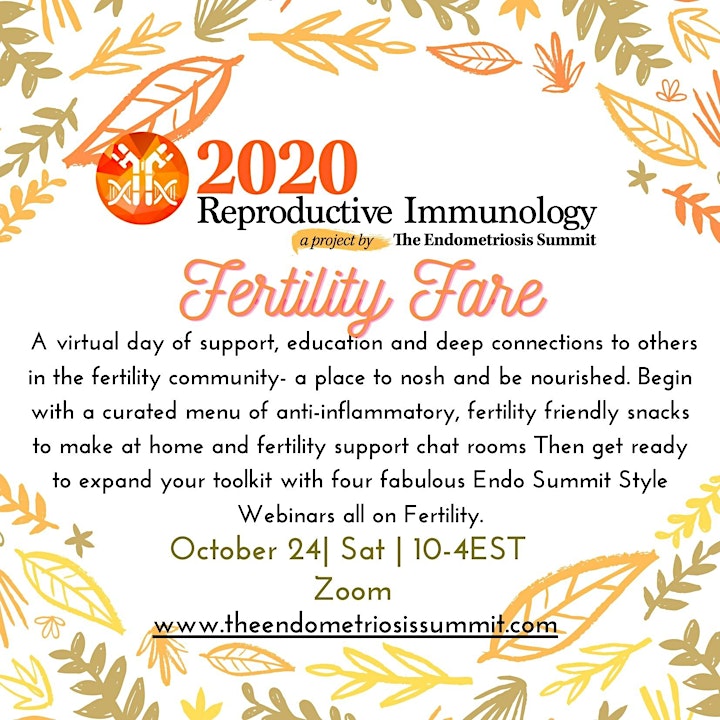 Date and time
Location
Refund policy
Contact the organizer to request a refund.
Eventbrite's fee is nonrefundable.
Organizer of The Endometriosis Summit: Fertility Fare- a place to nosh and be nourished
Event Co-Chair: Dr. Sallie Sarrel PT ATC DPT

"If we are to change endometriosis than we must use our own voices to tell the world we aren't going to accept less than treatments. This pain is not in your head, it is very very real. Education on endometriosis and all its associated pains will empower us. We will not be silenced by our pain."
 Dr. Sallie Sarrel, PT ATC DPT is a doctorate in physical therapy that specializes in endometriosis and pelvic pain. Her unique perspective comes from years of enduring the disease. She has two practices in New York City and New Jersey and is at the forefront of the advocacy movement for endometriosis. She co-founded this event to offer patients and practitioners a space, on even footing, without pharma pretense to further the endometriosis conversation. 
https://salliesarrel.com
Event Co-Chair: Dr. Andrea Vidali MD, OBGYN, MIG Surgeon
"Endometriosis is a multi-faceted disease requiring multi-faceted treatments performed by practitioners with skill and education. It is time to further the paradigm of endometriosis so we can end the suffering."
Dr. Andrea Vidali, MD specializes in the treatment and diagnosis of endometriosis as it relates to pain , infertility and miscarriages.He has offices in New York and New Jersey and has a multi-disciplinary team for managing endometriosis care. Having had varied and international experience allows Dr. Vidali
to have an open mind and a keen understanding of patient needs and being not judgmental in putting the patient first. 

www.preventmiscarriage.com