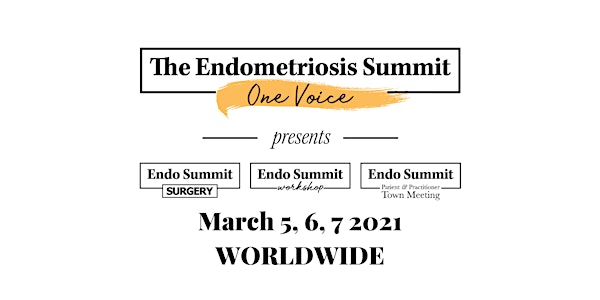 The Endometriosis Summit 2021
The Endometriosis Summit 2021.There are 3 days of endometriosis education and interaction. All virtual, for both practitioner and patient.
Refund Policy
Contact the organizer to request a refund.
Eventbrite's fee is nonrefundable.
About this event
If you have endometriosis, treat endometriosis, or love someone with endometriosis Endo Summit 2021 is the event for you.
Tired of the bias driven decisions, infighting, and the one upping? Looking to advance your skill and knowledge base regarding endometriosis? The Endometriosis Summit aims to unite the endometriosis community as One Voice in our all new virtual format. Available Worldwide!
IT IS A THREE DAY EVENT THIS YEAR!
The best and the brightest in endometriosis, which includes you, are hereby invited to The Endometriosis Summit to share concerns, to learn, educate, and change the narrative politically, personally, surgically, and societally in endometriosis.
For 2021, The Endometriosis Summit is pushing the conversation of endometriosis forward. We will have a three day event, plus Lumenis Gynecology will host a hybrid surgical training lab that can be attended in person in beautiful Celebration Florida or online from anywhere in the world.
Our virtual Patient and Practitioner Town Meeting on March 7, 2021 can be seen from anywhere in the world, contains both live and recorded content and has a feature to chat one-on-one with other audience members directly. Held in Pheedloop, this is not your average day on Zoom. You will connect, bond, and engage in a Town Meeting format with the world's best experts in endometriosis and with people who have the disease because The Endometriosis Summit always believes it is the voice of those with the disease that will change our future. In addition to challenging the current, ineffective status quo in endometriosis care, The Patient and Practitioner Town Meeting will pair our panel discussions with surgical videos and round table discussions on topics like thoracic endometriosis, painful sex, groin pain, and race and endometriosis.
We host our Endo Summit Workshop on March 6, 2021 to explore topics in endometriosis in a more intimate setting. From Great Guts and Ovulation as a measure of health to medical marijuana and a group art project Endo Summit Workshop is geared to not only educate about endometriosis, it is designed to give real time tips on how to live with the disease and its associated conditions. Endo Summit Workshop is an amazing opportunity for those who live life with endometriosis and for those who treat endometriosis and pelvic pain.
INTRODUCING Endo Summit Surgery on March 5, 2021. For everyone, patient and practitioner alike, Endo Summit Surgery will be a day filled with case specific education. Learn about abdominal wall endometriosis, managing endometriosis in teens, and post menopausally; explore OR smoke safety especially in a Covid world, understand the bladder as a driver of pain, explore what surgical techniques may enhance fertility and best of all doctors and practitioners may BRING YOUR SURGICAL CASES to us. We present two breakout hot seat rooms- one for surgical cases that may stump you, and one for pelvic pain cases. Each room is head by experts in their field and breakout room is waiting for you to discuss and learn how to treat. Endo Summit Surgery will feature a LIVE, in real time, endometriosis surgery so you may see expert excision and ask questions as it's happening. There will be moderators during the live surgery to answer both questions from the surgeons and questions from the lay person with endometriosis, specific to the case being shown. Lumenis will broadcast the moderated LIVE endometriosis surgery to help teach and further minimally invasive gynecological surgery.
Endometriosis Summit believes that training others in excision is critical to developing better endometriosis care worldwide. On March 5, 2021 Lumenis will broadcast a moderated LIVE endometriosis surgery to help teach and further minimally invasive gynecological surgery. Please note, the surgery link is to follow.
The Endometriosis Summit: One Voice is an opportunity of endometriosis connection and education not to be missed. See you the first weekend in March, we are apart but we are one voice to change endometriosis.
Recording of Endo Summit Workshop and Endo Summit Patient and Practitioner Town Meeting will be available for up to 10 months after the event.
An online Meetup will be held for GPHAM members after Endo Summit Workshop concludes. Time and link to be sent to registrant. This is for GPHAM members ONLY.
Full program is coming but we are able to begin presales for the entire event. Times of live sessions are TBA.
THE WEEK OF THE EVENT YOU WILL RECEIVE A LINK TO ACCESS THE EVENT AND NOT BEFORE. PLEASE MAKE SURE YOU CHECK YOUR SPAM FOLDER FOR IT.
To purchase T Shirts or stickers for the event please click here:
https://endothreads.com/collections/the-endo-summit-collection
Please note, none of the event this year will be broadcasted to Facebook. This is a virtual event and you will need a ticket to see the virtual stage.
NO REFUNDS
scholarships available, please email salliesarrel@yahoo.com. GPHAM meetup is only for members.
Price of ticket offsets cost of the event. There is no profit on this event.