The Endless Night Vampire Ball of New Orleans 2011 - Steampunk Soirée

Saturday, October 29, 2011 at 10:00 PM

-

Sunday, October 30, 2011 at 4:00 AM (CDT)
Event Details
PLEASE NOTE GENERAL ADMISSION TICKETS GO THROUGH HOUSE OF BLUES 
$40 ea. + Ticketmaster Fee
http://www.houseofblues.com/tickets/eventdetail.php?eventid=71017 
Rated #1 Halloween party in the world in 2010 by TripAdvisor.com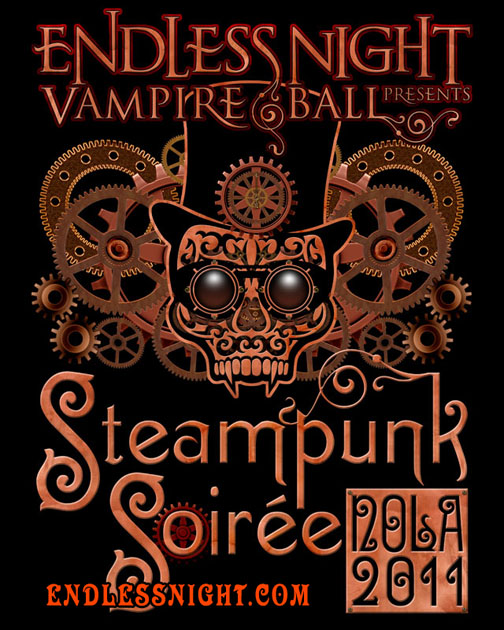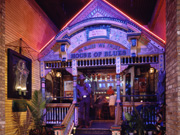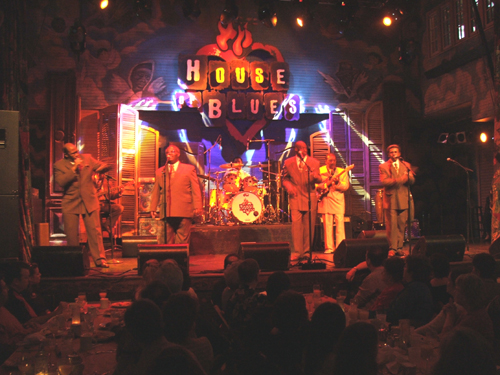 DUE TO SCHEDULING CONFLICTS ABNEY PARK WILL NOT BE PERFORMING AT THE ENDLESS NIGHT VAMPIRE BALL OF NEW ORLEANS!
Some of the current individuals involved in the New Orleans Vampire Ball!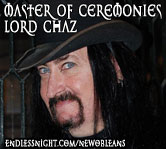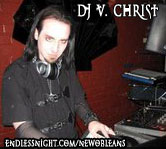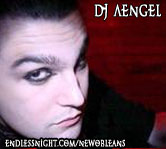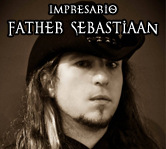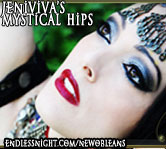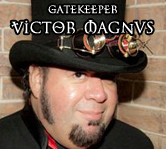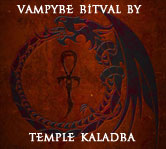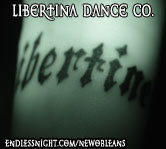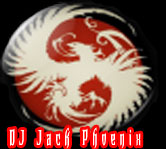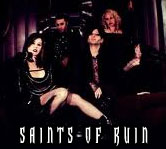 Also appearing but no photos presented yet include:
DJ Fangpimp (Mavenlore), and some special others. Pix coming soon!
ABOUT 
The Endless Night Vampire Ball New Orleans 2011 will take place on Saturday, October 29th, 2011 at the House of Blues in New Orleans, 225 Decatur St. right in the heart of the French Quarter.   
THE ENDLESS NIGHT VAMPIRE BALL™ events are a series of masquerade ball themed soirees produced by Father Sebastiaan of SABRETOOTH, which began in New York City in 1996 with the "Vampyre Ball of New York" and the "Main Event" inNew Orleans over Halloween weekend.  The name Endless Night comes from the William Blake poem "Ages of Innocence " in which he states "Some are born to Sweet Delight, Others are born to Endless Night."
Over the years the Endless Night is known for its many productions including Long Black Veil (LBV) at MOTHER NYC, Xorvia chiche fetish parties, Xcommunicate, Black Xion in Amsterdam, Lutetia Noir in Paris and Fang Club Gotham.  Now all the events are simply known as "The Endless Night Vampire Ball."   Yet each varies in size from a small party in Paris with 300 to the larger event in NYC with 600+ to New Orleans with over 1000+ patrons.
The first Endless Night events cumulated with the flagship event, Endless Night Festival in 1998 over Halloween weekend in New Orleans.  During this time the Vampire Ball of New York and Long Black Veil were running strong until the events of September 11th, 2001 in New York, but the New Orleans event still kept going.  In 2005 the Endless Night Vampire Ball of New York was resurrected and continues in the original location at Element Nightclub in NYC.
Endless Night parties have inspired legendary clubs such as Hidden Shadows Realm of Darkness and the Black Veil party in Osaka Japan.   In Fall of 2010 the Endless Night begins a 3 year world tour with events planned in Miami, New York, New Orleans, Paris, Chicago.
THE EXPERIENCE
Many who come through the Gates of the Endless Night never truly know what to expect until after their first event.  Burlesque & belly dancers, local and internationally renowned DJs weave a unique auditory experience, opera singers, live bands such as Inkubus Sukkubus, Cruxshadows and gODHEAD, a Mistress / Master of Ceremonies ranging from local celebrities such as Empress Chi Chi Valenti and Lord Chaz of New Orleans preside over a crowd dressed in a variety of costumes from medieval to steampunk to fetish.
What makes the Endless Night most unique is the vampire and masque ball theme touched off with a Belle Epoch salon noir from the esoteric renaissance of 1890s France.  Always changing and morphing according to new and diverse interests Endless Nights is purely a unique experience which is unforgettable.
NEUTRAL GROUND
The Endless Night Vampire Ball is an event which is a neutral ground for all alternative tribes to unite in ceremonial pleasure, dance, music, aesthetic expression and performance.  Amongst our patrons we have vampires, Vampyres, Strigoi Vii, Burners, LGBT, performers, burlesque dancers, artists, modern primitives, BDSM, fetishists, latex lovers, those of alternative spiritualities, musicians, dragqueens, fashionistas, metalheads, rockers, goths, steampunks and all of our friends and admirers.  All we ask is you come with the intent of an open mind, spend countless hours thinking about your costumes and bring positive energies to share with all.

ENDLESS NIGHT VAMPIRE BALL NOLA now has a confirmed host hotel, The Whitney Wyndham Hotel- New Orleans located at 610 Poydras Street in New Orleans. Walking distance to French Quarter and located on the Streetcar Line for easy access Uptown. We have great room rates of $150 per night for a standard room of up to 4 people and King or Queen Suites for $180 per night!
We have until August 26th, 2011 to obtain this deal and there are a limited number of rooms.  With the price of hotels going up every Halloween due to the popularity of the weekend this is a fangtastic deal!  Call 504-212-8688 and ask for group rate Endless Night or visit their website
http://www.wyndham.com/hotels/MSYWW/main.wnt
Again thank you to our hospitality hostess Lady A for making this great deal happen!

The Endless Night Vampire Ball events are formal masquerade balls and 99% of the event's quality, character and spirit are within the costume centered dresscode.
To insure the quality of the event and the experience of our patrons THIS POLICY INCLUDES ALL PATRONS, KREWE, PERFORMERS, VENDORS, PRESS, PHOTOGRAPHERS AND GUESTS. NO EXCEPTIONS.  Essential club personal such as security, bartenders, sound persons, cashiers, etc. are requested to join in as well.  We consider this like going to a state diplomatic affair, underground Venetian Ball in Carnival or attending a proper wedding.
One media person asked "how many performers do you have?, Our impressario replied; How many tickets did we sell?!" Some patrons make their costumes, others have them made and yet others mix and match, creativity is the key.
What is most important is the dress code is about respect, contribution to the enviroment and a mental preparation for the ball to build collective excitement.  To come out of dress code without even making an effort is disrespectful and rude to those who made an effort.  We are an inclusive experience which everyone should be the star and are not a "spectator's sport" to enter you must participate, to participate begins with costumes!
Check out the Endless Night Galleries for examples and inspiration of what to wear;
Motifs are examples of style and genre which each individual participant comes to the Ball…
Fangs and masks are highly encouraged but NOT required.
The following are a few example styles of motifs for patrons of the ENVB, not in any particular order, feel free to mix and match your Motifs according to the them, your personal interests and what you want to express;
Venetian Masque Carnivale, Steampunk, Cosplay, Latex, Gothic, Napoleonic, Horror, Medical, Mad Scientist, Fairy Tales, Zombies, Post-Apocalyptic, Cyberpunk, Drag, Angelic / Demonic, Opera / Black Tie,  Moulin Rouge, Boudoir, Victorian, Medieval, Burlesque, Rocktar, Baroque, Witch, Pagan, Norse, Ancient Egyptian, Uniforms, Sci Fi, Fantasy or Formal Western!
NO (we are serious) t-shirts, casual street wear, blue jeans, wife beater shirts, Racist symbols, sportswear, street wear, sneakers, etc.  Unless you are changing in the cloak room and have you cloths in a bad you will be refused Entry WILL BE REFUSED WITHOUT REFUND.
Some of the best costumes are created by those who wear them, again check the galleries and be creative, look for inspiration, develop yourself and evolve! 

We LOVE to support underground designers who produce the most amazing vampire couture.  This is not the cheesy off the rack stuff but the best quality you can get.  Here are some of our friends and designers.
Masquerade Artisan E.L. Downey – http://www.masqueradeartisan.com
New Orleans Masks - http://www.neworleansmasks.com
Gentleman's Emporium - http://www.gentlemansemporium.com
Azraelle's Accomplice (TX) - http://azacclothingcouture.com
Steampunk Emporium - http://www.steampunkemporium.com
Gothic Renaissance (NYC) - http://www.trashydiva.com
Black Norns (France) - http://www.etsy.com/shop/blacknorns
DeMask – http://www.demask.com
Vampyre Couture (Croatia) – http://www.Noir-Shapes.net
Chivalry Sports – http://www.renstore.com
Boutique du Vampyre (New Orleans) – http://www.feelthebite.com
Bibian Blue (Barcelona) - http://www.bibianblue.com
House of Harlot (UK) - http://www.house-of-harlot.com
Dark Garden Corsetry (San Fran) - http://www.darkgarden.net
Lady Lucie (UK) - http://www.ladylucie.com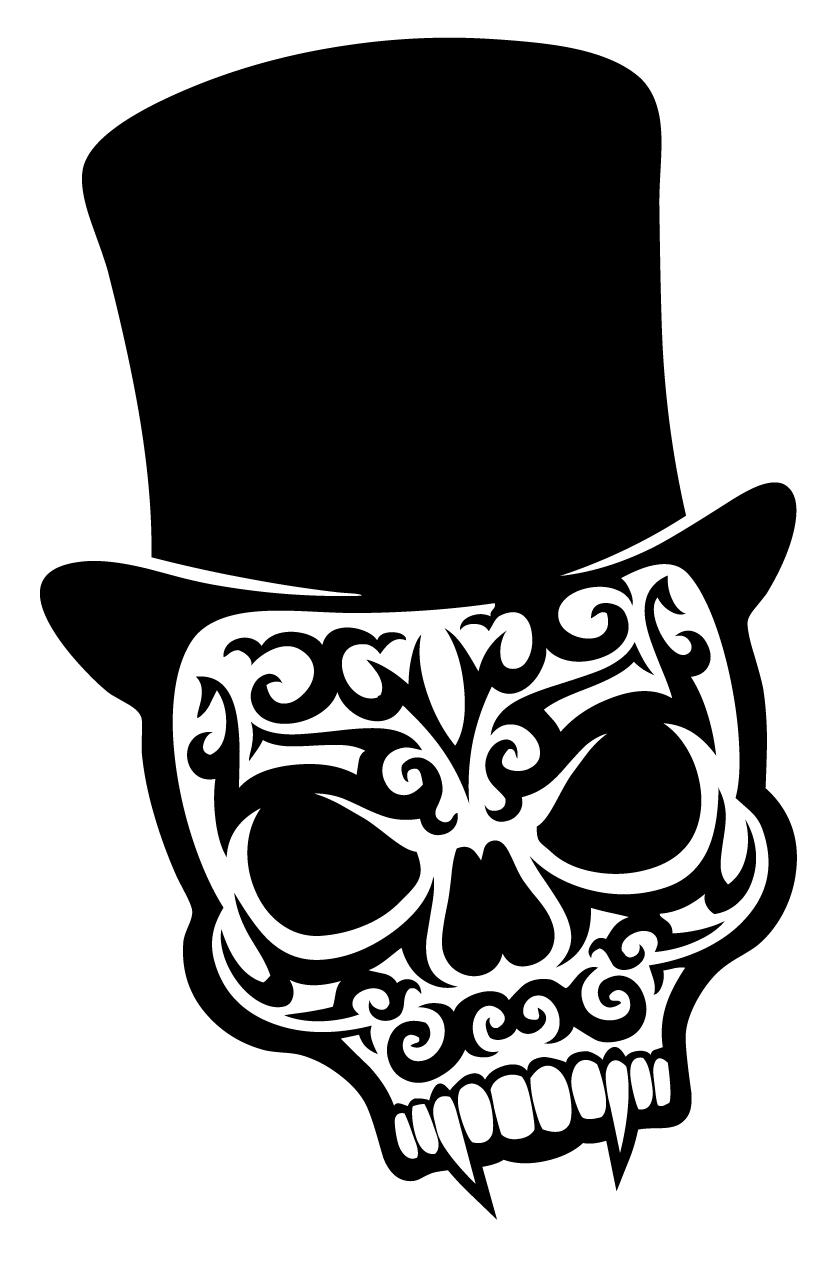 Fred Samedi is our guardian spirit of the events born and came to Father Sebastiaan in a vision quest in preparation for the Endless Night Vampire Ball of New Orleans in 2007.   Mysteriously designer Chad Savage was able to bring this vision to conception with his graphic design and thus Fred became our sigilium for Endless Night events. He is inspired by and reflect the Haitian voodoo Loa, Baron Saturday, the Loa of the dead.  The Loa are voodoo spirits which act as intermediaries between the creator Bondye and the mortal world.
It is traditional for patrons of the event to bring an offering of a small gift of coins, candles, flowers, cigars, rum, black coffee, grilled peanuts or incense to ask Fred Samedi his altar at the venue for his blessing on a successful and fabulous event.  He is also the official gatekeeper of the event and wishes all those to be within the dresscode. Often a voodoo priest/ess or Strigoi Vii Magister or Deacon will be present to perform the commencement ritual of the ball by calling on Fred Samedi to join us in the ball.
Fred often will play pranks on patrons, encourage people who would never expect to meet become friends, heals long lost relations between friends and he finds great pleasure introducing lovers.  One thing Fred is known for is to bring people last minute to events who would never even think of going and introducing them to the Endless Nights.  How many people have spontaneously come to down to New Orleans and never left!  You can find an example of this with the Fangsmith Maven who came to New Orleans in 1998 for the first NOLA party and never left!


When & Where

House of Blues
225 Decatur St.
New Orleans, LA


Saturday, October 29, 2011 at 10:00 PM

-

Sunday, October 30, 2011 at 4:00 AM (CDT)
Add to my calendar
Organizer
Endless Night Vampire Ball

The Endless Night Vampire Ball is held every Halloween in New Orleans and was rated #1 Big Halloween Party in the world by TripAdvisor.com in 2010. A basic description of the ENVB is called "The Endless Night Vampire Ball is akin to a Venetian Masque Ball meets a Vampire Court, with the energy of a rock concert and the elegance of a burlesque cabaret!"  
 
The Endless Night Vampire Ball of New Orleans 2011 - Steampunk Soirée