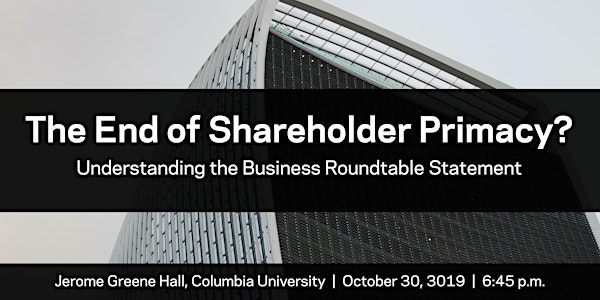 The End of Shareholder Primacy?
Is this the end of shareholder primacy?
When and where
Location
Columbia Law School Jerome Greene Hall, Room 107 435 W. 116th Street New York, NY 10027
About this event
The End of Shareholder Primacy? Understanding the Business Roundtable Statement
"Shareholder primacy" has long been at the center of corporate governance, standing for the proposition that the primary responsibility of corporations is to increase value for the company and its shareholders. Recently, the Business Roundtable—an association of leading US CEOs—released a declaration that suggested a different corporate purpose, framed in terms of the need to deliver value to all stakeholders and to drive sustainable growth, a move away from shareholder primacy.
Will this declaration affect the operation and governance of US businesses? Is the statement a sign of a true commitment, or merely empty rhetoric fashioned to respond to the political moment? In this public lecture, panelists will explore the Business Roundtable's statement through ideological, historical, and political lenses. The panel will also debate the doctrine of shareholder primacy, and whether changing corporate governance is the right approach to solving social problems.
Panel
Jeffrey N. Gordon—Richard Paul Richman Professor of Law at Columbia Law School; Co-Director of the Richard Paul Richman Center for Business, Law, and Public Policy
Edward Rock—Martin Lipton Professor of Law at NYU; Director of the Institute for Corporate Governance and Finance
Moderated by Wei Jiang, Arthur F. Burns Professor of Free and Competitive Enterprise, Columbia Business School
Co-sponsored by the Richard Paul Richman Center for Business, Law, and Public Policy and the Ira M. Millstein Center for Global Markets and Corporate Ownership
This event is open to the public and on the record. Registration is required to attend. By attending, you consent to appearing in any photos or videos produced by the event organizers or affiliated third parties. No personal recordings are allowed. If you have any questions or concerns, please contact us in advance at richmancenter@gsb.columbia.edu.