Location
Double Tree by Hilton
2101 Dixie Clipper Dr
Jacksonville, FL 32218
GICMP MINISTRIES PROPHETIC CONVOCATION 2021 - JACKSONVILLE, FLORIDA
About this event
USE PROMO CODE ( PC21) TO GET $50 OFF YOUR REPLAY PASS - INVEST TODAY FOR JUST $99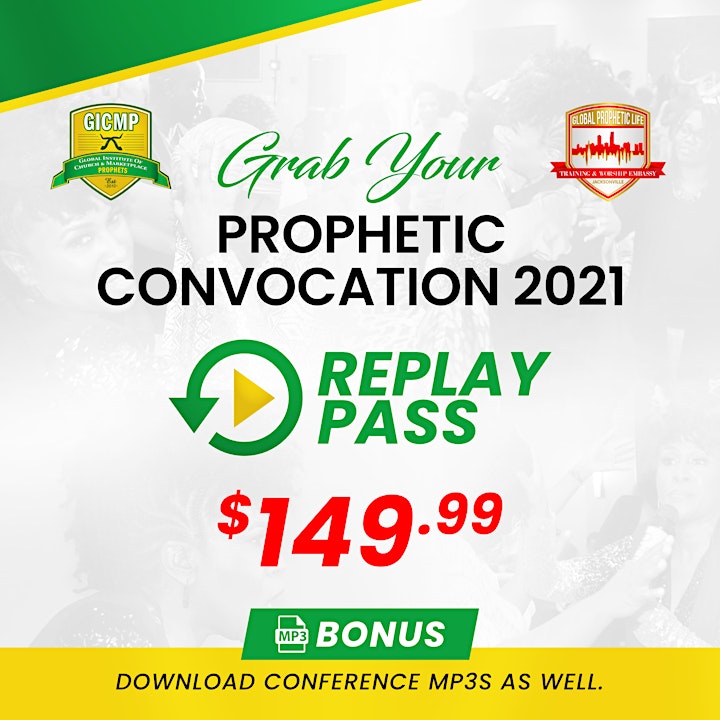 ACCESS THE REPLAY VIDEOS OF THIS DYNAMIC PROPHETIC CONFERENCE! PLUS DOWNLOAD ALL MP3S (for life) and GET ACCESS TO EXCLUSIVE VIDEO CONTENT FOR (1) WHOLE YEAR!!!)
USE CODE PC21 THROUGH SUNDAY OCTOBER 3RD FOR 50 BUCKS OFF!!!
####
WHAT A DYNAMIC EVEN THIS WAS!!
JOIN APOSTLE DWANN HOLMES and the prophetic and apostolic voices of GICMP for Prophetic Convocation 2021. After a year of NOT meeting in person due to the pandemic this year's convocation promises to be ONE LIKE NO OTHER.
It's limited seating and first come first served.
Registration also guarantees you a seat in evening as well.
Here's the list of & confirmed speakers, trainers , participants.
🔥 PROPHET SHARDE MARTIN (ATLANTA) (Trainer & Panelist)
🔥 APOSTLE URSULA WRIGHT (MIAMI) (FRIDAY NIGHT Keynote, Trainer/Panelist & Worship)
🔥PASTOR COREY WILLIAMS & FRANCISCO MIRANDA (SAVANNAH) (Trainer & Panelists)
🔥 PROPHET DION EVANS (Preacher, Panelist & Psalmist)
🔥 PROPHET KATABIA HENRY (Preacher & Panelist)
🔥 PROPHET ADIA AMOS. (Panelist & Psalmist)
🔥 PROPHET SHANI BROWN (Prophetic & Leadership Panelist)
🔥 PASTOR ROSEMARY WINBUSH (Leadership Panel)
🔥 PASTOR WYMAN WINBUSH (Leadership Panel)
P.S. (JUST REMEMBER RIGHT NOW WE HAVE LIMITED SEATING DUE TO COVID SO IT'S GOING TO BE FIRST COME FIRST SERVED AND THE FREE EVENING SERVICE DOESN'T APPLY THIS YEAR!!)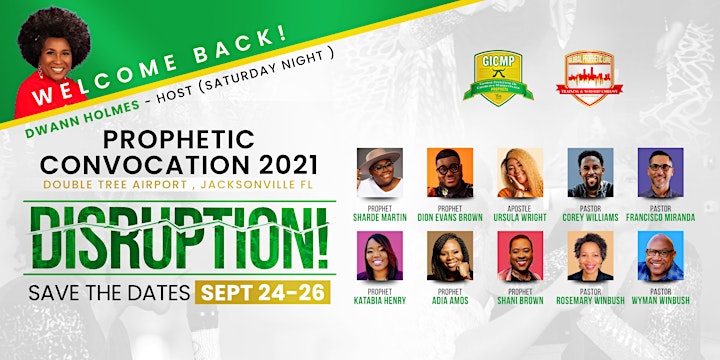 USE PROMO CODE ( PC21) TO GET $50 OFF YOUR REPLAY PASS - INVEST TODAY FOR JUST $99