A conference for millennial women of color looking to elevate self. Learn from 12 influencers on mental health and personal development.
About this event
COVID-19 Update: The EmpowHERment Expo has been postponed to March 2021
What is The EmpowHERment Expo?
The EmpowHERment Expo is the premiere, one-day networking event for motivated, working millennial Black Women and Women of Color boasting influencers, panelists, keynote speakers, vendors and multi-cultural focused products. The EmpowHERment Expo is curated specifically for Women of Color by a Woman of Color.
Conference Programming: 11AM - 4:00 PM
Why was The EmpowHERment Expo created?
Courtney Chanel (@courtchanelsays) hosts popular and transformative monthly/quarterly events and workshops curated specifically for Black Women and Women of Color. The EmpowHERment Expo was realized not only to fulfill the need for curated spaces for women of color, but to increase event accessibility to the New York City metro area.
After assessing the millennial women conference sphere, there was a clear observation--the tri-state area has yet to have an event curated specifically for millennial women of color.
The Founder--Courtney Chanel
Courtney Chanel is a millennial Black woman, a mother, social worker, therapist, social impact speaker and Millennial Mental Health and Wellness Specialist. She curates unique events and content seeking to educate and empower others to make change that can impact other generations, culture and society.
If you are interested in participating in this event or The MillenniMom Summit as a vendor, sponsor or are interested in purchasing ad space, please contact us at marketing@courtneychanel.com.
Want to see more details? Head over to our event website at courtneychanel.com/empowhermentexpo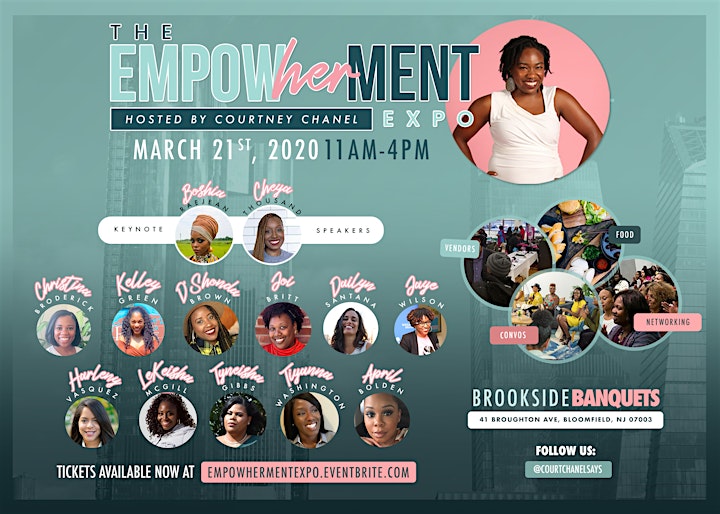 Schedule
11:00 AM - Doors and PowHER Market Open
11:30 AM - The EmpowHERment Expo Kickoff
11:40 AM - A Mindful Moment -Tyrone Daye
11:45 AM - Keynote - Boshia Raejean
12:05 PM - Be EmpowHERed - Build your network of likeminded millennial women during this segment! Enjoy a delicious brunch served buffet style, unlimited mimosas and shop with our vendors in the PowHER Market!
1:00 PM - A Panel Discussion on Personal Development
1:45 PM - A Note on Black Love - Kwesi Cummings
2:05 PM - A Panel Discussion on Mental Health and Self-Care
2:50 PM - Keynote - Cheya Thousand
3:45 PM - EmpowHERment Expo Closeout
Speakers & Programming Include:
Keynote Speakers:
Boshia Raejean (@boshiaraejean): The FutHER of Womanhood
Cheya Thousand (@cheyathousand): The Power of "NO"
It's HER Business Panel -- Moderated by Jaye Wilson (@melinatedmoms):
April Bolden (@thebrunchandbabies_series)
Harleny Vasquez (@yourevolvedmind)
Kelley Green (@kelleygreen_)
Tyneisha Gibbs (@jador3renee)
An EmpowHERed Mind, Body and Soul -- Moderated by LeKeisha McGill (@queenkeishhh)
Christina Broderick (@_iamchristinab)
D'Shonda Brown (@signedshonda)
Joi Britt (@thejoiofsocialwork)
Tiyanna Washington (@tspeaksnyc)
The Tickets:
Include access to event programmoing + brunch buffet + unlimited mimosas + our PowHER Bag, the swag bag with goodies just for you
Vendors: Ticket includes brunch buffet, table, linens and up to 2 seats/2 person per table max. Please email hello@courtneychanel.com for vendor pricing and inquiry. Vendor registration is not through Eventbrite.
Partnership & Sponsorship Opportunities: Contact hello@courtneychanel.com for our partnership and sponsorship packages.