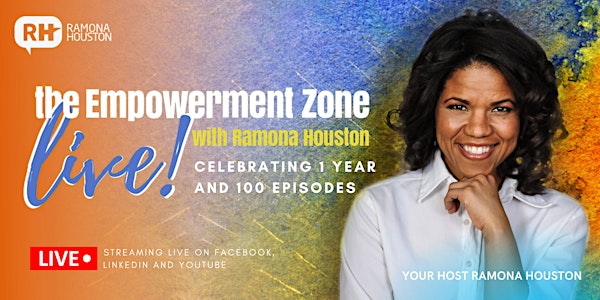 The Empowerment Zone Podcast: Celebrating 100 Episodes!
The Empowerment Zone Podcast Virtual Celebration Celebrating 1 Year and 100 Episodes!
About this event
The Empowerment Zone Podcast has reached a milestone: 1 Year and 100 episodes!
JOIN LIVE HERE: https://fb.watch/8lW-OmtKRV/
Join Ramona Live on Facebook, YouTube and LinkedIn as she celebrates this achievement with guests, listeners, family and friends. Get ready to toast with us and listen to Ramona's favorite moments, a panel of podcast guests, a Question/Answer from listeners, and other special surprises!
For a chance to win a fun surprise, complete our 3-minute survey and you could win an empowerment gift. The winner will be announced at the event.
Of course, Ramona wants to engage her audience. If you have any questions you would like her to answer during the celebration, please submit your questions here.
Thank you to all guests and listeners of the podcast. It is because of you that "The Empowerment Zone" has been so successful!
Season 2 has begun, so make sure you tune in for more great episodes!
The event will be streaming live on LinkedIn, YouTube and Facebook. Register to receive links.
See you at the celebration!