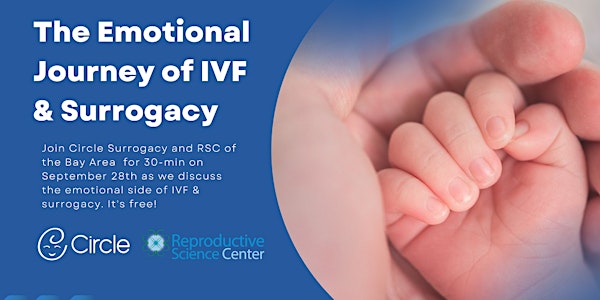 The Emotional Journey of IVF & Surrogacy with RSC Bay Area and Circle
Join Circle Surrogacy and RSC of the Bay Area for 30-min on September 28th as we discuss the emotional side of IVF & surrogacy. It's free!
About this event
We understand that the journey to parenthood through surrogacy and IVF can be a rollercoaster ride with your emotions. Putting trust in another person, the egg donation retrieval, and matching with a surrogate are just a few of the pieces that can be very difficult emotionally.
We encourage you to join Circle Surrogacy & Egg Donation and Reproductive Science Center of the Bay Area for a 30-minute webinar on The Emotional Journey of IVF and Surrogacy. This educational webinar will be full of great content to help answer a lot of questions, but most importantly, it will put your mind at ease knowing that you're not alone when it comes to the emotions that you're feeling.
Discussion will include:
Emotional and physical readiness of becoming a parent
Acceptance of infertility and help from alternative ways to become a parent
What to expect emotionally from the surrogacy point of view i.e. matching and letting go of trust and giving control, etc.
What to expect emotionally from the medical point of view i.e. egg donation retrieval and emotionally preparing for it
Much more
Our panel will consist of:
Jen Rachman, LSCW, Circle Surrogacy & Egg Donation: Jen is licensed clinical social worker, a young adult cancer survivor, and a parent through surrogacy. She earned a Master of Social Work degree from New York University and has over fifteen of clinical experience working with children, adolescents, and their families. Jen works as an Outreach Associate for Circle, conducting consultations and has represented Circle at events throughout the United States.
Macy Schoenthaler, MFT (Marriage and Family Therapist), Reproductive Science Center of the Bay Area. Macy is RSC's in-house therapist who specializes in third-party fertility and LGBT family building, including the use of an egg donor or surrogate. She has worked in the field of reproductive health since 2003, and received her master's degree in counseling psychology in 2012 from the California Institute of Integral Studies (CIIS) in San Francisco. Macy received her bachelor's degree in communications and women and gender studies from University of California, Davis in 2003 and her master's degree in counseling psychology from CIIS in 2012. Her career in reproductive health started at Women's Health Specialists in Sacramento and working with women and families at the Women's Resources and Research Center at UC, Davis. Macy has since branched out to working specifically with infertility patients and is honored to be able to provide counseling specifically for the third-party program.
Reserve your spot today! Registration is FREE. Once registered, you'll receive instructions on how to join.