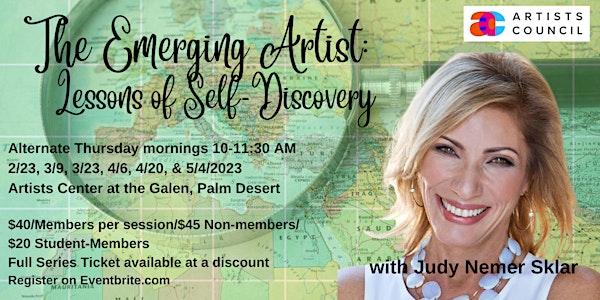 Multiple dates
The Emerging Artist: Lessons of Self-Discovery
This 6-week series targets new & emerging artists who seek to develop their best creative selves in a safe non-judgmental setting.
Date and time
February 23 · 9am - May 4 · 11:30am PST
Location
Artists Center at the Galen 72567 Hwy 111 Palm Desert, CA 92260
Refund Policy
Contact the organizer to request a refund.
About this event
This six-week series targets new and emerging artists who are seeing to understand and develop their best creative selves. Judy Nemer Sklar, well known artist and instructor, will present participants with opportunities to explore, discover and challenge themselves in a safe non-judgmental environment, as they work to understand where they stand in the process of becoming a creative.
During each 90-minute session there will be dialog, writing opportunities, art exercises and mindful explorations of key topics and issues that one encounters as he/she seeks to move forward on a creative path.
Questions? Contact Judy at judy@judynemersklar.com
Session 1: TAKING THE FIRST STEP: INTRODUCTION TO THE CREATIVE JOURNAL : The emerging artist uses the journal as the starting point in self exploration and discovers a creative approach to reconnecting to the part of oneself that is often neglected. The journal is often the the emerging artist's first encounter with the blank page, the place to put their mark, catapulting themselves into a more artistic inspired position.
• A creative approach to self-communication.
• Seeks honesty, privacy and sharing in a non-judgmental atmosphere.
• Loosening up exercises using various mediums and methods.
Session 2: OPENING UP TO YOUR FULLEST SELF: The emerging artist explores the importance of the journal as a tool for self discovery. By sharing a more fully realized self the artist is better able to express themselves through their art. In this, the artist has the opportunity to gain the confidence to express their creative feelings freely.
• Explore the many facets of one's personality.
• Are your in sync with your inner and outer self.
• Creatively acknowledge feelings that arise.
Session 3: LOOKING BACK TO SEE FORWARD: The emerging artist recognizes that the journal is a creative way to look back in time. While the world may often seem chaotic and random, looking back in time one is able to see the ebbs and flows of life, a rhythm of its own, not often realized at first blush.
• Looking back as a tool for self-exploration
• Use of art exercises and writing prompts
• Dive into the colors of emotions
Session 4: WISHING AND DREAMING: Not all journals are introspective. Many are whimsical, happy, and are at times frankly boring. But the emerging artists recognizes that the journal can also offer a reminder of dreams and wishes unexpressed. Often these wishes and daydreams can unlock the hard questions we often face in daily life.
• Explore the future with the power of imagination
• Use creativity for goal setting
• Make a treasure map and find your pot of gold
Session 5: WISDOM AND REFLECTION: It has been said that Georgia O'Keeffe recalled in her journals that a memorable sunrise prompted her to consider solar imagery as a subject for her paintings. For O'Keeffe, the sunrise, with the light over the plains prompted her to explore nature and her relationship to it. As the artist emerges there is an understanding that the journaling process allows one to reflect on one's place in the universe.
• Reflect on a grander scale.
• How do we and our art-making express feelings about the world around us.
• Clarify our wisdom and reflections through writing and art making.
Session 6: FUTURE STEPS: WHERE TO NEXT? As the emerging artist becomes familiar with her writing and drawings in the journal, and as the artist looks at past entires, it allows for reflection on life and the creative process. The authenticity of the journal comes from the honesty of the artist and the willingness to embark on this uncharted course. Often as the artist turns the pages of the journal, they begin to see their ideas unfold and deepen and may find that using the journal may bring clarity to difficulties in life and at the same time act as a tool, the first mark on one's blank canvas.
• Explore the unknown
• Examine possibilities
• Chart a future course.
MATERIALS: A Canson Artist Series Hardcover Watercolor Spiral Notebook 12x9" 20 sheets. Available at dickblick.com at discounted price of $11.56 Item #09608-1023
https://www.dickblick.com/products/canson-artist-series-watercolor-books or at Cheap Joe's https://www.cheapjoes.com/canson-artist-series-watercolor-pad-9-x-12.html?utm_source=google&utm_medium=cpc&gclid=CjwKCAjwv4SaBhBPEiwA9YzZvH0X4QxWAJxJuaeD2TFot_tECIGuIyc_rNeUzUiGrxlngBLCs2-jchoCV1EQAvD_BwE
Drawing Pencils #2
Assorted watercolor Pencils
Kneaded Eraser
Drawing or Writing Pen
About the Artist:
JUDY NEMER SKLAR is a professional artist, writer, and educator residing in Palm Desert, California. She is passionate about the creative process and believes that using art-making along with a mindfulness practice can be highly beneficial for those in both creative and non-creative fields.
She received her Bachelor of Arts from Chapman University, Orange, California and her Master of Arts from California State University Dominquez Hills, California.
Along the way she has been the proud recipient of grants and scholarships, has shown her art in numerous galleries and has won regional and national juried art awards. She has sold her work in the United States and abroad. Her art and writing have been published in various art, wellness and children's journals.
In 2018 she developed a creative art workshop program entitled "Embracing A Creative Life Workshops for Health and Wellness" teaching at both large and small venues including organizations such as Sunnylands/Annenberg Foundation & Trust, Eisenhower Medical Center and the Riverside County Department of Education.
Nemer Sklar, served as facilitator for the 2022 program "A Gathering Process: Using Talking Circles and Mindfulness Art to Process Through a Pandemic" in coordination with Riverside County Department of Education and Sunnylands Center & Gardens which has been extended into 2023. Nemer Sklar is currently continuing her education certification at the C. G. Jung Institute of Los Angeles.