Description
"I don't feel I'm particularly messed up. I've always been quite sane about being insane." - Carrie Fischer
I don't know about you but 2018 was a difficult year for me mental health-wise. With social healing in mind the ELU is back in 2019 to commune around a very common but often stigmatized theme: Mental Health.
We'll be joined by our friend and fellow ELU participant, Brooke Senior! See below for more info about her work and expertise.
Together we'll discuss:
-Your journey with mental health and what it means to you.
-What has helped you on your journey. (practices, drugs, therapy, etc?)
-Ways this community can support you.
-Effective self-care practices.
As always there will be wine, snacks and a good time!*
***
The Emotional Labor Union is a monthly feminist discussion group that welcomes everyone. This event costs money because we believe in the fair compensation of women's labor. If the cost is prohibitive to you please email theeludc@gmail.com. We'd like this event to be accessible to everyone.
The mission of The Emotional Labor Union is to amplify the voices and experiences of women through curated feminist topics - empowering them to get clarity on their viewpoints, speak with confidence and arm themselves against societal pressures.
The 4 Values of the ELU:
Voices as power: The ELU is a safe space and a platform to talk about your experiences. Devoting time to critical thinking and in-person interaction empowers us to sharpen our speaking skills and define the source of our feelings as well as reminds us we have voices that deserve to be heard.
Community IRL: The ELU brings people together in real life who prioritize being intentional and carving out time and space to knowing themselves and others better. This is a group that provides love, support and where no question or opinion is off-limits.
Strength in numbers: The more time we spend having invigorating in-person discussions, finding common ground with others, and cementing how we feel about topics that affect us, the more powerful we become both individually and collectively.
Feminism as Self-Care: Members of the ELU practice prioritizing themselves by devoting time to pursuing their interests and their $ by supporting causes they think are worthwhile. The ELU gives everyone a nourishing and energizing experience that allows you to find your own voice on matters that are important to you.
* This event will be recorded and potentially made into a podcast. All participants will have an opportunity to remain anonymous if they so choose.
***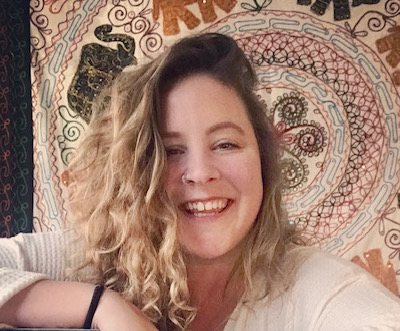 Brooke earned her Masters Degree in Clinical Social Work from the University of Maryland, Baltimore, and is a licensed social worker in the state of Maryland. She is currently working towards completing the necessary hours in order to be a fully licensed clinical social worker. She has worked in a variety of settings, including schools, residential rehabilitation programs, correctional facilities, and outpatient behavioral health clinics. Currently, she is a psychotherapist in the Montgomery County area. Brooke's passion is Dialectical Behavior Therapy, which is an evidenced-based therapy that focuses on skills development in the areas of interpersonal relationships, emotion regulation, mindfulness and distress tolerance, and is effective in treating a wide range of disorders. Brooke very much believes in the connection between the mind and the body, and lives by the maxim "There is no health without mental health." In her spare time you can find Brooke enjoying the beauty that is the District of Columbia, hiking, spending time with friends and family, and hunting down DC's best latte.