Share your story at the Open Mic Storytelling. 7 minutes or less. No essays. No speeches. Just "spooky" stories. Costumes optional.
About this event
Open Mic Storytelling. Listen or Tell your own story. 7 minutes or less. Theme is "spooky" and costumes optional. Boo!
Open to the Public. Students, Faculty, Staff, Friends, and everyone who loves a good story.
All genre of stories welcome. From personal stories to folk tales, and everything in between.
Limited Seating in the Venue. Please RSVP. Please release your ticket if you will not be able to make it. Watch the livestream from home, but only in person will be able to share stories.
Why is it called The Elephant? The stories are huge and unforgettable. And they're yours! It's an Open Mic Event. We include all genre of storytelling in the oral tradition from folk tales to personal stories, and everything in between. Stories told live without notes to our friendly supportive audience. That's you! This is going to be BIG. Stories have a beginning, middle, and end. No rants. No speeches. Keep the language clean, and keep your clothes on. Bring stories with characters where something happens. Bring us your emotions, your humor or tears, your stories of change.
Emcee: Dr. Joel Ying, Physician-Educator-Storyteller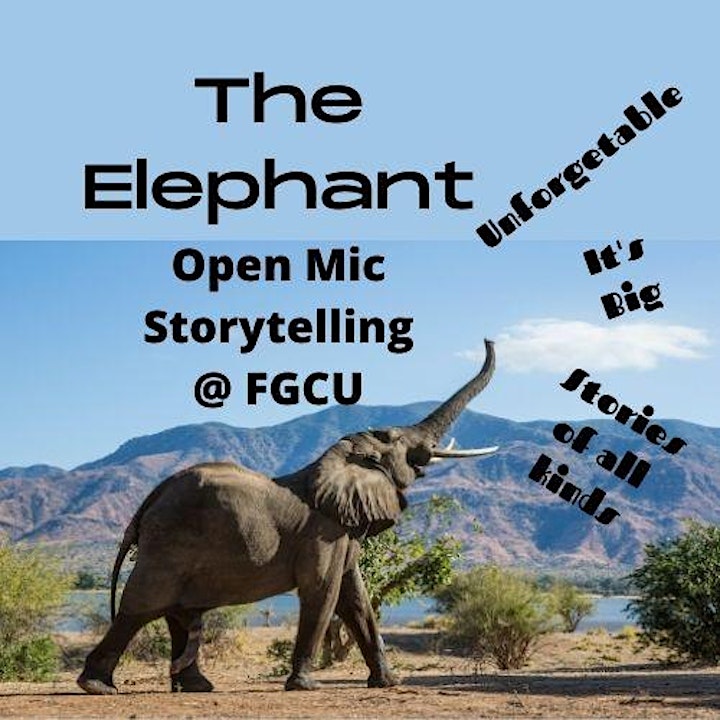 Organizer of The Elephant @FGCU ~ Open Mic Storytelling ~ Theme: Spooky
Storytelling Oral Performance Series. Produced by Dr. Joel Ying and Prof. Lori Cornelius for Florida Gulf Coast University (FGCU), Dept of Language and Literature, College of Arts and Sciences. Open to the Public. Sponsored by the Seidler Foundation, Wasmer Art Gallery, and the Florida Storytelling Association.